So, you are a Steam user and would possibly like to dive into the world of virtual reality. However, you are unsure which VR headsets work with SteamVR and which ones are actually worth your money.
Do not worry, help is on the way! In this article, I will cover the best VR headsets in 2021 that you can use to play VR games on Steam. Let`s get started!
Frequently Asked Question: What VR headsets work with Steam?


Quick Tips on Choosing a VR Headset For Steam
TOP OVERALL PICK – Oculus Quest 2 ( Oculus | Amazon )
Probably the most versatile headset on the market that offers excellent value for your money. The Quest 2 is a standalone VR headset that can also be turned into a PC VR headset to play Steam VR games. Excellent controllers and tracking, very decent visuals. If you don`t mind the mandatory Facebook account requirement, the Quest 2 is definitely the go-to choice for any VR newcomer, and I am sure for many experienced VR users as well.

BEST MID-RANGE VR HEADSET – HP Reverb G2 ( HP )
The ~600$ HP Reverb G2 headset stands out as the headset with the best visuals of the bunch (LCD panels, 2160 x 2160 resolution per eye). It also has great built-in audio and overall headset comfort. On the downside, the controllers could be better and tracking will fail you at faster-paced games. You will also need a very capable PC to really take advantage of the headset's capabilities.

BEST HIGH-END VR EXPERIENCE – Valve Index ( Valve )
Spectacular visuals with a well-above-average field of view. Great audio and very comfortable to wear. Innovative and intuitive finger tracking controllers. The Valve Index is just an extremely well-polished product, which makes it the go-to headset if money is not a problem and you simply want the best VR experience that money can buy.

Take use of Steam VR Hardware Actual Usage Data
[Updated: February 2022] When deciding on which VR headset to buy, it is often a good idea to look at actual data of what others are doing. According to Steam's Hardware & Software Survey (updated each month), the most popular VR headsets used by Steam gamers are the Oculus Quest 2, the original Quest, Oculus Rift S and Valve Index, followed by the good old HTC Vive and Oculus Rift.
When interpreting the data, there is a couple of things to keep in mind:
Oculus Rift S will be discontinued in 2021 in favor of the Oculus Quest headset series.
The Original Rift and HTC Vive (released in 2016) and are getting outdated and dropping in rankings. Probably not worth buying in 2022 (unless you can get a used one at a really cheap price)
Since Steam's Hardware & Software Survey is updated regularly based on real-life data, use it along with the information in the current article to understand user trends and help you make the best decision regarding which VR headset to choose.


---
Oculus Quest 2 – The Best VR Headset for Steam (for most people)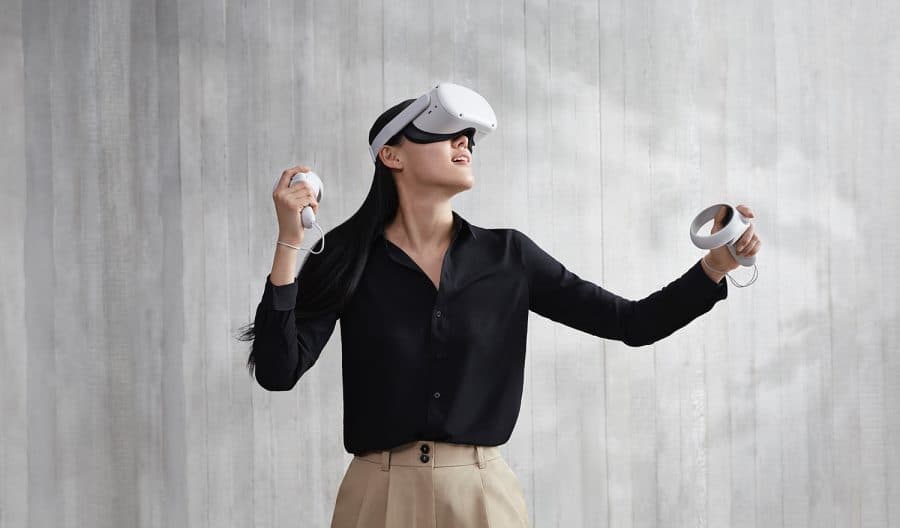 The Good: Wireless Steam VR gaming capability (using Virtual Desktop), headset versatility (can be used as a standalone + PC VR headset), cheap price, great controllers, and tracking.
The Bad: Facebook account requirement, not the best comfort out of the box (but can be improved with Elite Strap)
Although the Oculus Quest 2 is primarily a standalone device, I am light-heartedly placing it as the top pick for playing Steam VR games. Compared to other headsets, it just offers so much more value and versatility for the relatively low asking price.
If this will be the first VR headset that you buy, then stop reading, head to Amazon, and just make the purchase! Yes, VR is amazing and yes, the Quest 2 is your go-to choice!
The Quest 2 comes with an excellent LCD (RGB Stripe) display, able to output 1832 x 1920 resolution per eye @ 90 Hz. Some have complained about the relatively small visual sweet spot, but for me personally (and for most people), it is totally fine.
The headset comes with very comfortable and ergonomic controllers. The inside-out camera tracking is spot-on in terms of accuracy and the headset is very easy to set up. The audio is good out of the box and you can always plug in your own headphones if you fancy an even better experience.
The biggest advantage of the Quest 2 for PC and Steam VR gaming is the fact that you can play PC VR games wirelessly using Virtual Desktop (if you have a good WiFi router/connection at home). If not, you can use a regular USB cable to plug the headset into your PC and still enjoy a very decent PCVR gaming experience.
And then if you want to go and visit a friend or relatives, you can just back the headset with you and enjoy some wonderful VR action without having the need for a PC.
If you can get around the Facebook account requirement and the fact that FB will be collecting and selling your data (which it most probably is also doing now if you have a FB account), the Quest 2 is just a no-brainer pick!

More Information: Oculus / Amazon


---
HP Reverb G2 – Visual Clarity Powerhouse (But With Flaws!)
The Good: Excellent clarity and sharpness, comfortable to wear, very good built-in audio
The Bad: Controller ergonomics and tracking is bad (not suitable for competitive gaming), top-end PC required to really take advantage of the headset´s capabilities
The HP Reverb G2, developed in collaboration with Microsoft and Valve, is the unproclaimed king of visual clarity in the consumer VR headset market.
The headset comes with dual LCD displays (RGB Stripe), able to output a 2160 x 2160 resolution per eye at 90Hz. The visual sweet spot is also good and it is safe to say that no other consumer headset on the market (in 2022), will be able to match the visual clarity of the Reverb G2.
The headset is also very easily adjustable and comfortable to wear even for prolonged gaming sessions. The built-in audio solution is the same as on the Valve Index and delivers a superb audio experience (which it has to be because there is no 3.5mm audio jack)
This brings us on to the negative sides of the Reverb G2. The Controllers of Reverb G2 just aren`t as good as the Oculus Touch controllers of the Quest 2 or the "Knuckles" of Valve Index.
Although an improvement over the previous Reverb controllers, they just feel clunky and cheap and also lack capacitive sensors. Worst of all, however, is the tracking. When playing fast-paced games such as Beat Saber or shooting games (where the controllers are placed in front of each other), you are bound to experience hiccups in tracking.
The Reverb G2 is therefore not suitable for those who want to do some competitive VR gaming where excellent controller tracking is required.
However, Reverb G2 might just be the go-to choice for flight and racing sim enthusiasts who take advantage of racing wheels / HOTA-s and want to use the headset primarily as a head-mounted display.
---
Valve Index – High-End Steam VR Headset for the Enthusiast
The Good: Very decent visuals and good edge-to-edge clarity, a well above-average field of view, high-quality built-in audio, probably the best controllers on the market
The Bad: The headset comes with a hefty price tag, external base-station tracking is accurate but troublesome to set up.
The Valve Index features dual LCD displays with a 1440 x 1600 resolution per eye. The visuals are crisp and detailed throughout your view (unlike many other headsets where the edges tend to get blurry). With a 120Hz screen refresh rate (max 144Hz if your GPU can handle it)  you can expect a smooth and fluid gaming experience that really ticks your senses.
Another significant advantage of the Valve Index is an improved field of view (FOV) compared to most other VR headsets. This means that your experience in VR will be more similar to your own eyes in real life.
The actual FOV for the Valve Index depends on how close you can get the lenses to your pupils, so make sure to adjust the placement of lenses prior to gaming for the best experience.
Valve has also rethought and innovated the controllers for this device. Instead of holding the controllers and pushing buttons for interaction, the Index controllers are attached to your hand and use 87 sensors for finger tracking.
In essence, this means that all your real-life hand and finger movement is mimicked in the VR world (for the games that support it).  So if you want to grab and throw something in a game, you do it exactly the way you would do it in the real world. This really is a significant improvement in making the overall VR experience even more realistic than before.
Continuing on positive notes, the straps of the headset are well cushioned and easy to adjust. The weight of the headset is distributed nicely around your head and face and you can enjoy VR for multiple hours without getting uncomfortable.
On the negative side, the Valve Index relies on two external base stations for movement tracking. Finding a high ground place for the stations and doing the initial setup is cumbersome, compared to for example the Quest 2 / Reverb G2 and inside-out camera tracking. 
And then there`s the price. Spitting out 1000$+ for a gaming headset is not likely something everyone is willing to do. However, if you are avid gaming and VR fan and you are after the best VR experience money can buy – the Valve Index headset is for you!   
More Information: Valve


---
Oculus Rift S – Discontinued, but Still a Great PCVR Headset
The Good: Decent visuals, easy and quick to set up, comfortable straps, reasonable price. Can be run with an average-spec PC
The Bad: Will be discontinued in 2021, below-average screen refresh rate (80 Hz)
Although Facebook has announced that the Rift S will be discontinued in 2021, it is still a very decent VR headset and worth a place in the list. If you only plan to use PC VR, you might actually consider getting the Rift S over the similarly-priced Quest 2.
Similarly to the Quest 2 and Reverb G2, the Rift has inside-out tracking. The tracking works great, is very easy and fast to set up and removes a set of wires previously required for external tracking.
The headset features a single fast-switch LCD panel that is able to output a resolution of 1280 x 1440 (per eye). The visual clarity is actually still quite decent and you get by with a rather average spec PC.
The Rift S comes with integrated speakers that provide spatial audio while letting you hear sounds from your surroundings. In all honesty, although the speakers lack bass, the sound is actually quite good. Should it not be sufficient to you personally, there is always the possibility to plug in your own headphones into the 3.5mm audio jack.
Although The Rift S will be discontinued, it would not be a bad purchase at all. Prior to and after the official end of the product life-cycle, look out for good price deals from Amazon and other resellers.
More Information: Amazon


---
Oculus Quest – Steam Compatible and Better Than the Quest 2 in Some Regards
Naturally, when a follow-up product is released (as is the case with the Quest and its successor, the Quest 2), people tend to prefer the newer option.
However, the original Oculus Quest is still a very good product that can be used to play Steam games VR using Oculus Link or wirelessly via Virtual Desktop. And it does a very good job at it!
The original Quest features dual OLED displays that are able to output a resolution of 1440 × 1600 per eye @ 72 Hz. While the refresh rate is a definite downgrade when compared to Quest 2, many people actually prefer the visual properties of the original Quest over Quest 2.
It mostly comes down to the difference between OLED and LCD displays. While the Quest 2 has more pixels and a sharper image overall, the original Quest has more popping colors. With the Quest, it is also easier to find the visual sweet spot and for most people, it provides better edge-to-edge clarity.
If buying new at similar prices, I definitely recommend the Quest 2. However, if you can get a good deal for the original Quest on Amazon or someone offers you a used one in decent condition – by all means, go ahead and buy it. It is still a very good VR headset!
More Information: Amazon


---
FREQUENTLY ASKED QUESTIONS
In this section, I have gathered some of the questions that are often asked regarding Steam VR and compatible VR headsets.
What VR Headsets Work With Steam?
There seems to be a lot of confusion about which VR headsets are supported and actually work with SteamVR. Even the information on SteamVR official website is misleading at best (listing only Valve Index, HTC Vive, Oculus Rift, and Windows Mixed Reality).
To clear the confusion and answer the question once and for all:
Essentially all modern VR headsets are compatible and will work with SteamVR. You can play Steam games with all the headsets from Oculus, HTC, Valve, Pimax, Windows Mixed Reality (HP, Samsung, Acer, …), and other VR headset manufacturers.
There are even ways to you can play Steam games on mobile-tethered VR headsets and Playstation VR.
If you are thinking of buying a VR headset that is not listed in this article and want to make sure it will work with Steam – just do some googling and search around in Reddit threads. You will most probably find that the headset is indeed compatible with Steam.
How do you Play Steam VR games on Oculus Quest / Quest 2?
There are two ways you can play Steam VR games on Oculus Quest:
Oculus Link: Connect your Quest to your PC using a high-quality USB cable and enable the option for Oculus Link from the settings in your headset. You can then launch Steam VR games from your PC and the content will be streamed to your headset.
Oculus Air Link: Wireless PC VR gaming is at your disposal!
Virtual Desktop: Download the app from the Quest Store for $19.99 that gives you the complete wireless Steam VR gaming experience.
Keep in mind that you will need a decent gaming PC to play Steam games on your Quest. For more information about both methods, you can refer to this detailed article from UploadVR.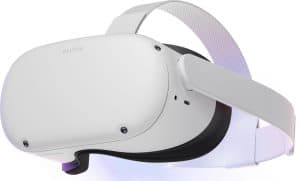 Oculus Quest 2 is still the king of consumer VR! Don't miss out and enter the world of VR experiences, unlike anything you have ever seen!