In recent years, the field of virtual reality has grown rapidly. Nonetheless, many of us are just now getting familiar with the idea that we can use an off-the-shelf VR headset to watch movies or TV shows.
This article aims to help you understand the pros and cons of watching movies in VR and choose the best headset for your needs. Keep in mind that the requirements for a good multimedia headset are different than those of a gaming headset.
For those that are looking for quick answers – Oculus Quest is my top overall recommendation for a headset to watch movies and explore the possibilities of VR. If you want to know why and also find out about alternative choices, then go ahead and continue reading.

UPDATE (February 2021): Be sure to seriously consider the Oculus Quest 2 VR headset. It is the successor of the original Quest and is now be the best choice for watching movies.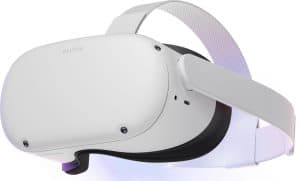 The new and improved Oculus Quest 2 is finally back in stores! With 128 GB storage as standard, you get even more for your money than before! Don't wait and get yours!
---
Oculus Quest – The Best VR Headset for Watching Movies
"An excellent all-around headset to unlock the full range of VR experiences"
Headset Type: Standalone | Display Type: OLED (PenTile) | Resolution: 1440 × 1600 (per eye) | Refresh Rate: 72Hz | IPD Adjustment: + | Tracking: Inside-out (6 DoF) | Battery Life: 2 – 3 hours (video) | Weight: 20.1 oz (571 g)
+ Standalone Device
+ Wireless & Easily Portable
+ Vibrant Colors & Deep Blacks
+ Quick Setup
+ Manual IPD Adjustment
+ Excellent For Gaming Too
– Comfort
– Built-in Audio is so-so
Oculus Quest is what many call a game-changer in the VR industry. Although primarily built for gaming, this standalone VR headset is excellent for watching movies and has an edge over the cheaper Oculus Go in pretty much every comparison point. I firmly believe that Oculus Quest is the right headset for a newcomer to unlock the full range of VR experiences (in addition to movies) and thus help understand what the fuss is all about.
Continue reading the full review: Oculus Quest
Oculus Go – a Budget VR Headset for just Movies & TV
"Get this budget-friendly multimedia headset if you just want to watch movies and videos"
Headset Type: Standalone | Display Type: LCD (RGB Stripe) | Resolution: 1280 x 1440 (per eye) | Refresh Rate: 60/72Hz | IPD Adjustment: – | Tracking: 3 DoF | Battery Life: 2 – 2.5 hours (video) | Weight: 16.5oz (468g)
+ Standalone Device
+ Wireless & Easily Portable
+ Price
+ Lightweight & Comfortable
+ Configurable Refresh Rate
– No IPD Adjustment
– Not Suitable For Gaming
If you are looking for a VR headset just for the purpose of watching movies and video content (no gaming), the standalone and portable Oculus Go is quite likely the best option for you. It is light, reasonably priced, comfortable to wear and in essence built for multimedia and movies.
Continue reading the full review: Oculus Go
---
---
Samsung HMD Odyssey+
"Great budget-friendly PC-tethered VR headset that offers a lot of value for your money"
Headset Type: PC-Tethered | Display Type: OLED (PenTile) | Resolution: 1440 × 1600 (per eye) | Refresh Rate: 60/90 Hz | IPD Adjustment: + | Tracking: Inside-out (6 DoF) | Weight: 20.8 oz (590 g)
+ Vibrant Colors & Deep Blacks
+ Good Quality Built-In Audio
+ Manual IPD Adjustment
+ Quick Setup
+ Great for Gaming Too
+ Excellent Value For Money
– Requires a PC to Run
– Comfort
– SDE Filter adds slight blur to objects
– No 3.5mm audio jack
If you have a compatible PC and want a reasonably priced headset for watching movies, the Odyssey+ is a great choice and offers a lot of value for money. Quick setup, quality visuals (vivid colors, virtually no SDE), manual IPD lens adjustment and decent built-in audio make this a very compelling option for watching movies. As an added bonus, Odyssey+ is also very suitable for VR gaming.
Continue reading the full review: Samsung HMD Odyssey+
---
HP Reverb (2nd Edition)
"Superb visual experience with shortcomings in the overall package"
Headset Type: PC-Tethered | Display Type: LCD (RGB Stripe) | Resolution: 2160 × 2160 (per eye) | Refresh Rate: 90 Hz | IPD Adjustment: – | Tracking: Inside-out (6 DoF) | Weight: 17.6 oz (498 g)
+ Superb Image Clarity & Sharpness
+ Virtually No Screen Door Effect
+ Quick Setup
+ Lightweight
– Requires a PC to Run
– Comfort
– No IPD Adjustment
– Tracking
– Fat Cable Hanging From Behind
If you want the best sharpness and image quality that VR has to currently offer, then HP Reverb is your racehorse. Although there are shortcomings in the overall solution (poor tracking, big fat cable hanging from the back, no manual IPD adjustment) the Reverb works superbly for seated experiences (movies, flight simulators, desktop monitor replacement). If you have tested other VR headsets for multimedia and found them insufficient in terms of visual quality, HP Reverb is the headset to bring your experience to the next level.
Continue reading the full review: HP Reverb
---

Is VR Any Good For Watching Movies? Should You Buy a Headset for This Purpose At All?
I am going to start with the fact that I personally own an Oculus Quest and I still do 90% of my multimedia consumption using my 49 inch HD TV and my notebook.
The biggest reason for me is that for 2D flat content (Netflix, regular movies), VR does not give any real advantages over a regular semi-decent TV. In fact, the image quality is arguably better on the TV.
You can read more about my experience of watching Netflix with the Oculus Quest headset here.
Another significant reason why I do most of my movie watching using the TV is the fact that I don't like the headset hanging on my face. After some time, it will get uncomfortable and I need to adjust the headset and/or take a small break. TV is just more convenient in that way.
Keep in mind that this is my personal opinion and preference! Having read loads of forum posts about the topic, there are many people (I would say it is 50-50) who prefer VR over TV. And there are also many cases where VR comes out on top for me too.


Scenarios Where VR is Excellent Choice for Movies
Traveling
An excellent time for watching movies in VR is when traveling. Airports, hotels, trains, buses, airplanes – these are all great places to enjoy some VR movies and pass the time. Also, any place where you just do not have a TV – in that case, you can just pull on your headset and start enjoying.


3D Movies
While VR adds quite little to regular flat movies, 3D content, on the other hand, is very pleasurable to watch. To be honest, my last 3D movie at a cinema was about 2 years ago and I don't currently have a good comparison point with VR. On a hunch (and from what I remember), I would say it is more immersive and engaging with VR.
So if 3D movies are what you like and enjoy watching often, then you will quite certainly get a positive kick from VR. If you are interested, you can read more about how to watch 3D movies in VR from my previous article.

Watch Movies With Other People (who are far away)
Many people go to the cinema for the experience of having other people around you – doing something together as a group and having a sense of "belonging" (and also to watch a movie of course).
I can not say that I am one of those people, as I would rather watch movies alone. However, if you are one, VR enables you to do exactly that. Apps like BigScreen bring cinema to your home! Join a virtual movie session where you can engage both with the movie as well as other participants.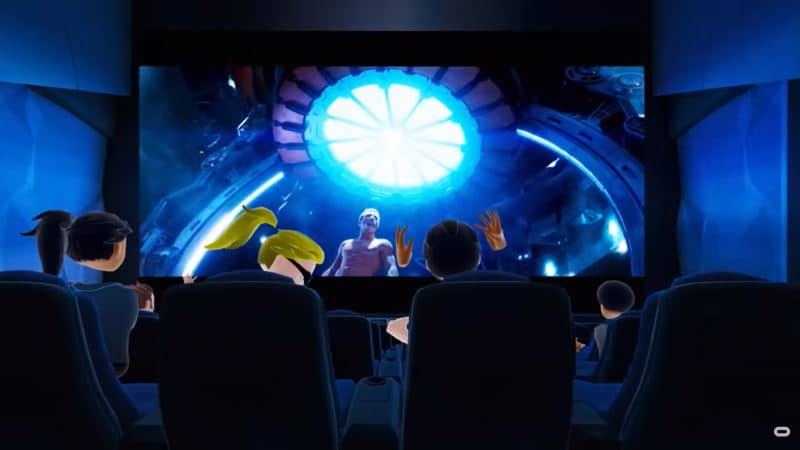 This would also be an excellent way to watch a movie with your friends and loved ones, who are currently far away from your physical location. Yes, it's not quite the same as having them next to you in real life, but it's a nice way to engage with them and have a pleasant experience together.


No TV / Don't want to disturb others
If you are the kind of person who does not have a TV at home, VR would be an excellent way to enjoy some movie watching. It quite certainly offers a more immersive and pleasurable experience than watching from your notebook, for example.
VR would also be great if you do not want to disturb others, but still get a great movie experience. Flatmates, small children – whatever the reason – with VR you could enjoy a movie session quietly from the comfort of your room.


Important Factors to Consider When Choosing VR Headset For Movies
Choosing the headset that is most suitable for your needs and preferences, depends on a variety of different factors. I will mostly be focusing on aspects that are important in the movie-watching context. However, I will also throw in more general things to consider prior to making a purchase.
Display
When watching movies or other multimedia content in VR, you probably want the image to be as smooth, clear and realistic as possible. There are several different technical specs to take into account when evaluating the displays of VR headsets. I will briefly explain the most important ones.


Resolution
What we usually want from a VR headset, is high resolution. More pixels in the image generated allows you to see finer details. For example, you can read text more easily and also spot items further down in the background that would otherwise be a blur. Higher resolution contributes to a more realistic and clear image.
The image above illustrates how increasing the pixel resolution within the same sized area (in the context of VR, this area is your field of view), makes the image much sharper and pleasant to look at.


Screen Refresh Rate
The screen refresh rate indicates how many times the VR headset display is able to update with new images per second. A refresh rate of 90 Hz, therefore, means the display can update 90 times per second. A higher refresh rate results in images shifted more frequently, thus making for a more smooth and fluid viewing experience.
In the context of watching movies, there is also an important aspect to keep in mind. Most movies are shot at 24 frames per second. For a pleasurable viewing experience, it is important that the VR headset`s refresh rate is set at a multiple of 24 (or any other fps the video/movie is short at). Otherwise, you are going to experience some stuttering between the different frames shifting.
Have you ever wondered, why the Oculus Quest, for example, has a refresh rate of 72Hz? It seems like a rather odd number. Well, it is a multiple of 24, that's why.


IPD (Interpupillary Distance) Adjustment
IPD (interpupillary distance) is the distance measured in millimeters between the centers of the pupils of your eyes.
If you happen to be a person with a below or above average IPD, you will most certainly benefit from VR headset having manual IPD adjustment. Some headsets have manual IPD adjustment (Oculus Quest, Odyssey+, Valve Index, ..) while others do not (Oculus Go, HP Reverb, Rift S, ..).
The problem is that if the headset does not have manual IPD adjustment and the distance between your pupils is significantly above or below average, you will feel eye strain when using VR and the image is not as clear as it could be.
VR headset with IPD adjustment is definitely the preferred option, as you can configure the best lens placement for your eyes. If however, you opt to go for a headset that does not have manual IPD adjustment, be sure to measure your IPD and make sure it will fall in the recommended area for that particular headset.
You can read more about measuring your IPD and choosing the correct headset from my previous article VR & IPD – Everything you need to know


Screen Type (OLED vs LCD)
The two main types of screens used in VR headsets today are OLED (PenTile pixel layout) and LCD (RGB Stripe). Both have their pros and cons. Although it is quite subjective and dependant on each person's preferences, OLED screens are generally preferred when it comes to watching movies.
The main reason for that is that OLED outputs deeper colors (especially blacks) with better contrast, whereas the image from an LCD screen seems more washed out.
On the other hand, LCD screens using RGB layout (most VR headsets), produce 1/3 times more subpixels for the same resolution (compared to OLED), thus making for a sharper image overall.
The reason for this is that LCD screens use RGB stripe, which has a dedicated red, green, and blue subpixel for each pixel (3 subpixels for each pixel). OLED screens using PenTile layout share a red or blue pixel with their neighbor pixel (2 subpixels per pixel), and thus there are fewer total subpixels.
If you want to get more in-depth info about VR displays, be sure to check out my previous article about this topic.


Comfort of Wearing
Look, if you are thinking of buying a VR headset for the purpose of watching movies, it better be as comfortable as possible. You will be wearing the headset for prolonged periods (as much as 2+ hours) and I can tell you from my own experience, that you will feel some strain on your face – no matter which headset you choose.
However, not all VR headsets are equal and some are far more comfortable to wear than others. The Valve Index, for example, has hit the nail on the head when it comes to the comfort of wearing. The soft cushioning of the straps feels pillow-like and you probably won't have a hard time during the movie.
With the Oculus Quest, on the other hand, you are most certainly going to feel some strain on your nose, forehead and will need to adjust the headset and take small breaks from time to time.
My point is, if you are going to purchase a VR headset for watching movies, be sure to knowingly prioritize comfort level – you will soon find it is very important.


Do you own a PC? Planning to Purchase one?
The thing with PC-tethered VR Headsets such as Samsung Odyssey+ and HP Reverb is that they understandably require a PC to run (and a rather decent one). Be sure to check that your PC is compatible with the VR headset you are thinking to buy.
If you do not have a gaming PC and not planning to buy one, then there is really no question – you are going to have to make a decision between the standalone Oculus Quest and Go. And even if you do have a compatible gaming PC, the standalone VR headsets might still be the better choice. Read on.


How are you going to use your headset?
Well, obviously one of your intents is to watch movies. But why and how are you going to do it?
With PC-tethered headsets you have to take into account that you will only be able to watch content near your PC or Notebook. Is there a suitable and comfortable place for you to do that?
Maybe you travel a lot and want to watch movies while you are away from home? In this case, you will certainly benefit from the portable and wireless freedom that the standalone VR headsets offer.
What about gaming? Although watching multimedia and movies with VR is great, I feel the technology offers the greatest experiences with games. Oculus Go, for example, offers excellent value for multimedia watching but you will miss out on the gaming part.
If you have no experience and are not sure, whether you would like VR gaming or not – go and test it out somewhere. Maybe someone from your acquaintances has a headset or you could go visit a VR arcade. Get a feel for what VR is about and you will make a more rational decision.
Another use case for VR that if often overlooked is workout. You will find quite a large choice of games that help you exercise and get in shape (from shooting simulators to dancing, ping pong, and boxing). I can tell from my own experience that VR makes working out fun and you can do it from the comfort of your own living room.
Point being – think through the different ways you might want to use your VR headset and choose the product accordingly.


Audio
Audio is, of course, important when watching movies and all the most popular VR headsets come with at least some form of built-in audio. But not all audio solutions are built to be equal and some are significantly more pleasurable than others. Valve Index, and also Odyssey+ , for example, have excellent audio, while the Oculus Quest and the Rift S could have done with a better sound setup.
In reality, the audio might not be a problem at all. Practically all VR headsets have a built-in 3.5mm audio jack, where you can plug in your own headphones. And even with semi-decent headphones, you are going to have good enough sound quality for movies.
Think through your own most probably use cases. If you do not have headphones lying around and will be relying on the default audio of the VR headset, be sure to prioritize the audio quality. However, I think most of the consumers will be watching movies with their own VR headphones (to not disturb others and for privacy reasons), thus the audio quality is less important than other factors.



Oculus Go
The Oculus Go (released on May 1, 2018) is a VR headset that was built for movies and other multimedia experiences. But is it any good in 2020 and should you buy it for watching movies? Most definitely! And I will explain why.
The Oculus Go is portable and wireless. You just upload your desired content on the built-in memory (32GB & 64GB versions) or stream from the internet and that is all. Pull on the headset anywhere you want and start enjoying!
The headset comes with an LCD display (RGB stripe pixel arrangement), that is able to produce a resolution of 1280 x 1440 per eye. LCDs with RGB arrangements are good at producing a sharper picture (1/3 more subpixels for the same resolution, compared to an OLED screen). However, the caveat for current LCD screens is that the colors seem more washed out. For example, a movie with a lot of dark scenes that should be black might appear grayish when watching with the Go.
Keep that in mind and think through what it is that you value. More pixels (sharper image with LCD) or vibrant colors and deeper blacks (OLED screens). People generally tend to slightly prefer the latter for movies but in the end, it is quite subjective.
But back to the Oculus Go, for now. The headset has a configurable frame rate (60hz and 72hz options), which will do a splendid job for 24p content (most movies today), but also 30p videos (Youtube, etc). Read why here.
Since the Oculus Go is a rather simple headset and does not pack a lot of tech inside, this means the device is quite light and evenly balanced when worn on your head. Compared to most other VR headsets, you could say it is quite comfortable to wear and therefore very suitable for watching movies.
One of the great advantages of the headset is the price. The original release price of 199$ for the 32GB version has been dropped to 149$ at the time of writing (January 2020) which makes it a bargain compared to most other VR headsets on the market.
On the negative side – the Go does not have a manual IPD adjustment knob. This means that if your IPD falls out of the range of 61.5 to 65.5 mm (~2.4 to 2.6 inches), you should seriously consider a headset that lets you manually adjust the lenses (such as the Quest). Otherwise, you just might not get the image you want and deserve, with added eye strain as a "bonus".
Also, keep in mind that this VR headset is not meant for gaming. You can play some basic VR games, but not the ones that give you the "real" VR experience (due to only 3 DoF tracking and the single basic controller).
Be sure to think through your preferences and needs prior to buying. If you are certain that you just want to watch multimedia content, the Go is a go-go! However, if you want to do some gaming in addition to watching movies (which I think you should, as gaming is excellent in VR), then you should probably consider an alternative headset.


Oculus Quest
I think I am not wrong when I say that the Oculus Quest is the most interesting and versatile VR headset on the market as of now. The portable and wireless nature of the Quest, splendid visuals, excellent inside-out tracking (no external base stations required) and great controllers make this an excellent all-around product to experience the full range of VR experiences.

Although the Quest is primarily aimed for gaming purposes, it has many qualities that make it an excellent choice for watching movies as well. And in the context of this article, I am mainly going to focus on factors that are important for multimedia.
First and foremost is the fact that it is a standalone device that can function on its own. This is important in the movie-watching context because it enables you to use the device anywhere you want – traveling or at home. With the PC-tethered headsets, it is understandably not as easy and you must be near your gaming PC or have the gaming notebook with you.
The Quest comes with an OLED display (PenTile layout) able to produce 1440 × 1600 resolution per eye @ 72hz. OLED is generally the preferred option for watching multimedia content in VR (compared to LCD screens). That is because OLED screens produce deeper blacks and more vivid colors in general. From my own experience, I can tell you that the colors are indeed excellent with the Oculus Quest. Non-comparable to a high-quality TV set, but totally acceptable nevertheless.
A caveat with the Quest`s OLED screen is its smaller pixel density (1/3 times less than LCD-s with RGB layout at the same resolution) and therefore not a disturbing, but still visible screen door effect. In more down to earth language – you do notice separate pixels (and the space between them) if you look for them. I personally am the kind of person who forgets about it very quickly altogether and this does not bother me at all. But there are some people for whom this is a showstopper.
Do notice that this is currently the case with practically all VR headsets (not just the Quest). It is just very much less prominent with the HP Reverb, or even with the Oculus Go.
But back to the Quest. It comes with a hardware adjustable IPD which is definitely a useful feature for many people whose distance between the pupils does not fall into the "average" category. You can configure your own sweet spot and avoid eye strain that would otherwise occur after prolonged use.
The in-built audio with the Quest is so-so. Although there is enough volume and you can easily understand everything, you feel as the sound comes out of nowhere and also lacks bass. I usually plug in my own headphones when gaming or watching multimedia content, and I recommend you do the same.
When trying to conclude the overall visual experience of watching movies and multimedia content with the Quest, I'd say the following. The image quality is similar to sitting very close to an older generation TV set and watching content at 480 – 720p quality range. So definitely not perfect, but still very watchable.
The biggest downside for me is comfort. Having the headset strapped to your face for 0.5+ hours will most definitely lead to some pressure/strain on your face. Adjusting the headset from time to time and strapping it on more loosely helps, but it is still not as comfortable as just watching a regular TV.
This is also the main reason that I still mainly use my TV for watching movies. However, the Quest has become a loyal companion when I am traveling or when the TV is occupied by my wife or children for example. And when I feel like watching 3D content.
Also, If I didn't own a TV, I would be totally OK with having The Quest as my main multimedia device. I guess that says quite a lot about the headset!


Samsung HMD Odyssey+
The Samsung Odyssey+ is a VR headset from the Windows Mixed Reality family that was released on October 22nd of 2018. To run the headset, you need to have a capable PC (or notebook) connected, which generates the actual content to be displayed.
The Odyssey+ comes with inside-out tracking so no external base stations are required. Although not important for watching movies, the tracking actually works surprisingly well (given that there are only 2 built-in cameras doing the work). The lack of external base stations also makes the initial setup of the headset very easy and quick – it only takes a couple of minutes to start enjoying your VR experiences.
The Samsung Odyssey+ comes with an OLED display (PenTile layout) with a resolution of 1,440 x 1,600 per eye. The refresh rate of the display can be configured to either 60 or 90 Hz.
With the OLED display, the colors are rich and vivid, especially the blacks. And this is something we want for movies, for sure. However, this also means 1/3 times fewer subpixels compared to LCD displays with an RGB stripe layout. To compensate for the smaller pixel density, Samsung has implemented a software-guided SDE filter (Screen Door Effect) which works very well.
The overall result is really good, actually. You get the rich colors that OLED displays are able to produce and virtually no SDE to go along with it. The only thing that bothers some people a bit, is that the edges of objects might seem a bit blurry due to the SDE filter. However, in general, it is often said that the Odyssey+ has one of the best displays on the market which is excellent for watching multimedia content.
The Odyssey+ also comes with a hardware adjustable IPD which enables you to configure the lenses to fit your eyes. Thus it is easier to find the visual "sweet spot" and avoid eye strain that could otherwise be present.
When it comes to watching movies with the Odyssey+, I would like to discuss two additional factors.
First being the Audio. The headset comes with over-the-ear headphones built by AKG. Most people find the audio quality to be good or excellent. However, there are some who say that it lacks depth and bass. With Odyssey+, you can not plug in your own headphones, however. So if you happen to be someone who does not like the default audio, then well – you are stuck with it.
The second and more important factor is comfort. Or the lack of it, to be more precise. Although this is subjective and dependant on each person's head shape and size, the headset has received quite a lot of criticism for wear comfort and fit. The cushioning tends to press against your forehead which after some time makes for an unpleasant feeling. Also for some people, the cushioning is not a good fit and slowly pushes the headset away from your sweet spot (and you need to adjust the headset again).
That being said, there are also many people who find the headset to be comfortable. So like I said, it is quite subjective in the end. When watching movies, if it does deem to be uncomfortable, you can also get away with strapping the headset more loosely and thus applying less pressure to your head and face. However, do keep the comfort issue in mind when making the final choice, as it is important.
To conclude the Odyssey+, it is a great VR headset with good visuals. The tracking works well and you can also easily enjoy room-scale gaming experiences in addition to watching movies. If you can get the headset around the 300$ mark (check the latest price), it is definitely a very good option to consider.


HP Reverb (2nd Edition)
The HP Reverb VR headset, originally released on the 6th of May 2019, was promising and much awaited by customers. After the release and first impressions, however, it feels like the headset was rushed to the market. Many of the initial headsets had several technical bugs, mainly with the display (blackouts, flickering, stuck pixels) and received a lot of criticism for that.
HP called in all the faulty headsets and got to solving the problem (which was actually caused by a single cable). Starting from September 2019, HP (and all its authorized dealers) shipped the 2nd edition of the Reverb, where the problems with the display had been solved.
So what kind of creature is the HP Reverb and why do I think it is excellent for the purpose of watching movies? Let's find out!
The HP Reverb is a PC-tethered headset (check for PC compatibility) with inside out tracking. This means that no external base stations are required and the 2 cameras built into the headset track your location. Not to say that they do it perfectly (more about this later). However, this does mean a very quick setup – it only takes a couple of minutes to get started with the HP Reverb.
Where the Reverb excels and the reason it is an excellent choice for watching movies, is its visual capabilities. The headset comes with an LCD screen (RGB layout) that is able to produce a 2160 x 2160 resolution per eye @ 90Hz refresh rate.
The resolution and therefore the clarity and sharpness of the image generated beats its competition out of the door. And this might be one of the most important factors when it comes to watching movies and multimedia content. Also, in essence, no visible screen door effect anymore. Yay!
On a slightly negative note – the colors could be a bit more vivid and popping at default settings. This is not a huge problem, as many video players enable you to adjust the color settings to find the right balance.
Also worth mentioning about the display is that although the central point of your vision is clear and precise, the objects in your peripheral vision start getting more and more blurry. This actually might be a problem for some people who would like more of an edge-to-edge clarity similar to what the Valve Index is able to offer for example.
Hower, display-wise, the HP Reverb is a huge step up from most of its competitors. If you have tried out some of the other VR headsets and found that the image quality was lacking for the purpose of watching movies, the Reverb might just be the headset that brings you the visual quality you have been longing for.
Also on the positive side – the headset is lightweight (no neck strain!) and there is virtually no light leak anywhere, which helps to create an immersive experience. Although the headphones don't have an extraordinary audio quality (but still sufficient), they can be pressed against your ears to cut out external sounds. I think this is important in the movie-watching context. And if you find yourself longing for better sound, you can remove the default headphones altogether and plug in your own.
The HP Reverb most definitely has several positive qualities to it. However, there are also some downsides to consider and think through.
First, there is no manual IPD adjustment. The nominal recommended IPD for the Reverb is 63mm (~2.48 inches) with software adjustments making it usable in the 55mm – 71mm (2.166 – 2.8 inches) IPD range. However, keep in mind, that the further your eyes deviate from 63mm IPD, the harder it will be to find the sweet spot in terms of visual clarity and avoiding eye strain.
Secondly, although the headset is quite light (1.1 pounds or ~500g), the headstraps push the cushioning into your face, which might become uncomfortable after prolonged use. Be sure to fiddle around with the adjustment and try loosening the straps for the purpose of watching movies.
Another comfort-related issue is the fat cable that is hanging from behind the headset. Now, this is not a problem if you are seated. However, it would most definitely get in the way, if you wanted to watch movies while lying down. It is also a nuisance if you want to play room-scale games, as it just gets in the way and ruins the immersion.
Not that important in the movie watching context, but still definitely worth mentioning is the tracking (should you also want to play games). The 2 built-in cameras try their best, but in certain hand and body positions, they just struggle to keep up with you (and there will be tracking blackouts).
In addition to that, the controllers are also not quite on par in terms of comfort and usability when compared to Oculus Touch or Valve Index knuckle controllers. Again, this might concern you when you would want to spend more time gaming.
In conclusion, I would say that the HP Reverb is an excellent choice for seated experiences that require good visuals (watching movies, playing flight simulators, using the headset as desktop "monitor"). In this case, the disadvantages that the headset has, won't surface.
However, when it comes to hardcore gaming – the tracking issues, fat cable getting in your way and so-so controllers make this a poor choice and you probably should opt for an alternative.


Headsets that Did not Make my Final Cut For The Purpose of Watching Movies
Having given my top recommendations for VR headsets that are most suitable for watching movies, I will now list some of the popular headsets that did not make my final cut. I will also briefly give an overview of the positive and negative aspects of each one and explain why I left them out from the final list.


Mobile-Tethered Headsets
As you can see, I did not include a single mobile-tethered headset in the list. The reason being that mobile VR seems like it's nearing its death.
Google has officially stated that it is discontinuing the Daydream VR project (due to customer and developers' lack of interest) and the Daydream View headset is no longer available for purchase. Although Samsung has not officially cut the lines with its Gear VR, it very much seems to be heading the same direction.
If you want simple multimedia VR experiences, instead of the mobile-tethered VR headsets, just go for the Oculus Go. There is no significant price difference, it is more convenient to set up, doesn't occupy your phone and the Go is just a better overall solution.


Valve Index – Enthusiast PC VR Gamer`s Choice
Valve Index is a superb VR headset overall, probably the best on the market as of now. It offers excellent visuals (great resolution and image sharpness, high FOV, up to 144Hz display refresh rate, excellent edge-to-edge clarity), innovative and comfortable finger tracking controllers, immersive spatial audio and superb wear comfort.
However, if your primary goal is watching movies and multimedia content, then it is a definite overkill. It also has very noticeable god rays, which is not that good for movies.
At about 1000$ it isn't what you would call cheap either. If you want a PC-tethered headset to mainly watch movies, I recommend you go for either the cheaper Odyssey+ or the HP Reverb which has a slight edge over the Index in terms of visual quality.
However, if money is not a problem for you and you just want the best overall VR experience that money can buy (which also includes gaming), then be sure to consider the Valve Index as a very viable option.


Oculus Rift S – Great Value for PC VR Gamers
While the Oculus Rift S might be a great PC-tethered VR headset to start your VR gaming journey with, I believe it is not the best option for watching movies. Here is why.
It has an LCD RGB screen with the same resolution you get from the Oculus Go ( 1280×1440 per eye) – so no real improvement here. With a refresh rate locked at 80Hz (currently no option to change it), it does not divide evenly into regular movie and video content (24p / 30p) which might cause noticeable stuttering.
The Rift S also has no manual IPD adjustment (be sure to check your IPD) and provides an average audio experience. If your purpose is just to watch movies, you might seriously consider the much cheaper standalone Oculus Go or the similarly-priced standalone Oculus Quest (which can also function as PC-tethered device)
From the PC-tethered options, I also think that the often cheaper Samsung Odyssey+ is a better option for watching movies (IPD adjustment, great visuals, and audio).


HTC Vive Pro – Made Redundant By Competition
I currently do not see HTC Vive Pro as the main candidate for watching movies nor playing games. If you want the best visual experience for multimedia at a much cheaper price, go for the HP Reverb. If you want the best overall VR experience (for gaming as well as multimedia), go for the slightly cheaper Valve Index
The only real advantage the Vive Pro currently has over the Valve Index, is its wireless adapter capability. If you are a hardcore gamer who likes wireless freedom, then HTC Vive Pro might be an option for you (until Valve comes out with its wireless adapter).


Pimax VR Headsets – Pushing Boundaries
Pimax has been pushing VR boundaries with their various 5K and 8K models, albeit not without problems. Their latest model, called the Artisan is Pimax`s entry-level headset that actually promises to be good. There is not much feedback and reviews yet, as it was just showcased at CES 2020. However, it did receive a warm welcome from MRTV – MIXED REALITY TV.
Would I recommend it for movies? Probably not. The price for the headset itself is 450$, but this does not include tracking stations and controllers (which will make it more like 1000$ total). Also, the 170-degree FOV that the headset promises is good for gaming, but you really do not need that much when watching movies (if you do not happen to be the kind of person who always sits in the front row of the cinema)
MRTV mentioned that the image quality is actually very good, with sharp colors and virtually no glare / god rays. So it looks promising, but I still would say more so in the gaming context than watching movies.


Final Thoughts
There are so many different products on the market and things to consider when choosing a VR headset for the purpose of watching movies. If I was new to VR, I personally would purchase the Oculus Quest for the excellent all-around package it offers.

The final decision is up to you, however. I do hope this article was useful to you and helps you make an informed decision. Enjoy & happy VR movie watching!


Related Posts