Virtual reality is all about creating alternative experiences and tricking your mind and body into believing something that is really not physically there. 
In addition to the actual games and applications, you will be spending a lot of time in the home environment of your Oculus Quest / Quest 2 headset. It is therefore only reasonable that you would want to change and customize the home environment to further improve your overall VR experience and immersion.
To change the home environment on your Oculus Quest or Quest 2 headset:
Click the "Oculus Button" on the right controller to launch the Universal menu
Navigate to "Virtual Environment" in the settings
Click to install / activate a specific home environment
My personal favorite from the default environment list is  "Cyber City". It really makes you feel as if you are placed straight into the future. Try out the different environments and see which one works best for you personally.


Installing Custom Home Environments on your Quest / Quest 2
If none of the provided home environments really excite you then I have good news for you. You can actually download and install custom home environments on your Quest / Quest 2 headset. 
Installing custom home environments on your headset is actually really quite easy. 
What you need:
Your Quest / Quest 2 headset
A computer (PC, Mac, ..) with a USB port
USB cable to connect your headset
Set up Sideloading (via SideQuest)
1) Set Up Sideloading (via SideQuest)
Sideloading lets you install games and applications on your Quest / Quest 2 headsets that are not officially available in the native Oculus Store. In the context of this article, home environments are also "applications" that you are going to install on your headset.
To set up sideloading, just follow the installation manual on the SideQuest website and I don't think you will have any trouble setting it up. Just to be sure, you can also watch the video below describing the process of setting up sideloading.
2) Download Custom Environments For Oculus Quest / Quest 2
You can find a variety of different user-created custom home environments from Quest Home Discords (#quest-homes-environments).
In most cases, you will be able to see a video preview of the home environment to determine if it something you would actually like. So go ahead, look around and download a couple of environments for later testing.
PS! When you download the custom environment APK files, there will usually be many files to choose from (for a single custom environment). This is because the custom environment you download will be replacing one of the current environment files in your headset. The name of the downloaded file usually indicates which current environment will be overridden.
3)  Uninstall the Environment You Want to Replace
To avoid problems with the installation, It is almost always a good idea to remove the previously installed environment you are going to replace.
So let's say you are going to replace the current "Winter Lodge" environment in your Quest headset with a new custom built environment you found in the Quest Home Discords.
To uninstall the current environment in your Quest headset:
Open SideQuest and verify that your headset is connected
Open "Currently installed apps" (3×3 boxes icon)
Toggle "Show all" and search for "environments"
Go to environment settings and you can uninstall the environment there
4) Install New Custom Environment
To install the environment APK file you previously downloaded, just drag it to the top-left of your SideQuest window to start installing. Alternatively, you can click on the "Install APK File" icon (next to the Wifi icon) and install the APK file from there.
After you have initiated the install process, it will notify you whether the install was successful or if there were any errors.
I personally have had problems with some environment files being unable to install successfully. I opted not to debug the issue further and just downloaded some new environment APK files, which proved to work perfectly fine.

5) Activate New Environment
Power on your Quest / Quest headset, navigate to "Settings" and then "Virtual Environment".  Activate the Environment for which you downloaded and installed the custom environment file.
PS! The image and name of the environment remain unchanged, even though there is now something totally new beneath it. Go ahead and activate the environment!
And that is it! I hope you got everything working and can enjoy your brand new home environments!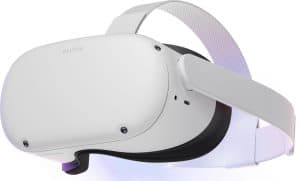 Oculus Quest 2 is still the king of consumer VR! Don't miss out and enter the world of VR experiences, unlike anything you have ever seen!