Those who are just getting their feet wet in the world of virtual reality and getting to know the different VR headsets available, often have many questions that need answers. One question that is often asked is whether you need a mobile phone for the Oculus Quest or Quest 2 headset. 
The short answer is that the Oculus Quest and Quest 2 are standalone VR headsets that do not require a PC, console, phone, or any other device connected to run. However, you will need an Android / iOS smartphone (or tablet) to install the Oculus app and complete the initial headset setup. After that, the phone is no longer needed.


You Need a Smartphone for Oculus Quest / Quest 2 Initial Setup
When you first receive your Oculus Quest or Quest 2 headset you must complete the initial setup of the headset. Don't worry, the process is really easy and intuitive and doest take too much time.
One of the required steps is to install the Oculus companion app on your Android / iOS smartphone or tablet (from Google Play / Apple App Store). The app is used for logging into your Facebook account, setting up your VR profile and privacy settings and adding a payment method for purchasing games. 
See the Oculus official setup video showing the process in more detail:

Once you have completed the initial installation steps on your phone, you won't need your mobile or the Oculus app to use the Oculus Quest headset anymore.  You just power on the headset and do everything from within the device.


What Kind of Phone Is Needed for the Initial Setup?
To install and run the Oculus companion app you will need to have a smartphone (or tablet) with Apple iOS 10+ or Android 5.0+.
If you try to complete the installation on a device that has an earlier release of iOS or Android, you may experience issues setting up your headset.


What Happens After the Initial Setup
As mentioned earlier, once the initial setup of your headset is completed, you no longer need your mobile or the Oculus app for the Oculus Quest headsets.
You can do practically everything from within the headset itself. This includes purchasing,  installing and playing games, browsing the web, watching videos and changing various settings of the headset.
You just have to make sure the headset/controllers are charged and power up your headset to start enjoying the wonderful world of virtual reality.


Two Main Reasons You Might Still need your Phone and the Oculus App
I can think of two main reasons why you might want to keep the Oculus app installed and not remove it right away.
Enabling "Developer Mode" to Sideload Games –  Sideloading enables you to install and run games / apps that are not officially released and available in the native Oculus Store. Several of the games and apps are also free and this widens your choice for content. To sideload games, you must first enable developer mode on your Quest headset which requires the Oculus app.

Cast Oculus Quest / Quest 2 to your phone –  the VR experience is very isolated by nature – only the person wearing the headset knows what is going on. For this reason, there are probably a variety of occasions where you might want to cast the screen of your Quest headset to your phone. Doing so again requires the Oculus companion app installed on your phone.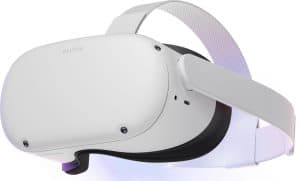 The new and improved Oculus Quest 2 is finally back in stores! With 128 GB storage as standard, you get even more for your money than before! Don't wait and get yours!