Glasses with GPS. This does sound like a good combination, right? Imagine moving around in an unknown place. You have your  glasses on that are displaying digital real-time turn by turn directions straight in front of your eyes. You don't have to gaze  at your mobile / GPS device and can move around naturally.

I did some research to find out if and what products are there that would enable this in real life. From my findings there are some solutions that are getting quite close. However, in reality none of the consumer products currently available are perfectly suitable for this purpose.

But let does next look a bit closer what glasses are out there that you could use for GPS navigation. I am also going to offer some alternative solutions that you could use to make navigating around more seamless and effortless.


GPS Glasses With Display
It seems that with smart glasses, all roads lead back to Google Glass. They were (are) the modern day pioneers in the field.  When talking about glasses with GPS navigation, once again they showed the way to the rest of the world.

It can be seen from the video that digital navigation pointers are not laid over physical roads and buildings. Instead, there is a see-through box on the top right corner of your view displaying navigation similar to your mobile phone.

Many years later, things have not changed much. We are next going to have a look at some glasses that are able to display visual turn by turn navigation.

Vuzix Blade
With Vuzix Blade smart glasses, it possible to connect the device to your smartphone. Through dedicated mobile app you can then show the turn by turn directions in the glasses.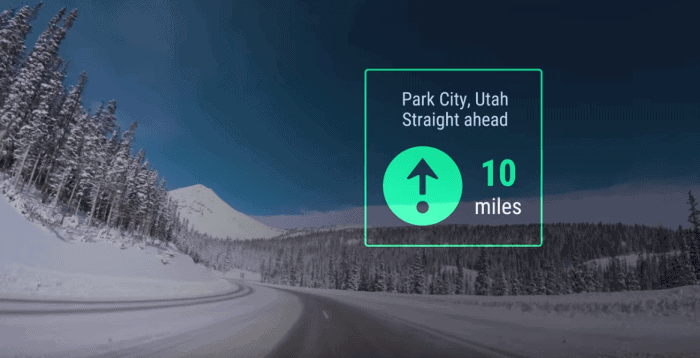 Here you can see again, that instead of directions overlaid on physical objects, there is a dedicated navigation box. Although these glasses would definitely get you where you need to, the cost for this is north of 1000$.  

If you want glasses strictly for navigation, they are probably not for you. However, if you find use for the smart glasses in other areas of your life also, they might be worth considering.

Solos Smart Glasses
Here I am going to start with the fact that Solos Smart Glasses are primarily meant for cycling (and running). GPS navigation is just one of the functionalities. If you walked around in the city with them, chances are you are going to receive some odd looks from people around you.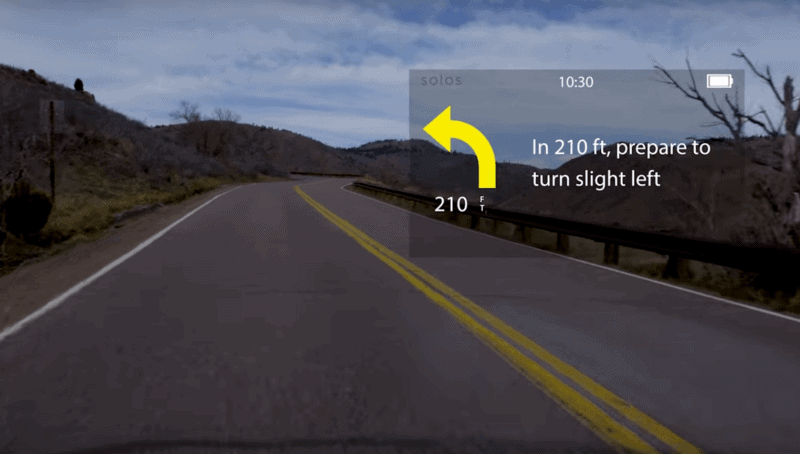 However, once again by connecting the glasses to your phone, they could function as your GPS navigation device.  Here the price is also a bit cheaper than for Vuzix Blade, costing you around 500$.

In reality you would probably only consider purchasing them if you indeed were a sports enthusiast.  They are not your glasses for general everyday use. Although if you are often driving you car around in sunny areas, then why not. They could do the job.

Keep in mind though that driving your car with smart glasses is generally not recommended at this point (and prohibited in some countries),
Focals By North
Focals are smart glasses that actually look quite normal. The frames are still a bit bulky, but definitely not anywhere close to most other products out there.

Among other functionalities, these glasses can also show you turn by turn GPS navigation directions. Once again, the actual navigation happens in your phone, but you can display the visuals in the glasses.

With Focals, there are two big limitations for most of you lot. The glasses currently around 600$ and you have to go through custom fitting in one North`s showrooms in Brooklyn or Toronto.   

The Future Of GPS Navigation (With Glasses)
From my current findings, there really are not a lot of consumer focused products that would enable you to visually navigate your way around.

I am quite certain however, that as time moves forward and technology advances, there are going to be a lot of different wearable devices for navigation. I believe so, because there are actual pain points to be solved here.  
Can you recall a situation where using your mobile / GPS device you entered a slightly more complex intersection and all went wrong?

"Which lane do I have to be on?"
"Is it this exit I must take? … Ahh crap, it was the wrong one"
Now think of a scenario, where the directions are in front of your eyes all the times. You don't have to look away from the road to get your bearings. Digital pointers laid on top of physical roads indicate exactly which lane and exit you have to take.

See the demo video from a company called Mapbox below. I believe this is an indicator what the future of GPS navigation will look like.
Alternative Ways For (Simplifying) GPS Navigation
Since we didn't really find a good solution in the first part of the article, I thought it would be a good idea to look at some alternatives. With this I mean alternatives to your mobile and/or regular external GPS device.

I am not gonna strictly limit myself to glasses here, but also look at other devices/ways that would possibly make navigation more convenient. So, let's dive in.

Bluetooth (Sun)glasses
There are several glasses out there that play audio and have bluetooth compatibility. What this means is that you can connect the glasses to your phone and receive audio navigation instructions while you are moving around. And of course dimmed lenses if you go for sunglasses.

I would suggest you go for glasses with bone conduction (link to my previous article about best bone conduction glasses) audio rather than with regular earbuds. Whether driving, cycling or walking – for safety reasons it would be a good idea not to cut out sounds from the real world. Bone conduction enables you to do exactly that.

For bluetooth sunglasses (and other bluetooth devices), make sure they support A2DP (Advanced Audio Distribution Profile). Otherwise you might have problems playing the sounds from connected devices.

Bone Conduction Earphones
If glasses are not what you need, then earphones are a viable choice to get turn by turn  directions in audio form. Again, for navigation purposes I would recommend bone conduction earphones (link to Amazon) over the ones that mute the outer world.

Depending on your needs and whether you are sitting or moving around, you can again go for a bluetooth device or a product with wires to receive the audio.

If bone conduction is not for you. ..  or you just want something discreet, then this Bluetooth single earbud from Amazon might also do the trick for you.

Car Bluetooth
This is really rather basic knowledge, but I still decided to include it here. If you are often driving around in your car (which has Bluetooth) and need navigation directions, you can easily pair with your mobile.

This way you can get clear audio turn by turn instructions while driving around. And while there are no need for directions, you can just listen to music saved on your phone.

Become Google Maps / Apple Maps Power User
I am pretty certain that most of us who use Google or Apple Maps only use the basic features.
"Directions To .. From My Location" … and we are set.

The truth is there are lots of useful functionalities hidden beneath the surface. You can control and change navigation with your voice,  search along the route, etc.

Check out the following article for Google Maps, and this one for Apple Maps.


Conclusion
In this article we had a look at what different wearable glasses are available for GPS navigation. As we concluded,  when it comes to glasses with display, there really aren't many viable options. Vuzix Blade, Focals By North and Solos smart glasses offer the functionality, but are not really built for that purpose.

We therefore also looked at alternative devices and techniques that could make your navigation a bit easier. These options include bluetooth glasses, car bluetooth, and headsets for audio GPS navigation directions. You could also take the time and learn the bits and pieces of Google and Apple Maps, which offer several hidden advanced and useful features.
I hope this article was useful to you and you got some new ideas to make your GPS navigation easier.