There's a lot to like about the Oculus Quest / Quest 2 headsets and the immersive gaming experiences they offer. They're also super intuitive to set up and easy to use.
Sometimes, however, simple things such as exiting an app or game get shadowed by the short tutorial video or the Guardian setup process, which can be breathtaking when you go through it the first time.
If you're stuck in a game wondering how to go back to the home screen, you're not alone. To help you out, there are three ways you can exit a game on the Oculus Quest and Quest 2 headsets:
Press the menu button on the left controller to launch the game menu and find the "Exit" option there.
Briefly press the Oculus button on the right controller to launch a dialog with the "Quit" option available.
Reboot / Shut down your device by holding down the power button.
Just to be sure, let's look and explain each of the options in a bit more detail. 
Did you hear? Facebook (Meta) is going all-in on virtual reality and metaverse. Get a Quest 2 headset and be a part of the future of entertainment!
LEAVING A GAME THROUGH THE IN-GAME MENU
Luckily, some games allow you to exit from the game's own menu. You can easily bring this up by pressing the hamburger menu button on the left controller and scroll till you find the "Quit" option. 
But not all games let you exit out that easily. Some games let you exit properly only from their starting menu. This option, confusingly, does not appear when you're in the middle of a level leaving you to figure out things for yourself.
Still, no need to pull your hair out just yet. If you don't see a clear exit option in a game's menu, try the second method described below.


USING THE OCULUS BUTTON TO EXIT A GAME
The tutorials aren't always clear on this, but if you're not feeling the vibe of a game you can always exit a game or any app by quickly pressing the "Oculus" button. This button is found on the right controller under the grip sporting the Oculus logo.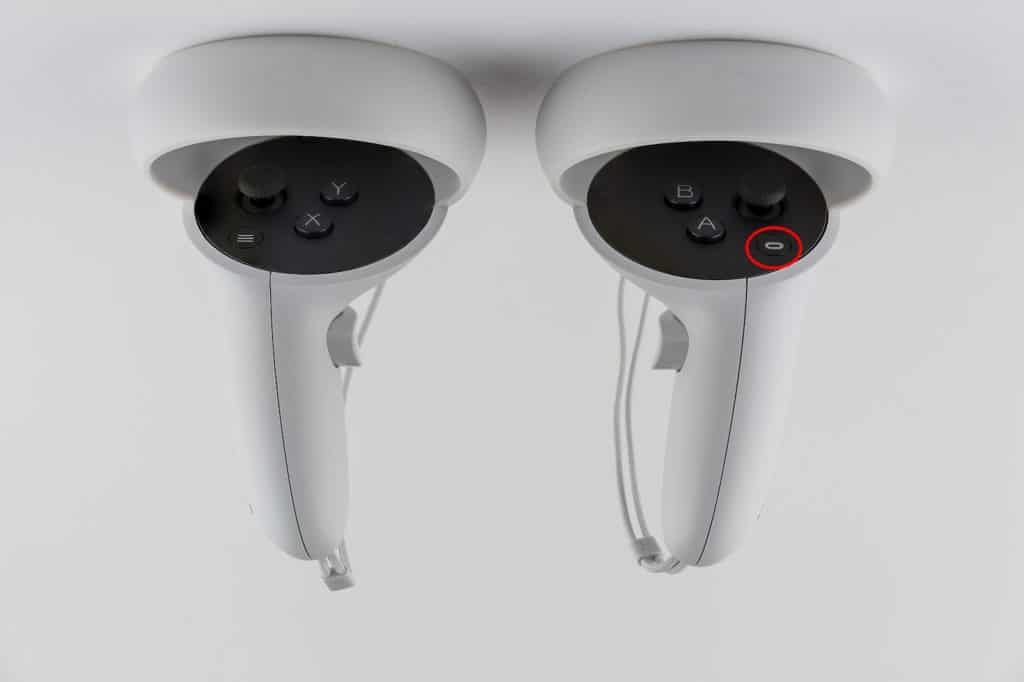 Note that you have to quick press this button and not long hold. This will bring up the system-level menu and from there you'll see an option to "Quit" or "Resume". Simply choose "Quit" then you'll be back at the Oculus home screen. 


"HAVE YOU TRIED TURNING IT OFF AND ON AGAIN"
If none of the methods above work, then all there's left to do is shutting down and rebooting the headset. Restarting the headset is a sure way of troubleshooting or resolving any issues you may run into while using your Oculus Quest | Quest 2. 
To do this, hold down the power button found on the right side of your headset until you see the shut down dialog from where you can choose to "Restart" or "Power off". When you turn on the Oculus, you'll be met with the home screen. 
But since this method takes up time, you only want to resort to this if the first two methods listed here don't workout. 
And that's it, using any one of these three methods will get you out of your current game and back to the Oculus home screen allowing you to catch up with your friends or take in another cool VR experience.
HARDWARE USED FOR TESTING AND WRITING THE ARTICLES:
* Meta Quest 2 (My "daily driver" headset which I absolutely love & recommend)
* Lenovo Legion 5 Pro (AMD Ryzen 5 5600H, Nvidia Geforce RTX 3060, 16GB RAM)
* TP-Link Archer C6 (budget dedicated router for Air Link, see my full setup tutorial)

ESSENTIAL QUEST 2 COMFORT ACCESSORIES:
* VR Cover Foam Replacement (one of the easiest & cheapest ways to improve headset comfort)
* BoboVR M2 Head Strap (reduce pressure on your head and improve the overall fit of the headset)