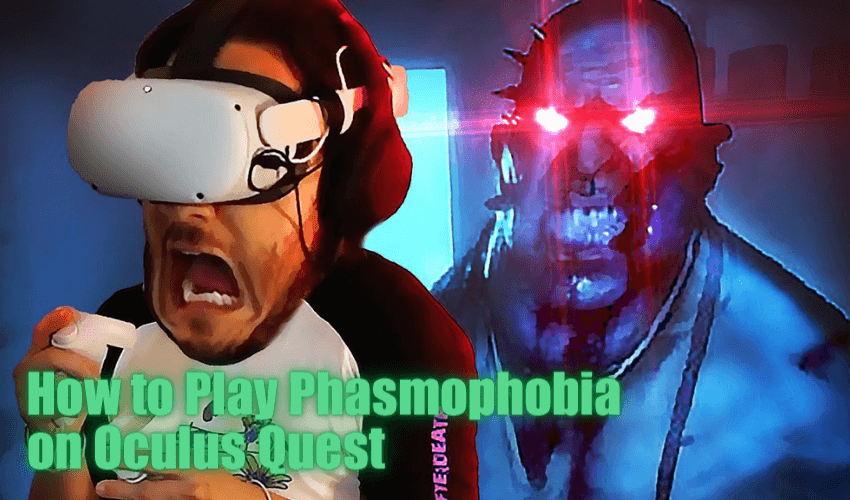 Scary games are extremely fun to play, but have you tried playing one in VR?
If not, Phasmophobia is the ideal game to begin with. This ghost-hunting simulator keeps the players on their toes while providing an enjoyable experience simultaneously. Phasmophobia is playable in several VR headsets, including the Oculus Quest 2. 
If you plan on playing the game on Quest 2, here's how you can do so without facing any hiccups. Keep reading!
What Is Phasmophobia? 
Phasmophobia is a four-player co-op game that falls under the psychological horror genre. The game is available for purchase on Steam and has gained popularity in recent months. 
Unlike other horror games, Phasmophobia focuses on ghost hunter simulation, where you get to partner up with your friends to find ghosts. It takes place in a first-person perspective, which is a new take on ghost-hunting simulators. The overall idea of the game is to gather evidence or clues and figure out what type of ghost haunts the property. 
If you make the right guess, you get additional pay, which can then be used to buy better ghost-hunting equipment. The game offers realistic gameplay with tools such as EMF readers, spirit boxes, smudge sticks, salt, and thermometers. 
In certain properties, you may even find an ouija board, which can help you communicate with the spirit. However, it can also trigger the ghost to begin hunting, so you might want to use the board strategically. 
The game is available in both PC and VR versions, with the PC version being much calmer. On the other hand, the VR version might need the players to be braver since the ghosts look a lot more realistic. Of course, the last thing you want is to be locked in a haunted house with an overly-realistic ghost. But it makes the horror game much more enjoyable! 
Since there are over ten types of ghosts with various abilities, the game won't turn boring anytime soon. You'll always be alarmed when the lights start flickering in the middle of your investigation! 
Can You Play Phasmophobia on Oculus Quest? 
Whether or not you can play this popular horror game on Oculus Quest is a common question. The answer is yes; you can most definitely play the game on the Quest headset. However, Phasmophobia is only available on Steam, so you cannot download it directly from the Oculus Quest store. 
Phasmophobia was initially released with a couple of bugs and glitches that made setting it up with a VR headset a difficult task. By April 2022, Phasmophobia fixed this issue, and Kinetic Games made the VR mechanics a lot smoother, which made the setup process easier. The game runs smoothly on any kind of VR headset, wired or wireless, which is definitely a plus. 
It is quite simple to begin playing Phasmophobia on your Oculus Quest 2 headset. Let us take a detailed look at how to play Phasmophobia on Oculus Quest.
How To Play Phasmophobia On Oculus Quest 2 
As mentioned, Phasmophobia can be played on the Oculus Quest 2 in two methods; wired and wireless. Though the wired headset connection might be easier to set up, some may prefer the freedom wireless connections give. We'll take a look at both options. 
Before you begin connecting the headset to your PC, ensure that the computer meets all Oculus Link PC requirements. At the bottom of the page, you will find a list of GPU-compatible hardware, which can be used as a reference to check your PC compatibility. 
Once you've made sure everything is compatible with the Oculus Link, you can enable the Oculus Link option and begin connecting your headset. 
Playing With A Wired Headset Connection
To connect your headset to the PC, you will need a link cable, which is usually available in most electronic stores. Attach either end of the cable to your PC and your Oculus Quest headset. This will allow you to stream/play the game on the VR headset with the help of your computer. 
Once you've connected the wire, open the Oculus app. After turning the headset on, connect the headset to the computer via the link cable or a USB C cable. Plug the other end of the cable into a 3.0 USB port on your computer. 
After this, you will receive a prompt in the Oculus app to "Allows access to data." Make sure you deny the prompt, and in case you accept it accidentally, unplug the headset and redo the entire process. 
You will receive another pop-up asking you to "Enable Oculus Link." Click "Enable," which would begin the remote rending process through the Oculus Link. Now, just open Steam, download, and launch Phasmophobia to begin playing. 
Although the wired connection is easy to set up, it can be quite limiting when it comes to movement. However, getting a 5-meter Link cable can temporarily solve this problem and give you enough freedom to move around. When playing Phasmophobia VR, people usually opt for a wired headset as it eliminates the possibility of any interference, input delays, texture issues, and game lag. 
Playing With A Wireless Headset Connection 
To play Phasmophobia on the Oculus Quest 2 wirelessly, you will need the Air Link feature of Oculus. The Air Link feature enables you to play the game on Steam without the need for any additional cables or wires. Though this feature is still undergoing development, it is a fun tool to experiment with and play Phasmophobia. Here are the steps to playing Phasmophobia wirelessly on Oculus Quest 2. 
Begin by downloading the PC Oculus Quest 2 application from the Oculus website, and log in using either Facebook or your Oculus account. In the app, open the Oculus app settings, select the "Beta tab," and enable the Air Link button. Your PC is now ready to be paired. 
Proceed to your Oculus Quest 2 headset and open up its settings page. In the settings page, you will find the Experimental Features tab, selecting which you can toggle on the Air Link feature. Once your PC and Quest 2 headset are set up, open Steam, press play Phasmophobia VR, and enjoy! 
When you toggle on the Air Link on both devices, it automatically connects with each other, enabling you to play the game through a wireless connection. Though it is a useful tool, the Air Link feature does have its drawbacks. 
The major drawback is the fact that it depends on Wi-Fi, which means a drop in the network will result in your gaming experience being compromised. It can also result in unnecessary lags and cause texture problems, making the overall game look unpleasant. 
System Requirements For Phasmophobia 
Basic:
64-bit operating system and processor 
Processor: Intel Core i5-4590/ AMD FX 8350
Operating System: Windows 10 ( 64-bit) 
Memory: 8GB RAM
Graphics: NVIDIA GTX 970 / AMD Radeon R9 290
Storage: 13 GB minimum 
Network: Broadband Network Connection 
These are the minimum specifications for VR devices. If you are playing on a PC, the minimum specs will be lower. 
Recommended:
64-bit operating system and processor 
Processor: Intel i5- 4590 / AMD Ryzen 5 1500X
Operating system: Windows 10 ( 64-bit )
Memory: 8GB RAM
Network: Broadband Network Connection 
Graphics: NVIDIA GTX 970 / AMD Radeon R9 290
Storage: 15 GB minimum 
Phasmophobia On Oculus Quest: Rumors 
As you may know by now, Phasmophobia is not available on the Oculus store and cannot be played directly on Quest 2. Since you can easily sync your PC to the headset via a cable or wirelessly to play the game, Kinetic Games doesn't plan on releasing it on Oculus soon. 
However, sources have come across a Trello board that mentioned Phasmophobia under a list of "backlogs" goals. This may be an indication that there are chances of the game being released on the Oculus store or the Oculus Quest 2. 
Although you will have to keep in mind that it is under a category called "backlogs" and might not be a priority. So, you may have to depend on your Link cables and Air Link connections to play Phasmophobia instead of waiting for a Quest-specific release. 
By the end of 2021, a VR rework was mentioned as a part of the 2022 Major Update Roadmap. This also includes the shift from SteamVR to OpenXR, along with an update for the unity engine. 
Oculus is also working on the Oculus Quest 3 (or Meta Quest 3), which leaves people hoping to see Phasmophobia on the platform. Another reason why Phasmophobia on Quest 3 might work is because of the immense success the game garnered in Quest 2. 
Additionally, one of the developers from Kinetic Games mentioned on Twitter that they do wish to release the game on Quest 2. However, they plan to do so only after early access. 
Final Words
Phasmophobia is a game that is getting popular by the minute, and VR only enhances its appeal. If you own an Oculus Quest 2 headset, the good news is you can easily set it up and play the game on it. Irrespective of whether you are using it with a wired connection or wireless, the overall game experience is impressive.