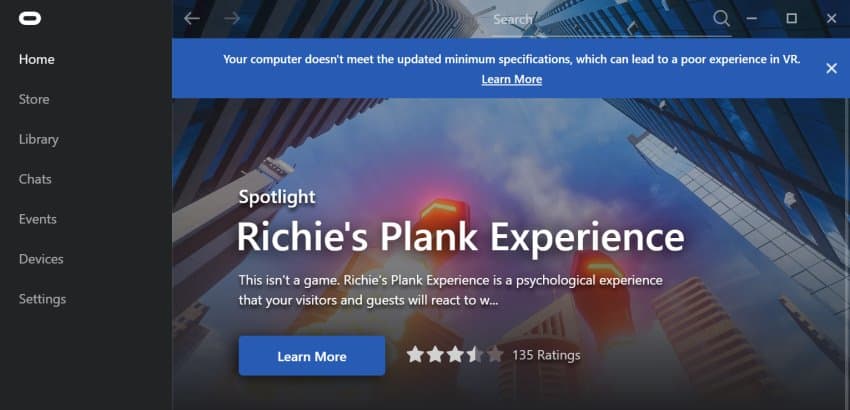 What to do if you launch the Oculus Software and get a message that your PC does not meet the minimum specifications for Oculus Link?
Check the official Oculus Link compatibility list and make sure your PC specifications meet the recommended requirements. If your PC is indeed compatible, you could be receiving the message because Oculus software is currently missing some of the newer graphics cards from the compatibility list
Let does next discuss and explain the topic in a bit more detail.


Oculus Software Outdated Hardware Compatibility List 
Imagine the following scenario. You have just purchased a high-end gaming PC to enjoy some VR gaming with your Oculus headset. You then install the Oculus Software required for Oculus Link and launch the application, eagerly awaiting some VR action.
… only to be greeted with the following warning message:
"Your computer doesn't meet the updated minimum specifications, which can lead to poor experience in VR"
If you have a decent gaming PC, the most likely reason Oculus is displaying a message that your PC does not meet the requirements is that Oculus hasn't updated the hardware compatibility list in their software. For example, as of 2021, all users with an NVIDIA GeForce RTX 30-series GPU receive the warning. Despite the warning, Oculus Link will likely work without any issues.
This is exactly the case for my Lenovo Legion 5 Pro (with an Nvidia Geforce RTX 3060 GPU) that I bought recently. Even though Oculus software gives me a warning message about PC specifications, everything actually works perfectly. It seems that earlier, the message was also displayed in VR, but luckily Oculus seems to have removed it now.
So if that's the case for you as well then it's best just to ignore the message and wait until Oculus updates their hardware compatibility list. Whenever that happens (those more involved with VR know it has been a long time already)
Is your PC VR-Ready? Oculus Link System Requirements 
Another and one of the most obvious reasons you could be getting the minimum requirements message is that your PC does not indeed have the necessary specifications to run Oculus Link properly.
The current Oculus Link PC requirements for the processor, memory and operating system are:
| | |
| --- | --- |
| Component | Recommended Specs |
| Processor | Intel i5-4590 / AMD Ryzen 5 1500X or greater |
| Memory | 8 GB+ RAM |
| Operating System | Windows 10 |
| USB Ports | 1x USB port |
Oculus Link Supported GPU-s
| | | |
| --- | --- | --- |
| GPU | Supported | Not Currently Supported |
| NVIDIA | | |
| NVIDIA Titan Z | | X |
| NVIDIA Titan X | X | |
| NVIDIA GeForce GTX 970 | X | |
| NVIDIA GeForce GTX 1060 Desktop, 3GB | | X |
| NVIDIA GeForce GTX 1060 Desktop, 6GB | X | |
| NVIDIA GeForce GTX 1060M | | X |
| NVIDIA GeForce GTX 1070(all) | X | |
| NVIDIA GeForce GTX 1080(all) | X | |
| NVIDIA GeForce GTX 1650 | | X |
| NVIDIA GeForce GTX 1650 Super | X | |
| NVIDIA GeForce GTX 1660 | X | |
| NVIDIA GeForce GTX 1660 TI | X | |
| NVIDIA GeForce RTX 20-series (all) | X | |
| NVIDIA GeForce RTX 30-series (all) | X | |
| AMD 200 Series | | X |
| AMD 300 Series | | X |
| AMD 400 Series | X | |
| AMD 5000 Series | X | |
| AMD 6000 Series | X | |
| AMD Vega Series | X | |
Recommended Specifications for Oculus Link
While the previous tables list specifications that are compatible with Oculus Link, they give no indication as to the overall performance you can expect. It seems that for this specific reason, Oculus has also listed recommended PC specifications for Oculus Link on their website.
CPU: Intel Core-i7-9700K or comparable AMD
RAM: 16GB DDR4
Graphics Card: GTX 2080 or comparable AMD
Storage: Ranging from 50GB to 340GB
Wi-Fi: At least 8mbps
If your PC meets or even exceeds these specifications, you can expect great overall Oculus Link performance out of your setup. These requirements also align quite well with the optimal laptop specifications for Oculus Link that I discussed in my previous article.
Note! If you are interested in how specific PC specifications perform when playing Half-Life: Alyx, I have gathered performance feedback from VR users in one of my previous articles.

Can You Get Oculus Link Working on Unsupported Hardware?
What about the scenarios where you checked the Oculus Link system requirements and found out that your system doesn't meet them? Is all hope lost?
It is worth trying to establish an Oculus Link connection even if your hardware is not listed in the official compatibility list. There are numerous cases where people have gotten PC VR gaming to work reasonably well, despite the underpowered hardware on their PC.
However, if you can not get your headset connected and VR games launched pretty much right out of the box, it is probably not worth putting in hours worth of effort to get it working. System requirements for software are there for a reason and you can not expect miracles to happen.
Note! You might find some useful tips about how to improve Oculus Link performance from a previous article I have written on the topic.
For me personally, having a laptop without a dedicated graphics card (only integrated Intel GPU) didn't stop me from trying to get Oculus Link working on the device. Even though, I knew in advance that realistically it is not going to happen. And it didn't, so I stopped and gave up pretty much right away.
Hopefully, you'll have more luck than I did! Or alternatively, you can go for the more reasonable route and purchase a computer that is actually compatible with Oculus Link.