Roblox is a major part of the ongoing revolutionary era where gamers are empowered to create their own virtual worlds. Minecraft may have opened the world's eyes to the sheer untapped creative power, and Roblox does wonderfully to capitalize on it.
That being said, in this article I'll be talking about whether you can play Roblox on the Oculus Quest and Oculus Quest 2 headsets. To answer the question:
There is no official Roblox release for Oculus Quest or Quest 2 that you can download from the Oculus Store. However, if you have a gaming laptop or PC, you can play Roblox VR using Oculus Link or Virtual Desktop.
Let's talk a bit more about how this works. Since the Quest and Quest 2 largely use the same internal system, the information you read here applies to both headsets.


Playing Roblox on Quest/Quest 2 Using Oculus Link
Oculus Link is a feature built into your VR headsets that allows you to tether your VR headset to your PC to accomplish a variety of tasks. In this particular case, that task is getting Roblox to work!
What You Need
There's two things required for an Oculus Link connection to work:
A PC or Laptop that meets the minimum requirements mentioned below;
| | |
| --- | --- |
| Component | Recommended Spec |
| Type | Laptop or computer |
| Processor | Intel i5-4590/AMD Ryzen 5 1500X or greater |
| Memory | 8 GB+ RAM |
| Operating System | Windows 10 |
| USB Ports | 1 x USB port |
Additionally, you're going to want to make sure that your graphics processor (GPU) is supported. Check out the list of Nvidia and AMD GPUs here to see if yours is compatible with Oculus Link.
An Oculus Link cable or equivalent. You can purchase the official cable from Oculus for $79, but I would personally search for cheaper alternatives from Amazon which work just as well!
Once your equipment checks out, it's time to get hooked up!
Here are the steps you need to follow:
Install the official Oculus software onto your PC. You can download it here.
Go to Settings on the app. Look for the gear symbol to find this.
Make sure that installation from "Unknown Sources" is allowed.
Download and install Roblox onto your PC. You can use this link to download the game, and then follow the on-screen instructions to install it. 
Connect your Quest/Quest 2 to your PC using the Oculus Link cable, or any compatible alternative cable. 
As soon as your PC recognizes your headset is connected, you should be presented with two prompts. The one we are concerned with is the prompt that asks for your permission to enable Oculus Link. Allow your PC access, since it asked so nicely.
Once that is done, all you need to do is launch Roblox and put on your VR headset!
The final step is to enable VR mode from within the game itself. 
Welcome to Roblox on the Quest/Quest 2! We hope you have a wonderful time here!
If you'd like a video tutorial on how to do all this, check out the video below:
It's worth mentioning that there are some downsides to using Oculus Link.
For starters, you'd be giving up a very beloved feature of the Quest: a wireless VR experience. With a cable tethering you to your PC, you'll need to be extra careful to not trip over it!
Another problem is moving too far and yanking the cable, causing damages we shall not speak of. Always remember to use a cable that's long enough for you to move around comfortably!


You Can Also Play Roblox Wireless using Virtual Desktop
One of the major reasons for buying an Oculus Quest is wireless virtual reality experiences. Understandably, nobody would want to give that up by chaining themselves to the wired ways of Oculus Link.
Virtual Desktop is an application native to Oculus that allows for low-latency streaming from your computer to your VR headset.
Up until recently, Roblox VR was only supported by devices physically attached to a computer with a cable. Well, all that just changed with the update to Roblox version 0.463! You can now play Roblox VR on your Quest / Quest 2 wirelessly using Virtual Desktop.
What You Need
Getting started with Virtual Desktop requires two very simple things – in addition to your headset, of course:
The Virtual Desktop application installed. You can find this on the Oculus Store for $19.99. To download the streaming version for your desktop, click here.
Here are the minimum specs needed to run Virtual Desktop, using Windows 10 is highly recommended:
OS: Windows 7, Windows 8.1 or Windows 10
Processor: i5-2500k
Memory: 4 GB RAM
Graphics: NVidia GTX 640 or 980M or ATI HD 7000/Rx 200
DirectX: Version 11
Storage: 700 MB available space
Keep in mind that these are minimum requirements for Virtual Desktop. To Play Roblox properly on your Quest / Quest 2, you will need something along the lines of:
Intel i5 or an equivalent CPU
Nvidia GTX 1060 equivalent or better GPU
8 GB RAM
Preferably a 5GHz router with a good internet connection
Once your spec sheet gives you the green light, you're all set to run the app and link up your two devices.
Here's a tutorial on how to do just that by sideloading Virtual Desktop. There's more on sideloading explained below!
If you want to use Roblox in VR, you simply need to start SteamVR before starting the Roblox client. Once that's done, double check to make sure that the VR mode in the settings is turned on!


Can You Sideload Roblox on the Quest/Quest 2
If you're more of a veteran of the VR community, you are probably aware of sideloading. This is a great way to assert greater control over your VR headset and what you can do with it by changing advanced settings and manually installing otherwise unavailable applications.
While this does work for many applications and games, all data I've found suggests that sideloading Roblox on your Quest / Quest 2 is not worth the effort and has turned up towards more failures than successes.
From bugs to crashes, to shady websites, I would say it just isn't worth it – if you manage to get it to run in the first place, that is.


Can You Play Roblox on the Quest/Quest 2 Without a PC
There's really no way around this, and the answer is that no, you can not play Roblox on your Oculus Quest / Quest 2 without a PC.
There's plenty of bugs that need to be sorted out to make the app adjusted specifically for the Oculus controllers and the display output.
There are also Facebook privacy and usage policies to consider. In short, Facebook has its own guidelines and rules for all apps on the Oculus Store, and with Roblox being purely a third-party standalone VR game, there could be some conflicts that need resolving.
Still, we're thankful to the Roblox developer team for their recent update giving us the wireless experience we needed!


Is Roblox Coming to Oculus Quest & Quest 2 Headsetsets
Admittedly, the future for Roblox enthusiasts doesn't look as bright as we'd like it to be.
From a recent announcement, it would seem that the Roblox team isn't exactly making VR a priority and only focusing on necessary bugs and fixes. It is therefore unlikely that a native version of Roblox VR for Oculus / Quest 2 will be released in the near future.
For now though, we ought to enjoy the time we have by focusing on what is possible, and that is exploring the wonders of Roblox using Oculus Link and Virtual Desktop.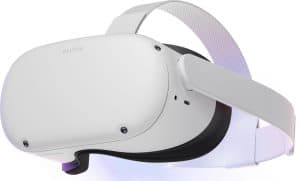 The new and improved Oculus Quest 2 is finally back in stores! With 128 GB storage as standard, you get even more for your money than before! Don't wait and get yours!