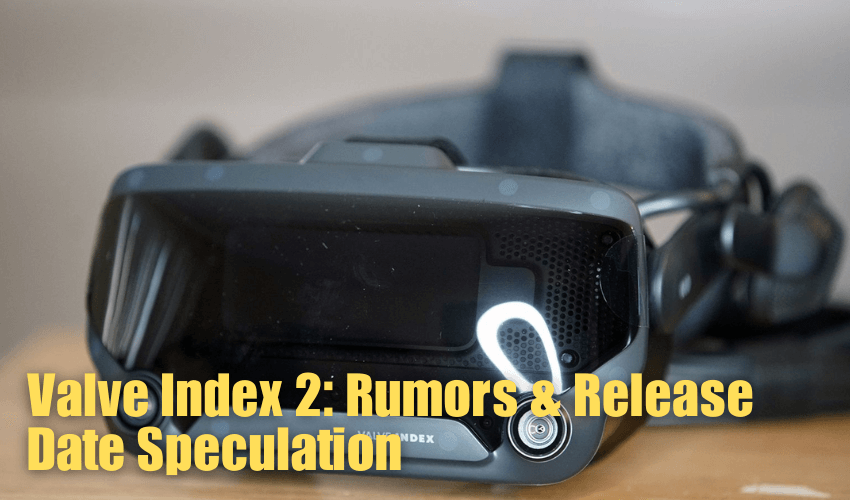 The Valve Index is by far one of the most popular VR headsets on the market. 
This fan-favorite headset is making a comeback with its successor: the Valve Index 2. Though the information on the new headset is limited, we've compiled all the hints, leaks, and rumors to derive some plausible conclusions. 
Let's take a look at some speculations regarding the Valve Index 2 and what the general public expects from this new release. 
Valve Index 2: Release Date Speculation 
Valve is known for producing well-functioning VR headsets and has recently announced the next model, Valve Index 2. However, the dates for the release of this model are yet to be announced. 
With the help of some clues Valve has provided regarding a possible release date, we can begin to speculate. For instance, if we consider the PS5 Pro, calculating when it was released after the launch of the PS4 will give a basic idea. 
The initial Valve headset was launched in 2019. This would've made releasing it last year possible had it not been for the upcoming Steam Deck. As for this year, it is rumored that PSVR 2 is bound to release in early 2023, which means Valve will have to face some serious competition. 
Recently, Valve filed for a patent for their VR controller, also defined as an "electronic controller with linear hand strap adjuster." The documents show the designs of these devices. However, there has yet to be an indication of any definitive date for the release of it related to Valve Index 2. 
Valve Index 2: Price Speculations
Similar to the release date assumptions, looking at the previous price estimates of Valve can help us determine the prices of the newer variants. When the initial Valve Index launched, it was deemed one of the most expensive headsets on the market, priced at $999. 
Taking that into consideration, the Valve Index 2 may be priced on the steeper side. Another factor that can contribute to the higher price is the competition it would face from other headsets releases. Headsets such as Meta Quest Pro and Apple's AR Headset offer similar features to Valve Index. 
However, the possibility of a budget headset can also be considered. Currently, the Oculus Quest 2 is the most favored headset on Steam. Valve can tap into that to beat its competitors, so you can expect a budget VR headset. 
Another speculation is that Valve may release two types of headsets; one that is budget-friendly and the other that is high-end. However, we won't be able to confidently say until there is a verified confirmation of official figures from Valve.
Valve Index 2: Expected Specs and Features 
The specifications and features of the Valve Index 2 are yet to be announced, and the information regarding the same is also limited. However, some leaks and sources point to some basic features we can look forward to from the Valve Index 2. These features are: 
1. Higher Resolution 
Recently, rumors have been circulating regarding the resolution of the Valve Index 2, which is said to have a 4K Micro OLED Display. To make the headset much more powerful and to give the users more immersive VR experiences, the Valve Index may also come with a wide field of view. This might also make the headset a popular choice for gaming and a direct competitor to Quest 2. 
2. Wireless Connection 
Speculations about the Valve Index 2 being wireless were formed soon after a patent was filed for the same in early 2021. The headset will reportedly be available in three variants; wireless headset, standalone VR headset, and PC connectivity with more security. 
Wireless headsets are known to be less powerful when compared to wired capabilities, so this would be a breath of fresh air. Especially with the traction of the Oculus Quest 2, the concept of powerful wireless headsets was not explored well enough. 
Aside from being wireless, the document also confirmed new comfort options. For instance, new methods of distributing heat and weight are introduced with the Valve Index 2.
Additionally, the Valve Index 2 is an efficient standalone headset that you can connect to your PC to play Steam games. This allows you access to some unique VR mods, such as the ones available in Half-Life: Alyx and Blade and Sorcery. Irrespective of whether Valve Index 2 connects to a PC or stays as a standalone headset, it is a step forward for premium VR headsets. 
3. Eye-tracking 
Eye tracking is an important feature of any VR headset. Those that come with the eye tracker are more comfortable because it eliminates the need for base stations. Sources from the Lunch's Roundup have given us insight into what to expect with Valve Index 2. One major insight is the inside-out tracking and eye tracker support the headset will provide. 
4. Powerful Processor 
The Valve Index 2 is said to be powered with a Qualcomm XR2, enabling the headset to perform powerful eye and hand tracking. Additionally, an AMD APU chip is added, which will effectively control the quality of the graphics. This makes the Valve Index 2 a powerful virtual reality headset with an efficient processor, making it one of the top VR headsets. 
Moreover, depending on the release date, Valve Index 2 can include the latest version of the Qualcomm chip. A similar situation exists with the Meta Quest 3, specifically if they do not produce silicon pertaining to their product. 
5. Sound And Mic Quality 
There has not been much information about the audio and microphone technology in the Valve Index 2. However, people speculate that the audio system on the new Valve headset will most likely be similar to the original Valve Index. This entails an off-ear pair of headphones or speakers and an accessible inbuilt microphone. 
Valve Index 2: Product Codename 
Valve has not put out any statements regarding the codename of the VR headset. However, YouTuber Brad Lynch has received more information from several sources pointing to the development codename being "Valve Deckard POC A." POC likely means "Proof Of Concept." This is only a development stage name that confirms the fact that Valve is indeed working on an improved model of their VR headset.
Additionally, several public SteamVR files mention a possible mysterious Prism function in the headset. Since the device is wireless, people speculate on an Oculus Air-Link type feature where it will enable connectivity via Wi-Fi. 
Valve Index 2: What People Expect 
Though Valve Index is a functional headset on its own, certain areas can be improved. People anticipate these improvements to be implemented in the new Valve Index 2. A few examples are: 
1. Suitable For More Games 
A VR headset should be able to handle more games. Since people pay a hefty price for most headsets, limiting the number of games they can play is not the best move. Though Valve has its own game, namely Half-Life: Alyx, the headset needs more compatibility. 
Besides being a premium device, people anticipate that Valve will branch out to more games. Agreed, the quality of the VR games matter, but the quantity being slightly higher would be appreciated. 
The director of Half-Life: Alyx, Robin Walker, hinted at wanting to create an XCOM virtual reality game. Whether or not the Valve Index 2 will consist of an XCOM game is something only time can tell. 
2. Size Customization 
Most VR headsets on the market follow a "one size fits all" strategy. But we're all different people with different head sizes, making this strategy pointless. People wish to see a change in the Valve Index 2 with the option of adjustable straps. Valve is most likely to play with the ergonomics of the new VR headset and make it much more user-friendly. 
Hence, the headset would be accessible to many more people thanks to its customizability. 
3. Improved Haptics 
The valve Index consisted of a well-built controller that had some degree of haptic feedback and a comfortable design. This enabled the users to experience the virtual world with more immersion. Though these controllers are impressionable on their own, there is still room for improvement and creativity. 
For instance, Apple recently filed a patent for haptic socks that can be used with VR and AR. More and more companies have begun experimenting with haptic feedback, and it would be interesting to see Valve do the same. 
4. Elimination Of Base Stations 
A base station is a device that enables several headsets to efficiently track the user's motions. Though they are often used to improve the performance of the headset, it can be difficult to set it up. People expect a headset that does not require a base station, and Valve Index 2 can tap into that. 
This makes the setup process easier, and you won't have to reassemble everything once you've moved a tiny portion of your base station. Recently, headsets, such as the Oculus Rift S, have been released where they don't require a base station for hand tracking. So, it is practical to expect Valve to do the same with its VR headset. 
Final Words 
Though this may seem like a lot of information, we're still a long way off from finding out the detailed specifications of the device. Unless and until Valve decides to make an official announcement, hints and other modes of information are the only way to stay alert. 
Valve has been developing this VR headset since 2019, and we may hear more about the same this year.