Virtual reality is gaining more and more momentum as a consumer product. In fact, the beginning of 2021 has shown that VR manufacturers are having trouble producing enough headsets to meet market demand.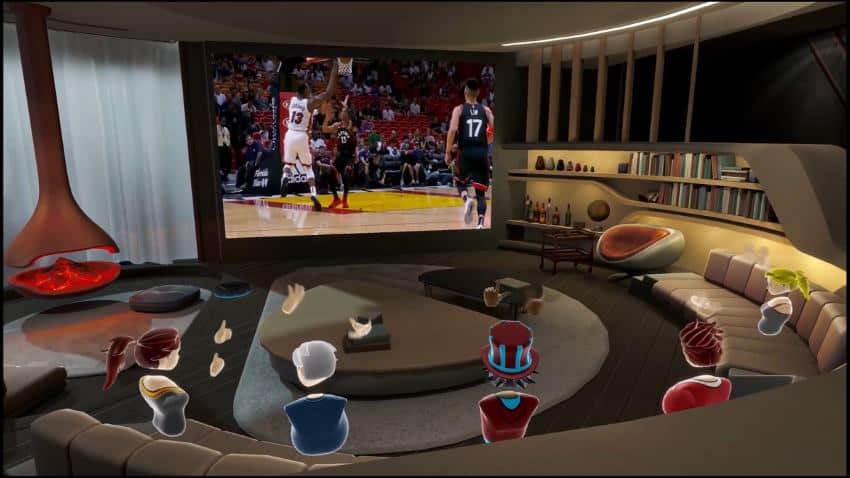 I think it`s fair to say that VR has already proven itself from the gaming perspective. However, some of you may also be wondering: "Can you watch TV in VR? And if so, which apps should I use? " The answer is that yes you can watch TV in VR and there are many apps developed for this specific purpose.
Since watching TV can have a variety of different intents (Live TV, sports, TV-series, movies, etc) here are my top picks for different categories:
You might also be facing the problem that your preferred service does not have a dedicated VR App. Click the link to read some of my recommendations about what to do in that case.

But let does now look at some of the VR TV apps in more detail.


Bigscreen TV
Bigscreen TV is one of the best free apps available for watching TV content in VR. It has more than 50 channels on different topics ranging from finance and news to sports.
What makes Bigscreen TV special is that you can watch TV channels together with your friends & family or just random people from around the world.
Bigscreen also several other cool features in addition to TV channels. One of them is Bigscreen Cinema where each week a set of new movies is released for your viewing pleasure (also includes 3D titles).
Additionally, Bigscreen users themselves can also create rooms and stream content that they like. This usually includes various movies and tv-series, but you can also find online gaming and other types of content.
Available Content/Channels:
* Movies & TV: Rifftrax, MST3K, Anime, Pokémon, Pluto Movies, Comet, Shout! Factory, and more
* Gaming & Sports: Red Bull TV, 24/7 Poker, 24/7 Trivia, CBS Sports, FOX Sports, Top Twitch (Ninja, Shroud, Sodapoppin, Timthetatman, Lirik, DrDisrespect, DrLupo, Pokimane, Summit1g), and more
* News & Finance: NBC, CNN, Bloomberg, Sky News, Newsy, Cheddar News, RT America, Weather Nation, Crypto News, and more
* Random: Monstercat, Lofi Hip Hop Beats Radio, Comedy Central, NASA, SpaceX, 24/7 Cats, and more

Platform/Headset Support: Cross-platform and works with every major headset and platform (Oculus Store, Steam)
Features: Social experience (watch together with friends or other TV viewers from around the world in groups of 8 people per channel)
Price: FREE (supported by ads)
Website: Bigscreen TV


Oculus TV
The Oculus TV app does not provide any tv channels directly. Instead, it is a hub that lists various other apps you can use to watch media content. Some examples are Bigscreen, Netflix, Red Bull TV, etc.
Since the app comes pre-installed with Oculus headsets, it is definitely worth checking out. In addition to TV app recommendations, you can also watch various short documentaries and animations with Oculus TV.
Available Content/Channels: Bigscreen TV, ESPN, Fox Now, Red Bull TV, Netflix, Prime Video, Neverthink, Pluto TV, Melody VR, Next VR, etc.
Platform/Headset Support: Oculus Store
Price: Oculus TV is free. Prices of services within the app vary.
Website: Oculus TV


Pluto TV
Pluto TV is a 100% free TV streaming service with over 200 TV channels you can watch. The channels are divided into categories such as news, sports, finance, comedy and many others.
With a large selection of content, you are sure to find something of interest to you. Keep mind however that for the most part, you will not find standard well-known TV channels here.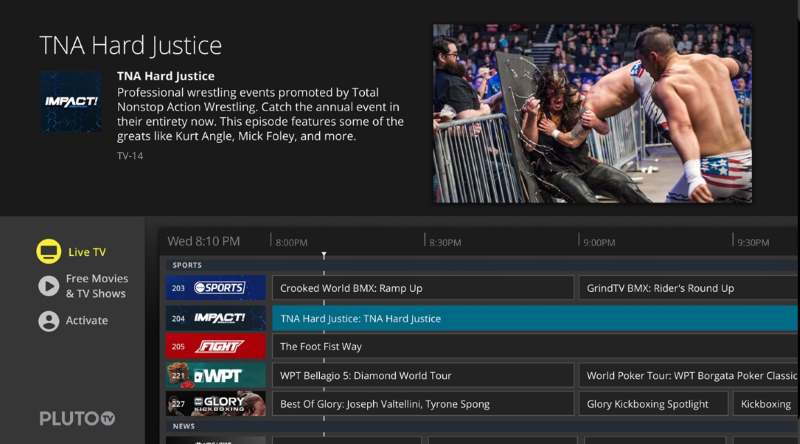 Available Content/Channels: CBS News, Food TV, Frontdoor, MST3K &, RiffTrax, NBC, After School Cartoons, Weather Network, Horror 24/7, Bloomberg TV, Crime Network, Fight Channel, Pro Wrestling Channel, World Poker Tour, Action Movies, On-demand movies.
Platform/Headset Support: Oculus (Pluto TV can be watched through Oculus TV)
Price: Free. Ad-supported
Availability: US, Europe, Puerto Rico
Website: Pluto TV


Sling TV
Sling TV is an alternative to your regular cable services which offers live TV channels over the internet. You can choose between 3 different services packages with prices starting at 30$ / month for 30+ TV channels.
A thing to note is that the Sling TV VR app does not currently seem to a priority for the company. It has several bugs that have not been fixed for some time now. If you are interested in the service, use the 7-day free trial to see if the app would satisfy your needs.
Available Content/Channels: Depending on the service package, 50+ channels are available.
Platform/Headset Support: Oculus Store
Price: Sling TV subscriptions start from 30$ / month
Availability: the US Only
Website: Sling TV


NextVR
NextVR is a next-generation entertainment platform where you can watch various sports, music, dance and other types of events literally from the first-row seat. The 3D action is so vivid and up close to you that at times you feel like you are physically there. This is the future of entertainment!
Available Content/Channels: NBA, Boxing, Football, Music Centre, Monster Trucking, Short documentaries & others.
Platform/Headset Support: Cross-platform and works with every major headset and platform (Oculus Store, Steam)
Price: Various highlights and documentaries are free. Prices of live events vary.
Availability: US, Europe, Puerto Rico
Website: NextVR


Showtime Anytime
Showtime Anytime like the name indicates is aiming to entertain you. With two live channels and a huge library of on-demand content (movies, tv-series and documentaries) there is something for everyone. To watch the content, you need to have an active Showtime subscription.
Available Content/Channels: Two Live Channels, TV-Series, Movies, Comedy, Sports, Reality Shows and Documentaries.
Platform/Headset Support: Oculus store
Price: See subscription prices from Showtime
Availability: US, Europe, Puerto Rico
Website: Showtime Anytime


What to do if my preferred service does not have a dedicated VR App?
Maybe you are facing a situation where you already have an active TV or another kind of media subscription. The problem is , however, that this service provider does not have a dedicated VR app.
Do not worry! Often times this is not a problem at all and you can actually use the service perfectly fine with a regular web browser. Be sure to try out the following methods.
Oculus Browser
If you own an Oculus VR headset, the default Oculus Browser that comes pre-installed does a great job of playing both regular 2D as well as 3D and 360-degree content.
Firefox Reality
Another great browser with WebVR support is Firefox Reality. I have found that Firefox does a great job of making various services and multimedia content work, where other browsers failed.
Virtual Desktop / Bigscreen
If you have a PC-tethered VR headset, then Virtual Desktop and Bigsreen enable you to mirror content from your PC straight to your VR headset. This essentially means that any service you can get to work on your PC, you can also watch in VR.


Related Articles