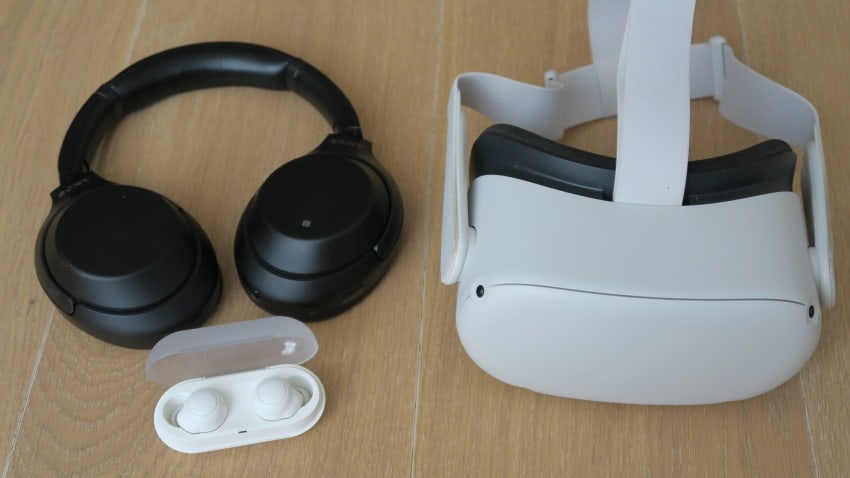 The Meta (formerly Oculus) Quest 2 is worthy of praise and speculation alike. Although there are loads of positive things that can be said about the headset, one critique that people often have is that the built-in audio just isn't good enough.
In this article, I'll be telling you whether you can use Bluetooth headphones with the Quest 2 to improve your overall VR audio experience, along with other useful information to help you make the most out of the headset.
The short answer is yes, you can use Bluetooth headphones with Meta Quest 2. Although the headset officially only supports 3.5mm and USB-C headphones, you can also pair and connect your wireless headphones. The downside is that you can expect some audio lag when playing VR games.
Let's look at this topic in a bit more detail.
Note! I have written about my experience using Apple Airpods with Quest 2 in one of my previous articles. Feel free to check it out!

How To Pair Bluetooth Headphones With the Oculus Quest 2
Officially speaking, the Quest 2 neither says to nor claims to support wireless Bluetooth headphones or such audio connections. The Oculus (Meta) support documentation only says the following about the headphone compatibility:
"Quest 2 supports both 3.5mm headphones, as well as USB-C headphones"

Oculus Support Documentation
So it seems quite clear that Meta (Facebook) wants you to use a wired connection or trust the in-built sound system. However, this doesn't mean that your wireless experience isn't possible! Setting this up isn't as hard as you might be thinking.
Just follow these steps to pair Bluetooth headphones with the Quest 2:
Power on your Quest 2 headset
Open "Quick Settings"

Click on the "Settings" button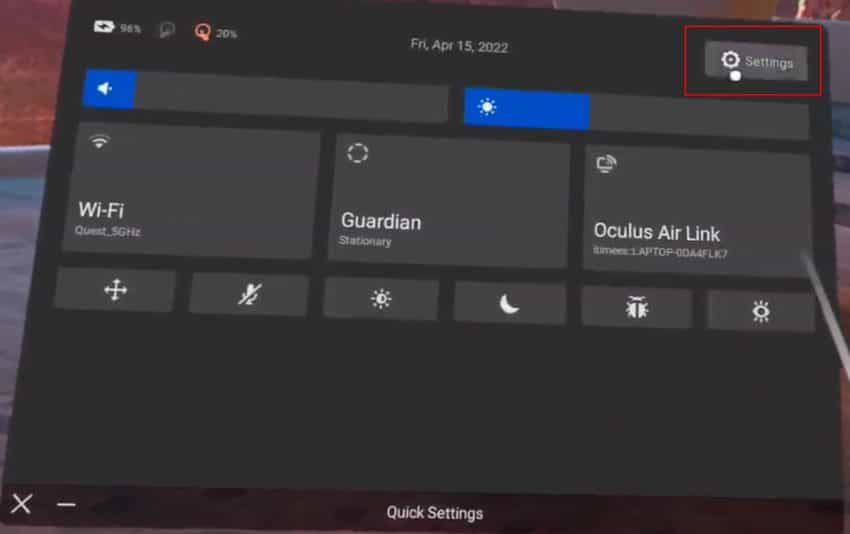 Select "Devices"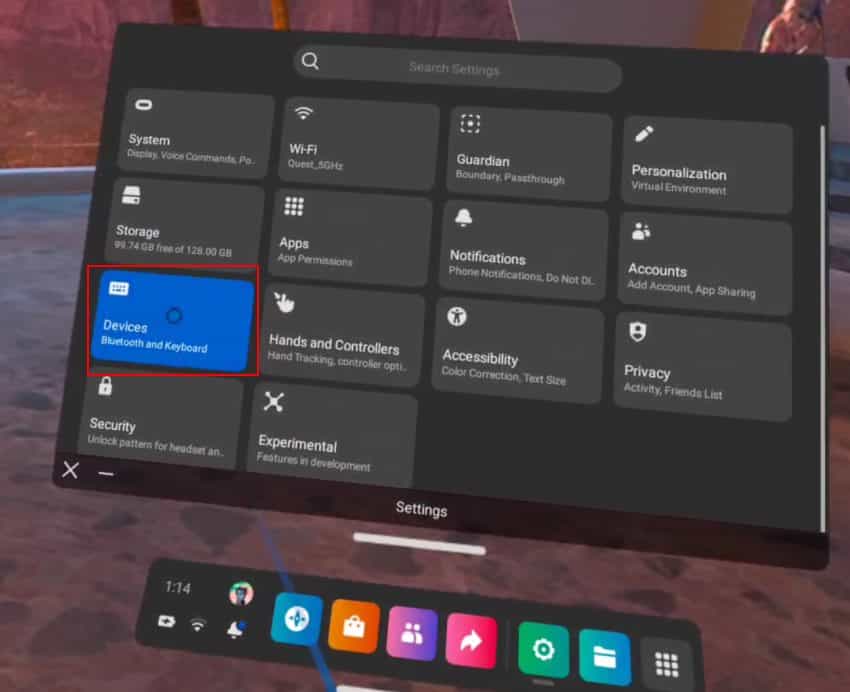 Click on "Pair" in the Bluetooth menu section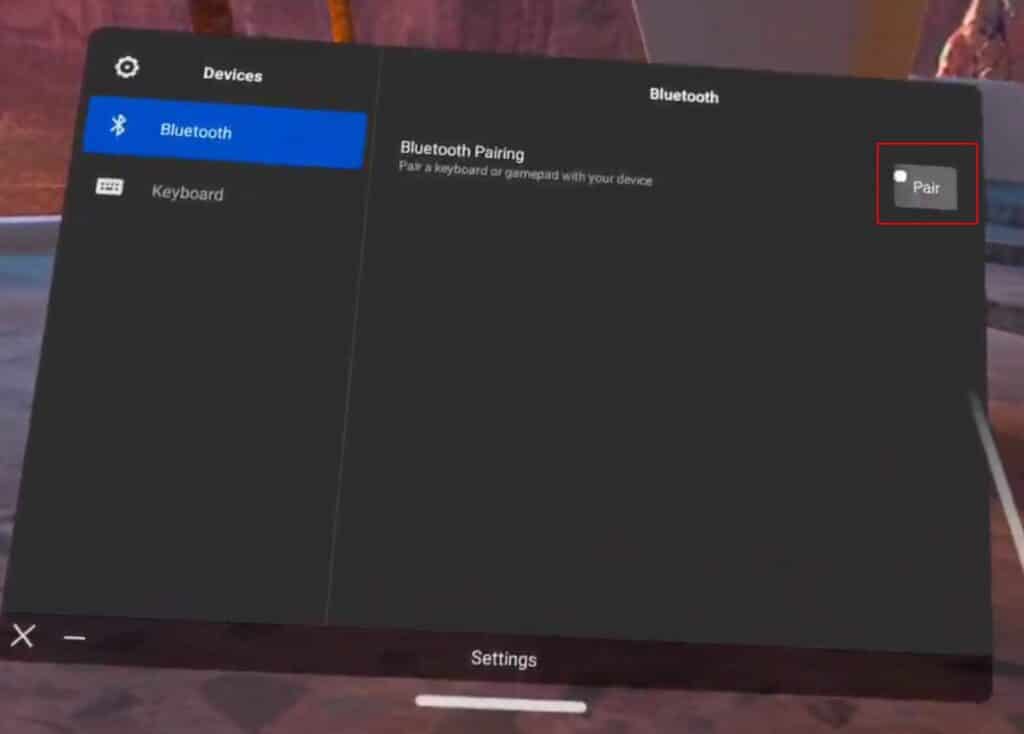 Turn on and put your headphones in pairing mode
Click on "Pair new device"

Choose your audio device from the list and click on "Pair"
Enjoy!
Just like that, your wireless headphones have been connected to your Quest 2! It's worth mentioning that, since this isn't an "official" method, not all wireless headphones will work this way due to compatibility issues. So if you face a problem, don't be quick to conclude that there's a problem with your headphones!
Did you hear? Facebook (Meta) is going all-in on virtual reality and metaverse. Get a Quest 2 headset and be a part of the future of entertainment!

Quest 2 Performance With Bluetooth Headphones
Since the method to connect wirelessly is a workaround, it comes with a few downsides that may dampen your VR experience.
I did some testing with a couple of different applications and here's how the Quest 2 performance was with Bluetooth headphones connected to the headset:
| Application | Performance* |
| --- | --- |
| Beat Saber | ~1 second audio lag |
| VRChat | Audio lagging, some stuttering |
| Superhot | Noticeable audio lag, otherwise worked well |
| Youtube VR | No issues |
| Netflix | No issues |
| Amazon Prime | No issues |
* Applications were tested with both Sony WH-1000XM3 and Sony WF-C500 Bluetooth headphones. I couldn't notice significant differences between the performance of the two audio devices.
The common denominator in my tests was that the audio was out of sync (1 to 1.5 seconds lag) for all VR games tested. You can watch this occurring in the video below. Even though you could probably get used to it eventually, it was quite annoying and ruined the overall immersion for me personally.
When I did my research for the article, I found that people were also complaining about stuttering in the games.
This was actually not the case in my tests and I only noticed some rare stutters when playing VRChat. However, this also seemed to be the case when Bluetooth headphones were not connected and the stuttering was likely caused by the custom worlds and avatars. So performance-wise, I don't really have any complaints, and all of the games tested worked without issues.
Noticeably, there weren't any issues at all when running media applications such as Netflix, Youtube VR or Amazon Prime. Playing local files using a video player also worked well. So if that's your aim with your wireless headphones then you have nothing to worry about.
However, when it comes to VR games, you should probably prefer either the built-in audio of the Quest 2 or use wired headphones. Believe me, it's just better this way.

What Else Can You Do?
If you absolutely want and need to use Bluetooth headphones with your Quest 2, there's a workaround that reportedly gets rid of the lagging audio issue (I have not yet tested this myself).
For this method to work, you are going to have to purchase a Creative BT-W3 Bluetooth Audio Transmitter that you are going to plug into the USB-C (charging) port of your Quest 2 headset.
After plugging it in, you can pair the dongle with your Bluetooth headphones and this supposedly allows for a low latency connection where you get lag-free audio output from the headset into your Bluetooth headphones.
The process is really quite easy, but if you are unsure and want a step-by-step tutorial, then make sure to watch the Youtube video below.
I am going to end the article with the fact that the effectiveness of using a wired connection should not be overlooked. While the Quest 2 prides itself as a futuristic wireless VR device, Facebook (Meta) still recommends Logitech G333 earphones as the official wired audio solution for your headset.
And why not? Custom-built for the headset, the G333 earbuds provide decent audio quality, a comfortable fit, and a short wire that will not get in your way. Perfect for a getaway into the VR wonderland!
Custom designed for Oculus Quest 2, the earphones come with a perfectly sized cable length that won`t get in your way. Enjoy the detail-rich audio experience while not distracting others!
HARDWARE USED FOR TESTING AND WRITING THE ARTICLES:
* Meta Quest 2 (My "daily driver" headset which I absolutely love & recommend)
* Lenovo Legion 5 Pro (AMD Ryzen 5 5600H, Nvidia Geforce RTX 3060, 16GB RAM)
* TP-Link Archer C6 (budget dedicated router for Air Link, see my full setup tutorial)

ESSENTIAL QUEST 2 COMFORT ACCESSORIES:
* VR Cover Foam Replacement (one of the easiest & cheapest ways to improve headset comfort)
* BoboVR M2 Head Strap (reduce pressure on your head and improve the overall fit of the headset)