So you have got yourself a VR headset and are diving into the realm of watching movies in virtual reality. But what apps are out there for this purpose and which work best?
Having tested and researched a variety of different applications, I will give my recommendations for the best VR movie theater apps.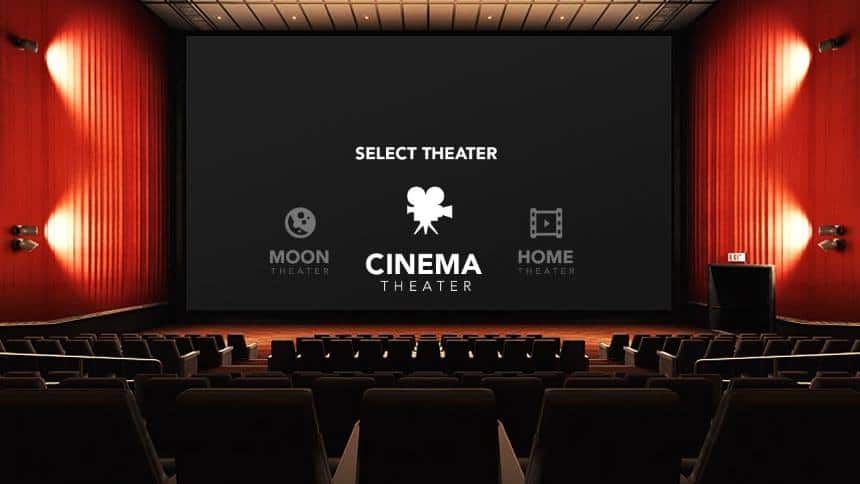 Skybox VR Player – Best Pick For Playing Local and Network Files
Netflix VR
Hulu VR
Regular Web Browser
1) Skybox VR Player – Best Pick For Playing Local and Network Files
Platform/Headset Support: Oculus, Steam, Vive, Gear VR, and Daydream
How You Can Watch Movies: Local files, Play files over local network server 
Supported File Formats: Very wide support (mp4, mkv, avi, mov, wmv, rmvb, flv, 3gp, webm, vob) and others.
3D: Side by Side, Top to Bottom (with automatic recognition)
Movie Environments: 4 (Cinema, Void, Space Station, Moon),  adjustable lightning levels for each
Features: Adjust screen size and position, change display settings (brightness, contrast, saturation), curved display option, subtitle support, 3D options fine tuning, change aspect ratio, etc
Price: FREE
Website: Skybox VR Player Official Website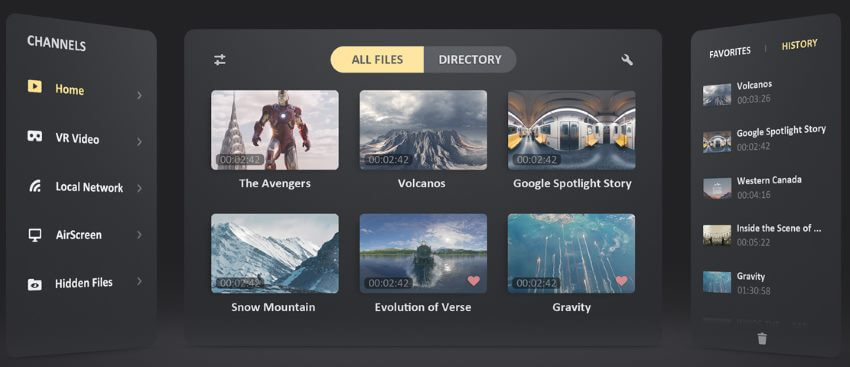 The Skybox VR Player is easily if not the best, then one of the best VR media players that is currently available. You can play video files from local storage or over local network.
The user interface of Skybox player is really intuitive and you will not have any problems navigating around.
For movie playback, it offers a great choice of different settings and ways for customization. Sit in a cinema chair or on the moon with the option of dimming the lightning perfect for your needs. Change the screen size and position or make the screen curved if you prefer. You can fiddle around with the settings while the video is playing and find the sweet spot that suits both your VR headset and personal preferences.
Skybox VR Player has all the essentials nailed down perfectly and this is also why it landed #1 in this list. 


2) Bigscreen
Platform/Headset Support: Oculus Store, SteamVR, Vive, Gear VR, and Daydream
How You Can Watch Movies: Bigscreen Cinema (purchase ticket for a movie that is currently running and watch it in a virtual cinema session with other people), Join virtual rooms created by other people (movies, TV shows). Bigscreen also hosts various free TV and Sports channels.

Currently there no local movie playback option. However, you can view movies using Bigscreen Desktop, which is similar to Virtual Desktop and mirrors your PC)
Supported File Formats: –
3D: Side by Side, Top to Bottom
Movie Environments: 50+ different environments (Regular Cinema, Space, etc).
Features: Create your own personal avatar, chat with other people in public rooms (voice), create a private room and watch movies with friends/family, Bigscreen Desktop (mirror your PC display)
Price: App is FREE, Watching content in rooms created by other people also free, BigScreen Cinema movies have a ticket (usually a couple of dollars)
Website: Bigscreen Official Website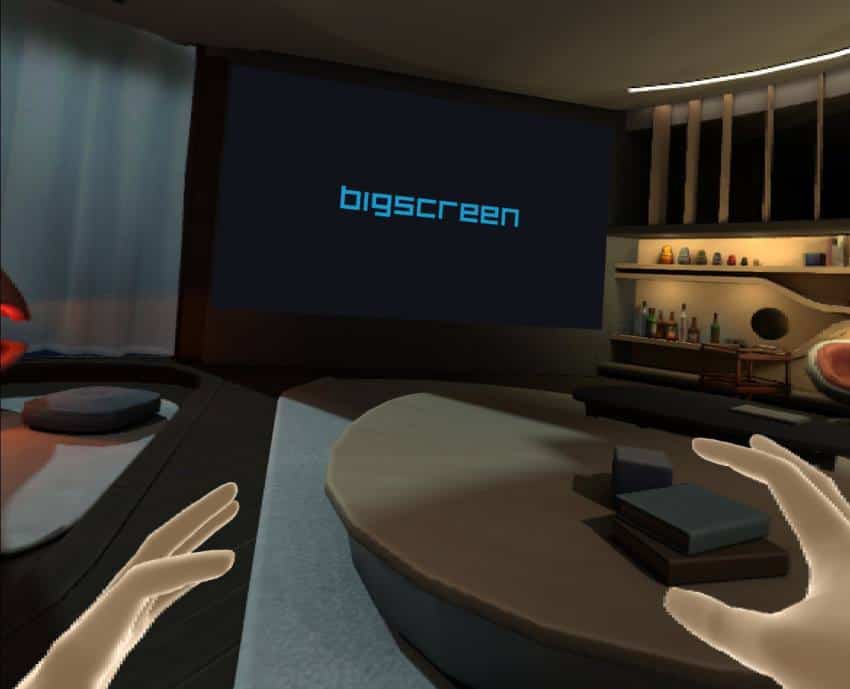 Bigscreen is definitely a very interesting and versatile application that is worth a place in this list. You can watch various movies and TV content within the app. What makes BigScreen special is that you can do it with other people and interact with them.
First, you create your avatar character which represents you in all the virtual rooms. Having done that, you can go to Bigscreen Cinema lobby for example. Here you will find a virtual cinema waiting area where you can talk with other people before your chosen movie starts.
Movie sessions start every 30 minutes and each week you can select from a chosen set of movies (which also includes 3D movies). You can choose between a public cinema session (where anyone can come) or a private one where only you and a chosen group of people can join (eg your friend & family).
Cinema is not the only option within Bigscreen however. You can also find public rooms created by other people who stream content that they like. This can be a random movie or a TV show. For example, I watched an episode of Rick & Morty with totally random people. The comments and laughs from other people made this a really interesting experience actually. Should you happen to bounce into annoying people, you can easily mute them.
In addition to Bigscreen Cinema and Public Rooms, there is also a set of TV and sports channels you can watch. Again, you can do so with other people.
All in all, Bigscreen is a great option if, in addition to watching movies and TV shows, you also want to interact with other people (be it total strangers or your friends and family).


3) Virtual Desktop
Platform / Headset Support: Oculus Rift / Rift S, HTC Vive / Vive Pro / Vive Cosmos, Valve Index, Windows Mixed Reality, Oculus Go, Oculus Quest, Gear VR
How You Can Watch Movies: Play movies that are on your PC / Notebook
Supported File Formats: Depends on the media player you use in your PC (e.g VLC)
3D:  Side by Side, Top to Bottom
Movie Environments: Void (black or grey), Home Cinemas, Space Sky, Purple Nebula, Computer room, Auditorium
Features: Curved screen, Adjust screen size and position, different 3D settings, great performance and smooth video playback.
Price: 10$+ (depends on the platform and headset)
Website: Virtual Desktop Official Website
The Virtual Desktop app is not a movie player per se. Like the name says, it creates a virtual desktop environment of your connected PC (via Wifi). The VR Headset becomes your display (instead of regular monitor) and using controllers you can do a variety of things (web browsing, play PC games, watch movies, use Netflix/Hulu, click on Desktop icons, etc)
When it comes to movie watching, it does a very good job actually. The playback is smooth and you can choose a media player that you prefer. 3D support is provided by Virtual Desktop. It is possible to choose between different environments and I am pretty sure you will find one that suits you.
It is probably not worth to purchase the app specifically for watching movies, but if you also have other use cases for Virtual Desktop then it is definitely worth it.


4) Netflix VR
If you have an active Netflix subscription (or planning to get one), you can view all your favorite movies and TV shows in Netflix VR. The content that is available is exactly the same as watching from your TV or PC.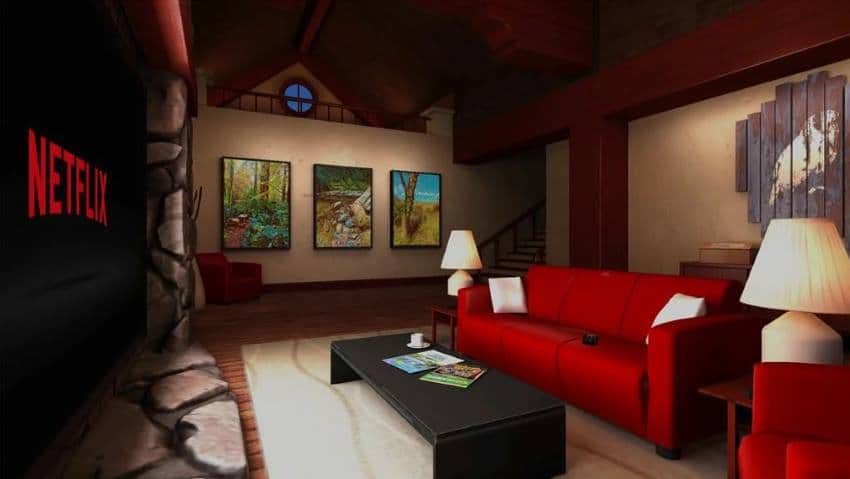 Launch the app and you will find yourself in a comfy cottage, sitting on a red couch with mountain tops appearing from the windows. An added bonus is the "Void Mode", where you can change the size and placement of your display (watch while lying down in bed for example). You can read more about Netflix VR from my previous article "Watching Netflix on Oculus Quest – What`s it like"


5) Hulu VR
If you live in the United States and currently use Hulu, you will have access to all the same movies and TV shows using Hulu VR app. In addition to that, Hulu has also created more than 100 pieces of 360-degree content for VR users. PS! VR content is free and you do not need a subscription to check them out!
Hulu VR lets also you customize your viewing environment for maximum enjoyment. You can watch movies from a virtual living room, cinema or even the beach if you prefer. Each environment can then be modified further (lightning, background, etc) to suit your preferences. With Hulu VR, you are bound to forget your physical environment and get immersed in virtual reality wonders!


6) Prime Video VR
The Prime Video VR app is also an excellent choice to watch movies or TV shows. I will first clarify that you don't need to be an Amazon Prime member to watch content in Prime Video VR. However, if you have a Prime account, you will be able to watch all your purchased and rented moves & TV shows from the app.
Special Offer: Get FREE access to award-winning movies and TV shows with Amazon Prime 30-Day Trial
The Prime Video VR app itself is clear and easy to understand. You will watch the actual content in a virtual cinema (no other environment available) with 3 different screen size settings. If you want, you can also enter the "Void" mode, where you can move the screen wherever you like (for watching while lying down for example).
The app works well and has a massive content library with also some 360-degree experiences for VR users specifically.


7) Regular Web Browser
Many web browsers (Oculus Browser, Firefox, ..) support watching VR content straight from the browser. This means, for example, that you will be able to watch regular 180/360-degree and 3D videos from Youtube.
Unlike the Youtube VR app (which relies on video metadata to identify video type), in the browser, you can manually configure video type and settings (3D, 180-degree, etc) straight from the video player. This ensures that if the uploader hasn`t correctly specified the video metadata, you can still watch it like it was intended (3D, 180-degree, etc).
With browser, you can also play content from various other video streaming services, such as Twitch and Vimeo. For the adult readers – you will also find plenty of NSFW content, should that be of interest to you 🙂


Bonus App: Smooth Video Project
Smooth Video Project (SVP) is an interesting piece of software to try out for the PC-Tethered VR headset users. What SVP does, is that it takes a normal video of 24 frames per second (movie standard) and converts it to 60 fps (or even higher). It does that real-time right in your favorite video player.
The end result is a movie or video that seems extremely fluid and smooth. While some say that this makes movies look like "soap operas", others thoroughly enjoy it. Test it out and see if it something you personally would enjoy!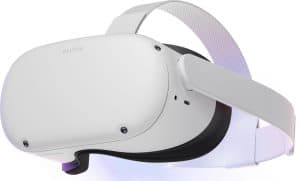 Oculus Quest 2 is still the king of consumer VR! Don't miss out and enter the world of VR experiences, unlike anything you have ever seen!