Virtual reality has taken the gaming industry by storm, piquing the interests of pro and novice gamers alike.
However, the  best VR games suitable for beginners aren't always the cream of the virtual crop, but they are an easy way to develop the required skill set. Moreover, an advanced and more immersive VR game may cause discomfort to the beginner, including motion sickness and eye strain. So, it is important to gain more insight before diving into the world of virtual reality. 
As such, these games serve as a demo to get used to the sense of movement and balance in virtual reality. And they are family-friendly since they do not include gore, violence, or bad language. 
So, today, this guide will help you explore beginner-friendly virtual reality experiences compatible with popular VR headsets such as PlayStation VR, PC VR, Oculus Quest, etc. 
5 Best VR Games For Beginners
1. Space Pirate Trainer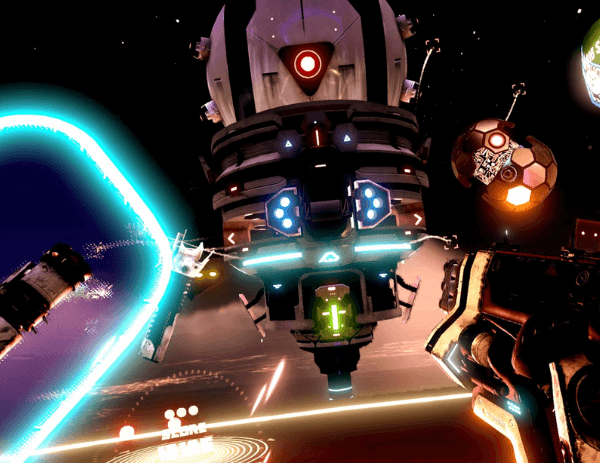 If you want a simple shooting VR game with light guns, Space Pirate Trainer can serve the purpose while simultaneously offering a virtual sci-fi experience. The game begins with the participant inside a space station that is surrounded by hostile aliens using space weaponry. 
Since this game is mostly compatible with HTC Vive, you can use the Vive motion controls to shoot using laser pistols. Similar to a virtual reality space invasion, the participant must shoot the aliens down before they are overwhelmed.
Beginners can easily experience Space Pirate Trainer due to its simple interface that requires only aiming and turning to score points. Moreover, HTC Vive offers some movement in the virtual world if you wish to move around.
2. Keep Talking And Nobody Explodes
Developed by Steel Crate Games, this game is available on almost all VR systems and is a popular party choice since it is simple to use and accommodates multiple players. In Keep Talking And Nobody Explodes, the person wearing the headset is supposed to diffuse an active bomb. 
However, the other players must keep reading the nightmare-inducing and complicated bomb-defusing manual during this process. So, to diffuse the bomb, all the players need to ensure good communication and team effort.
But using a VR headset will enable only one person to see the bomb. If everyone wants to experience Keep Talking And Nobody Explodes visually, connecting it to a flat-screen compatible with the game is desirable.
3. Skyrim VR
Suitable for Oculus Rift, HTC Vive, and PS VR, Skyrim VR is one of the best VR games owing to its size, adventure theme, and popularity. Especially ideal for Elder Scrolls fans, it offers thrilling adventure with detailed plot writing that is worthwhile. With this, you can dive into the base game world of Skyrim and play titles like Hearthfire, Dawnguard, and Dragonborn DLC. However, it lacks in some aspects of technicality, including faulty translation and graphics, which can be improved by downloading compatible mods.
4. No Man's Sky
Created by Hello Games, No Man's Sky is one of the most engrossing initiations into the virtual world. In this game, the participant can explore hundreds of uncharted planets with the help of advanced spaceships with precise controls. 
VR games focussing on discovery, such as No Man's Sky, have gained popularity with the development of virtual reality even though they came into the market in 2016.
Moreover, this game is enjoyable for beginners and veterans since its ship controls are comparatively simple. It is also family-friendly and does not include any gore or violence except for the occasional space battle.
5. Tilt Brush 
Compatible with PC VR, Tilt Brush is an art program that lets you draw 3D environments to create a VR gaming space. This is the best VR game for budding and experienced artists who want to use their passion in virtual reality. Moreover, Tilt Brush helps them explore a newer medium to develop their skills.
Even though several VR games, such as Oculus Medium, offer 3D modeling, Tilt Brush has a meditative aspect that takes away any competitive stress. Just paint the blank canvas and air to create anything you like without worrying about your artistic abilities. You can also browse through the inventory, which showcases others' works and models for inspiration.
Beginner Games For Oculus Quest 2
1. Beat Saber 
Similar to Guitar Hero, this rhythm game is a popular VR experience for parties with multiple players. Beat Saber is perfect for newcomers due to its simple skill ceiling, which requires very little play space.
Simply use the lasers to cut blocks into half as they hurtle toward you at high speed from the horizon above. You can easily score in the beginner levels; however, unlike Guitar Hero, the advanced levels are quite challenging yet exciting. Moreover, playing Beat Saber on Oculus Quest 2 or PC can unlock various custom songs, stages, and blades that open up multiple levels. So, you need not worry about running out of levels to play!
2. Doctor Who: The Edge Of Time
One of the best VR games in the fantasy genre, Doctor Who: The Edge Of Time is an adventure game that features Jodie Whittaker's 13th Doctor. This is an exciting opportunity for every Doctor Who fan since it allows you to fly the TARDIS and enter battles against famous nemeses such as the Weeping Angels and Daleks.
However, this game can feel less exciting, as it reveals the answer to the puzzle earlier than others. Nonetheless, this game adequately recreates the vibe of the Doctor Who franchise like no other. With its mysterious puzzles and original characters, The Edge Of Time is as immersive as other games in the same niche, such as Adventure Time or Star Wars.
3. I Expect You To Die
Spy and mystery room VR games are gaining popularity due to the perfect mix of simplicity and suspense. Developed by Schell Games, I Expect You To Die is the only detective-like VR game that leans towards Austin Powers instead of James Bond.
This one-player game includes multiple locked-room puzzles that require analytical thinking and minute observations. With fun and ominous music, background scores, and an immersive virtual world, I Expect You To Die is an excellent way to have a good time with your friends.
Moreover, the game throws in original characters and complicated plots to make you feel like a superspy!
4. Tetris Effect: Connected
Since Tetris doesn't have a wide range of movement, it is an ideal game for beginners using the Oculus Quest 2. It's basically like playing Tetris normally but with trippy environments with different music and visual designs. 
It is one of the best VR games that fall under the psychedelic and hypnotic genre while offering a meditative experience. Soothe your mind with underwater music and whale noise while you solve Tetris puzzles.
Tetris Effect: Connected is VR compatible and works on HTC Vive, PS VR, Oculus Rift, and Valve Index, besides Quest 2.
5. Superhot VR
Even though this game includes shooting and gunplay, this is quite unlike most action games. Superhot VR follows the principle that time moves when you do–this is perhaps an allusion to The Matrix, which is pretty cool.
Popular for its unique abstract VR technology, you can dodge bullets according to a metatextual storyline, which is more appealing to older players. And for younger players, watching your opponents break into thousands of crystal shards can be really exciting.
Moreover, Superhot VR has different levels, but since they do not require too much movement, this game is perfect for beginners.
Free Beginner Games
1. Township Tale
This is an idyllic township game that allows the gamer to create and operate medieval societies with other players. As a blacksmith, farmer, or town warrior, you can fulfill your societal duties and help create a prosperous town community. What makes Township Tale unique is its detailed and strenuous movement that replicates real-life actions.
Township Tale is mostly free for PC VR, but Meta Quest 2 users must pay to download the game. Moreover, first-time users need to download the game via Alta Launcher and join the server before playing. 
2. Blaston
Developed by Resolution Games, this is one of the best VR games with a balanced mix of arena and action. Beginners can try Blaston to get a taste of how unique virtual reality can be! With two players locked in a showdown on virtual platforms, Blaston requires them to use slow-motion fire bullets to eliminate each other. You can choose from a wide array of weapons through which you can launch these bullets.
In this game, the main goal is to lower your opponent's health points to zero while dodging their bullets to protect your life force. Also, Blaston boasts a loyal and fun community with frequent updates to add variety to the gun fights. 
3. Echo VR
If you love competitive esports team games, then Echo VR can just be your thing. Also known as Ender's Game for Meta Quest and Oculus Rift, it includes two teams competing with each other in a visionary cyber hall.
Echo VR uses an anti-gravity system, which makes it more challenging to use your strength and move through space. Nonetheless, this creates a fun and exciting environment for stealing space discs and scoring points by sending them to the enemy's goal.
Besides Oculus headsets, it can run on the Gear VR and SteamVR.
4. Gorilla Tag
With a record of over 5 million players, Gorilla Tag is one of the most popular VR games for beginners. Even though it has very basic pixel graphics, most people prefer Gorilla Tag due to the wide range of movements available to the player.
In this game, players are given a gorilla to operate and chase other gorillas through the forest while playing paintball. The main feature of Gorilla Tag is the gorilla's rowing arms that help in running, climbing, and jumping, so it might lead to arm strain for new players.
Besides, Gorilla Tag is known for being an online hangout for young gamers and VR streamers. 
5. Cards & Tankards
In this unique strategic card game, players can experience some of the best VR visuals as monsters from a deck of cards become alive. Developed by Divergent Realities, Cards & Tankards offers competition while giving full access to the community, which you can meet in a cozy tavern.
And if you run out of opponents, there's a system that allows you to compete with AI in card games. It has an engaging medieval design and game interface that makes it even more interesting.
Cards & Tankards is compatible with SteamVR and Meta Quest, where the game will remain free even after the release of early access.
6. War Thunder
War Thunder is probably the most popular title online for free PvP land, air, and sea battles. It can be played on a PC, console, and headset; however, it is available on the same server regardless of the medium. 
In this game, you can access over 100 historical weaponry and maps with 2000 planes, helicopters, warships, and tanks. But you can only enter the fray by playing the game on a PC with a headset.
Final Thoughts
As mentioned in this guide, the best VR games for beginners are excellent ways to test the waters before delving into the world of advanced virtual reality. Most of these titles cater to motion-sick gamers and beginners who might be overstimulated visually by more detailed ones.
And since Oculus Quest is usually the go-to headset option for most beginners, we have also listed some Oculus-exclusive VR games to start your journey. Besides, with a market saturated with expensive VR titles, it is important to be aware of the high-quality free games that can be just as fun!
That brings us to the end of our comprehensive list of VR games for beginners. Keep an eye out for us if you want to stay updated about various VR titles and other gaming information.
We're signing off for now. Until next time, goodbye!