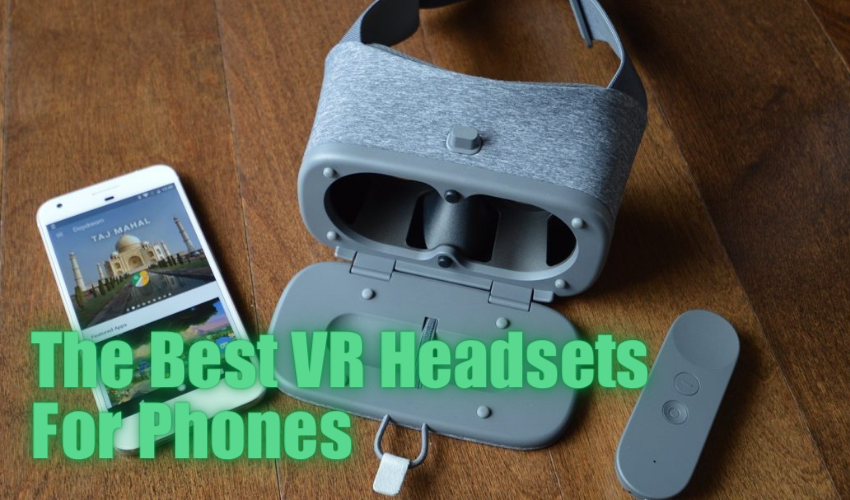 The best mobile VR headset can elevate your productivity and entertainment experience with a device you probably use every single day. 
Most mobile VR headsets do not comprise any electronic parts, making them just a pair of lenses attached to a casing that holds the phone. So, if you're a beginner in the virtual reality space and want to try a mobile VR headset, we got you. 
In this review-based guide, we take a look at the six best mobile VR headsets and review them, so you can make a well-informed decision. Let's dive in!
6 Best VR Headsets For Phones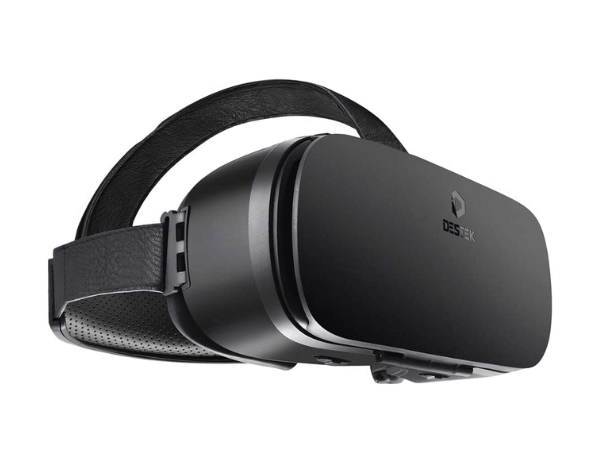 The Destek V5 VR is one of the best VR headsets for phones. It offers a premium finish to the headset with well-built hardware, even though it is priced reasonably low. This headset comprises aspheric, anti-blue lenses, and anti-distortion, further elevating user experience. The field of view for this headset stands 110-degree wide, so you can get a crisp and clean stream of videos. 
Destek V5 also consists of a mini-controller allowing you to engage in virtual reality gaming if needed. This headset offers a fully immersive 3D experience so you can connect with the virtual world in 360-degree videos. 
Being lightweight is a key factor for mobile VR headsets, as they will have to accommodate the weight of your smartphone as well. As such, Destek V5 weighs extremely light at 13oz, making it portable enough, so you don't have to limit the VR experience to your home itself. 
Furthermore, this headset is compatible with most phone models in the market and is one of the best VR headsets for large phones. Its Gyro Sensors accommodate various types of phones sized between 4.5 and 6 inches, so you need not worry about finding the right fit. 
Drawback 
The headset controllers can cause difficulty connecting with iOS devices and are overpriced compared to standard mobile VR headsets. 
Verdict 
If you want to achieve a fully immersive VR experience, the high-quality video streaming and 110-wide field of view allow just that. It sits comfortably on the head, and you can use the controllers as a remote rather than making changes to your phone.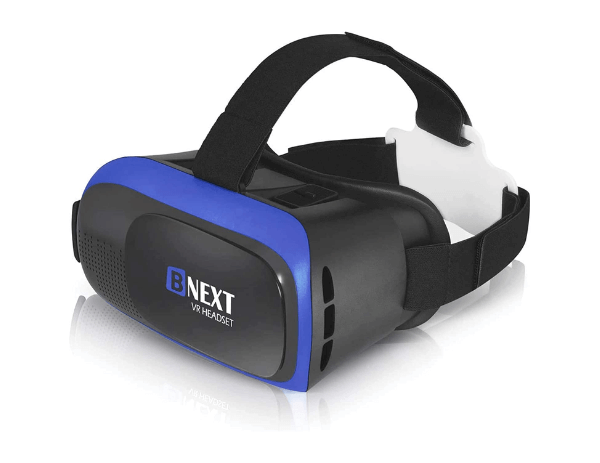 The BNEXT VR headset supports screens between 4-6.3 inches, making it compatible with most smartphones, bringing you an immersive 360-degree experience. Every model of this headset has a Gyro sensor and can also support drones that call for a VR mobile headset. The full dive immersion properties of this headset are adjustable, along with a wide field of view that offers the user the best possible performance. 
This mobile VR headset also allows you to expand your viewing angle to match the focal distance correctly and further comprises unilateral myopic alignment. This reduces the overall distortion which ensures the most optimal viewing experience for the user. 
Moreover, BNEXT takes user comfort as a priority, which is evident from the adjustable head straps, soft nose piece, and an eyesight protection system that is included in the headset. With these many features, you may assume that the BNEXT headset is priced on the steeper end. However, it is a reasonably priced and affordable VR headset, best suited for people with budget constraints.
The setup process is also made easier thanks to the sliding phone casing. Just slide your phone in by aligning it correctly, and you're good to go. 
Drawback 
The lack of the necessary input buttons on the mobile VR headset makes controlling the apps a lot harder. 
Verdict
The BNEXT VR headset is an affordable option that delivers all the features of a standard headset, including Gyro sensors, adjustable FD/OD, and a wide field of view. It also has a comfortable build with adjustable head straps and a soft nose piece along with an efficient eye-protection system.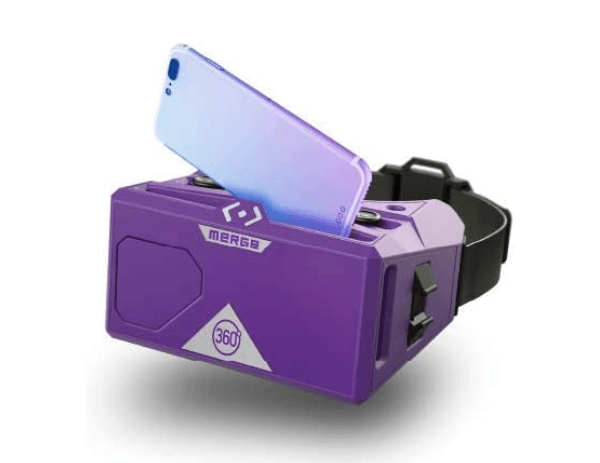 The Merge headset is one of the best VR headsets due to its high-quality 360-degree virtual experience. Though it is generally meant for educational purposes, this headset is suitable for various virtual activities, from playing the best VR phone games to streaming videos. The blocky design can be quite unpleasant to look at, but it ensures that the device stays comfortably on your head and offers wide compatibility. 
The heavily padded foam cushions ensure the product is durable even when put through regular bumps and knocks. It comes with 42 mm lenses with a 96-degree field of view and adjustable IPS. 
As for the design, the headset has adjustable straps with an added pair of input buttons, allowing you to navigate through content effortlessly. This headset is compatible with smartphones with screens measuring between 4.8 inches and 6.2 inches, be it Android phones or iOS. 
Drawback 
The Merge AR/VR headset is an expensive option for a mobile VR headset compared to other mobile VR headsets on the market. 
Verdict 
In terms of durability, the Merge AR/VR ensures that you can use your device worry-free without developing wear and tear. The design of the headset allows the user to have a comfortable viewing experience, and the input buttons make the device control effortless.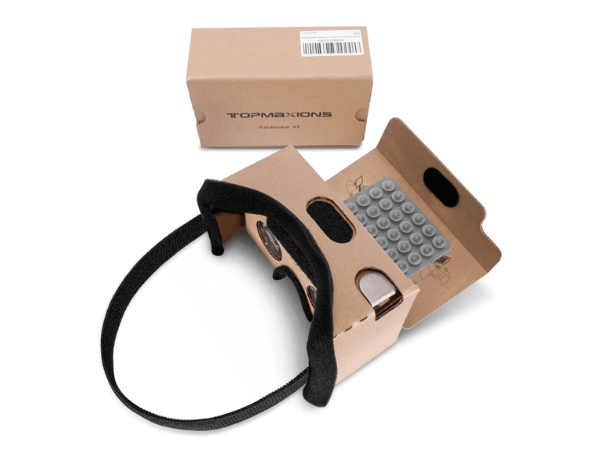 This cardboard structure is specially designed to accommodate a smartphone and to allow the user to experience VR in a fully immersive way. The cardboard casing is attached to two strong Velcro strips and a 24 suction cup padding, securing the device in place. It also includes a soft strip of padding on the nose, headband and fore pad, allowing you to use the device fully hands-free. 
The head straps of this mobile VR headset are not adjustable, however they are made with a flexible, elastic material that accommodates various head sizes. 
In terms of affordability, the Topmaxions Cardboard is priced pretty reasonably, making it one of the most affordable options in this list. Though it is priced low, the features and comfort this headset offers, provides the users a memorable virtual experience. 
Although it works efficiently to stream high-quality VR content, the 37mm biconvex lens does not offer any adjustable features. 
Additionally, the headset comprises a magnetic input button that allows the user to control apps and games without having to pull the mobile out from the casing. In terms of durability, the headset may last longer with proper maintenance, but eventual wear and tear cannot be avoided. 
Drawback 
The cardboard casing is not as durable or sturdy as other options for virtual reality headsets. 
Verdict 
For such a low price, the Topmaxions Cardboard V2 headset provides impressionable features like 37mm bio convex lenses and a magnetic input button, making the product user-friendly. It is also quite comfortable when worn and does not cause any discomfort to the users.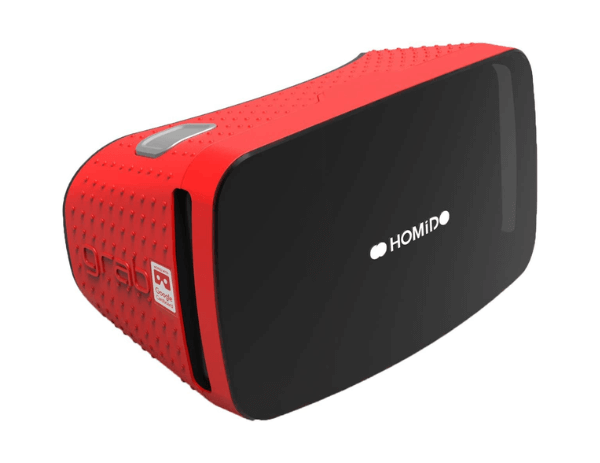 Grab by Homido is a headset that provides a wide 100-degree field of view, for crisp and clear VR experiences. It consists of Gyro sensors and accelerometers that make it compatible with most smartphones in the market, including iOS and Android devices. Unlike other VR headsets, Grab does not require any extra adjustments or fine tuning of the image to make it usable. 
The whole setup process and usage is fairly simple and easy to use, making it quite a beginner-friendly product. Additionally, its extremely durable design, thanks to the plastic casing, and lightweight body allows you to carry it around easily. However, the plastic casing, though durable, can take away from the comfort features of the headset. 
Another impressive feature of Grab is that it is Google certified and connects to the Google Cardboard apps, giving you plenty of content options to choose from. 
The device does not come with head straps which eliminates the possibility of using it hands-free. But if you plan in on sharing the headset, the lack of head straps would not be a concern. 
Drawback 
The level of comfort this headset provides is relatively low compared to other headsets due to the material used. 
Verdict 
The Homido Grab is an affordable option that can be great for kids due to its lightweight body and durable design. It can also be linked to the Google Cardboard app, which allows you to enjoy more content with a single headset.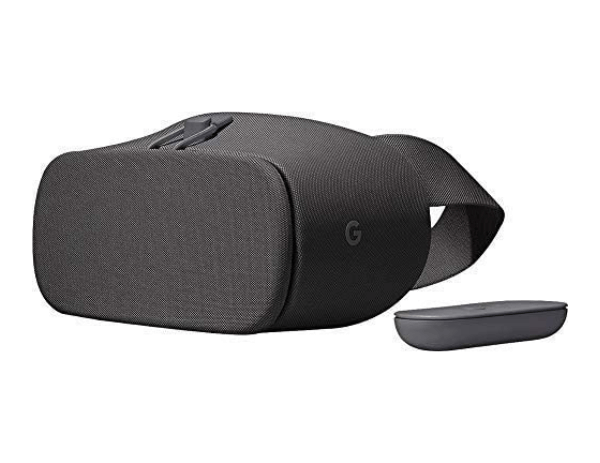 The Google Daydream View 2 headset is by far the easiest to use among all other headsets on the list. To set up, just slide in your phone, calibrate it, and start your virtual viewing experience. It's as simple as that. However, unless you own a Google Pixel or other Daydream-certified devices, this headset would not be compatible. 
Instead of an input button, the Daydream view 2 features a motion controller that moves around with you. Point where you wish to move and a small cursor follows the path accurately and quickly. 
The headset can be quite heavy, and though it weighs less than a pound, it can cause severe neck strain with prolonged use. But this makes it extremely durable and sturdy, allowing it to last for a longer time. 
The overall image and video quality of the VR headset is just enough to give the user an immersive viewing experience. 
Drawback 
The compatibility options for this VR headset is quite limited, and can only work with Google Pixel or Daydream-certified phones. 
Verdict  
The Google Daydream View 2 is an ideal headset if you prefer easy setup and usage, since it can be set up in three simple steps. It also comes with motion control that allows you to use and control the device hands-free. 
Frequently Asked Questions 
1. Are Mobile VR Headsets Worth It? 
You would be surprised to know that the world of virtual reality was familiarized to the public with the help of a mobile VR headset. Initially, it was made of a single material; cardboard. As the industry began growing, and as needs changed, people have come up with several headset materials that make the headset lightweight and durable. 
Agreed, it may not stand a chance when you compare its features with high-end PCVRs but some benefits that a smartphone headset offers can be considered. They are as follows: 
A. Accessibility Of The Headset 
You may be aware of the fact that high end PCVR and standalone VR headset is manufactured in limited quantities. Often, they go out of stock from the official websites soon after their release. 
However, with the introduction of mobile VR headsets, the problem of sold out headsets has been resolved. So, if you wish to buy a VR headset, you won't have to wait until the website restocks it. 
Moreover, most PC VR headsets require a powerful well-built PC with specifications and features to be set up or connected to. This is not a viable option as the majority may not own a high-end gaming PC. On the contrary, almost everyone owns smartphones, which makes the mobile VR headset a more feasible option. 
B. Easy To Use And Portable 
Phone VR headsets are not only easy to be set up but they are easy to use as well. Since the majority of them are lightweight, they are extremely portable. You can easily carry them around and make use of it as long as you have a smartphone available. 
C. Affordable 
When you buy a VR headset for the first time, opting for a high-end PC VR may not be a viable option. Phone VR headsets are the cheapest option available on the market, making them a lot more accessible and beginner-friendly. 
Aside from the expense PC VR headsets can bring, most of them require additional accessories such as base stations, lighthouses and external trackers to function optimally. This adds to the overall cost of the headset and will leave a pretty big hole in your pocket at the end of the day. 
D. Sharing Features 
Since almost everybody owns a smartphone, and mobile headsets are usually priced low, sharing content, be it games, videos or apps, is an effortless process. Recently, some companies have started developing their own apps that combine with their respective headsets. 
2. What Are The Best Headsets For Large Phones? 
With today's standards taken into consideration, a larger smartphone can be any phone that is sized between 6 and 7 inches. Recently, larger phones have gained traction and have become a common item in most households. Since most standard VR headsets might not accommodate larger phones, let's look at two headsets that do. 
A. Destek V5 VR Headset 
The Destek V5 headset can be compatible with most types and brands of smartphones in the market including Android and iOS. Since they are widely compatible, they accommodate various sizes of smartphones with screen sizes from 4.7 to 6.8 inches. 
Aside from the accommodative features, the Destek V5 gives High-definition videos and comprises anti-blue light and anti-distortion lenses. The field of view for this headset is 110 degrees, thus offering a wide and clear viewing experience. 
You will not have to worry about the weight of this device since it's relatively lightweight, even after accommodating the smartphone. With adjustable IPD and head straps, the Destek V5 is one of the best mobile VR headsets for larger phones. 
Pros: 
Fits larger phones 
Comfortable and lightweight 
Adjustable IPD 
Affordable  
High-definitely image 
Cons 
Does not connect smoothly with iOS 
B. Shinecon VR Headset 
With features like HD optimisations and immersive 3D software, the Shinecon VR headset can easily hold larger phones. It accommodates a wide range of mobile phones with screens sized from 4 to 6.53 inches. People who use Android have a further advantage of utilizing a Bluetooth controller for watching videos or playing VR games. 
Not only is it lightweight and comfortable to use, it has aspheric functionality and anti-blue light lenses that prevent eye strain. Additionally, this headset allows you to customize the interpupillary distance. So, if you're farsighted or nearsighted, the distance can be adjusted based on your needs to view a clear image. With adjustable IPD and a design that accommodates glasses, this headset is ideal if you own a larger phone. 
Pros
Accommodates larger phones 
Wide field of view ( 90-100 degrees) 
Lightweight 
Adjustable IPD 
Affordable 
Cons
Bluetooth controller is limited to Android 
3. What Do You Have To Keep In Mind Before Getting A VR Headset For Larger Phones?
Now that we've looked at the best VR headset on the market for large phones, let's look at what features you have to keep an eye out for. 
A. Compatibility 
The first and foremost thing that you should look for when buying a new headset is the compatibility features. Certain VR headsets are only compatible with specific smartphone types, models and brands. As long as the headset fits the smartphone well in the slot, and is compatible with the software of the smartphone, you're good to go. 
B. Field of View 
When it comes to better quality images, a headset with a wider field of view (FOV) is necessary. For larger phones, a wider FOV is needed so that you will not miss out on any part of the video on the screen.
C. Adjustable Focal Length 
The focal length of a lens is the distance between the display and the lens. Since various phones have different sizes of screens, adjusting the distance of the lens will help attain a cleaner image. Most VR headset companies offer customization properties for the focal length of their headsets. 
D. Hand Controllers
The need for a hand controller solely depends on what you intend on doing with your headset. If you plan only on streaming and watching 360-degree VR videos, you will not need to get a hand controller. However, if you want to play games like Beat Saber, a hand controller will be necessary. 
Though most headsets come individually, some come along with a pair of hand controllers so you won't have to buy them separately. 
E. Comfortable Design 
A VR headset is ideally meant to be used for a certain period of time. You don't wear it only to take it off in a couple of minutes. Since they are to be worn for prolonged periods, comfort is an essential feature you have to look out for. 
Factors like the casing material, padding material, weight, cushioning, and design play a key role in determining how comfortable the headset will be. Since most phones' CPUs can heat up with excessive use, getting a headset that has proper heat dissipation is necessary to avoid future problems to your eyes. 
F. IPD Adjustment
IPD is the distance between the center of the user's eyes and the mobile device screen. This should also be equivalent to the focal length of your VR headset. Adjusting the IPD can improve the quality of the image significantly, so opt for headsets with an adjustable IPD feature. Wider IPDs require special headsets that can ensure the user does not experience any eye strain or discomfort. 
G. Portability 
The VR experience should not be limited to your home. If you buy the right headset that is not only lightweight, but also portable, it allows you to enjoy the virtual worlds even outside your home. 
Bulky headsets that require a complicated setup process can be cumbersome to carry around. If you plan on moving your headset often, try to go for a portable one that comes with its own bag or casing. 
Verdict 
With that, we have come to the end of the review. The world of virtual reality has been ever-growing and more people have started developing an interest in the same. Our top two VR headsets are the Destek V5 and The Merge VR.
The Destek V5 VR headset is one of the best VR headset on the market for smartphones. This is because of their wide field of view, anti-blue lenses, and anti-distortion properties. With this headset, you can have a fully immersive virtual experience without any disruptions. 
It also is quite comfortable, even during prolonged use, making it ideal for longer activities like watching a movie or playing games. This portable, lightweight headset accommodates all phone models, small and large. 
The Merge VR is another viable option and is one of the most durable headsets. With magnetic input buttons, this headset ensures the user can control the device hands-free. The padded cushions help the headset stay intact even through slight knocks and bumps. It is ideal for people who do not have any budget constraints.