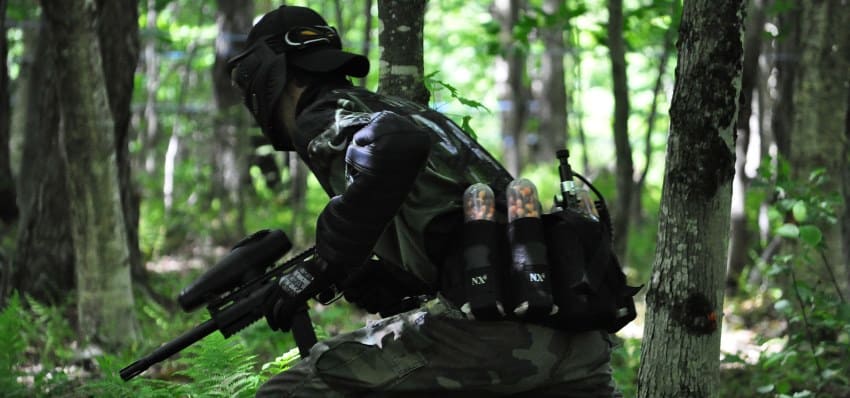 In times past there would have been nothing like a good war game to get the blood in your veins pumping. Now? Virtual reality can take you to war in an all new level of adrenaline rush!
That being said, here are the best war games on the Oculus Quest 2:
Robo Recall: Unplugged
Until You Fall
War Planes: WW1 Fighters
Warhammer 40,000: Battle Sister
Population: One
Onward
Contractors VR
More detail on each of these awesome games to follow.


1) Robo Recall: Unplugged
Get now for $29.99 at the Oculus Store.
Who are you at war with? Killer robots. Why are you at war? Who cares! Take on hordes of enemies and vary your tactics as you come up with innovative ways to get that sweet new high score. You also get to laugh along with well placed humor elements of the game.
Although Robo Recall: Unplugged doesn't have a multiplayer mode, it does wonders for making you immersed in a world at war with robots! The most common negative review of this game claimed it was just too short.
Check out a more detailed review of Robo Recall: Unplugged in the video below:

2) Until You Fall
Get now for $24.99 at the Oculus Store.
Some developers work hard on coming up with catchy titles that somehow intertwine with a deep meaning of their game. Schell Games, however, made one that accurately captures the essence of this game. The game is reportedly such an addictive first person hack and slash experience that you'll literally keep at it 'Until You Fall'. Kudos to those of you prepared to rise up again!
Until You Fall doesn't have a multiplayer mode, but once you get into the groove of the game you won't even need it. At times, you may even question whether you're at war with yourself, because this game can turn into a real workout!
The reviews I came across were mostly positive. Check out the video below to learn more:

3) Warplanes: WW1 Fighters
Get now for $14.99 on the Oculus Store (App Lab)
A game based on the first World War hardly needs an introduction. You can pretty much guess what it's about. However, what you may not be able to guess is how cool it is to fly a plane in VR! Take to the skies in Warplanes: WW1 Fighters in an astounding immersive war experience.
The experience is definitely not for those who are easily prone to motion sickness. Warplanes: WW1 fighters does feature a multiplayer mode to take your dog fighting arcade action online. The reviews have also been overwhelmingly positive!
For a more detailed review, check out the video below:

4) Warhammer 40,000: Battle Sister
Get it now for $29.99 at the Oculus Store.
If you're familiar with the Warhammer 40,000 franchise, you'll already have a good idea what to expect here. To sum it up: lots of action, tactical gameplay, and being immersed in war right from the start! 
Although Warhammer 40,000: Battle Sister does not have an official online multiplayer mode, it doesn't stop players from connecting on forums. The Warhammer VR community has been growing. Frequent updates and additional content from developers keep things interesting!
Learn more about the game in the video below:

5) Population: One
Get now for $29.99 on the Oculus Store.
When you think of this game, think Fortnite for VR. In somewhat of a battle royale scenario, Population: One has you declare war on online combatants across beautiful locations and smooth locomotion mechanics. The high-paced action and strategizing is likely to keep you hooked in your wireless VR headset for hours!
Although the game is best enjoyed in its online multiplayer mode, it does also have a single player mode for you to practice. Hone your skills before you jump into the first Battle Royale for VR!
Naturally, a great many people love this game. You can see a more in-depth review in the video below:

6) Onward
Get now for $24.99 on the Oculus Store.
The war game that focuses more on the "reality" part of virtual reality, Onward puts you in the middle of a firefight against enemy soldiers. Ready your gun, steady your heart, and plan the tactic you're going to use to win this war! The game rewards you with a variety of maps and combat situations for you to master.
Onward has online multiplayer, co-op, and single player modes to give you the full flavor of a realistic VR experience! Join up with friends, or take the fight to the Internet. The reviews for the game back it up positively with smooth mechanics, environments, and gameplay. 
The video below shows you more about Onward:

7) Contractors
Get now for $19.99 on the Oculus Store.
Bring out all the military competition you'd want in VR with Contractors VR! As a first-person shooter, this game offers you customizable loadouts and a variety of maps to take the firefight to your foes.
You can play this game in its offline single-player more, but the multiplayer mode in Contractors VR truly helps the game shine above the rest! Experience all the fast-paced action and memorable VR moments with your friends as you join forces to decimate your foes. Or, you could lose. I suppose that's more fun too when it's with friends!
See why Contractors VR is dubbed one of the best VR shooters in the video below:
That concludes this list of the best war games for the Oculus Quest 2. Stay tuned for more to come!
HARDWARE USED FOR TESTING AND WRITING THE ARTICLES:
* Meta Quest 2 (My "daily driver" headset which I absolutely love & recommend)
* Lenovo Legion 5 Pro (AMD Ryzen 5 5600H, Nvidia Geforce RTX 3060, 16GB RAM)
* TP-Link Archer C6 (budget dedicated router for Air Link, see my full setup tutorial)

ESSENTIAL QUEST 2 COMFORT ACCESSORIES:
* VR Cover Foam Replacement (one of the easiest & cheapest ways to improve headset comfort)
* BoboVR M2 Head Strap (reduce pressure on your head and improve the overall fit of the headset)