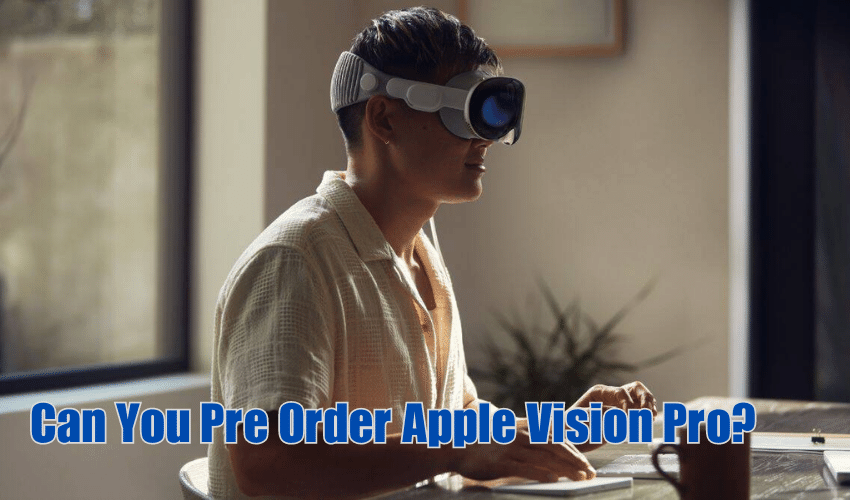 The recent announcement of Apple's mixed reality headset, the Apple Vision Pro, has sparked a flurry of interest and curiosity. Many tech enthusiasts are eager to know if you can pre-order the Apple Vision Pro. 
Apple has finally made its grand entrance into the realm of virtual reality (VR), or as they prefer to term it, spatial computing. The Apple Vision Pro, announced on June 5th, is a high-end VR headset that emphasizes augmented reality, integrating the wonders of virtual reality into everyday experiences.
Currently, the option to pre-order the Apple Vision Pro is not available. However, Apple does offer a feature where you can sign up for updates about the product on its webpage. This could be beneficial if you're interested in staying updated about this innovative headset. Given that this is Apple's first major product launch in several years, it's plausible that the Apple Vision Pro might be in high demand and challenging to acquire once it's officially released.
When can you pre-order the Apple Vision Pro?
The Apple Vision Pro is poised to bring a fresh perspective to the VR industry, and there's no doubt that many are eager to secure their own. However, as of its announcement, Apple has not provided details regarding when the Apple Vision Pro will be open for pre-orders. A pre-order option will likely be introduced eventually, but the exact timeline remains uncertain.
Apple has revealed that the Vision Pro is slated for a US release in early 2024, which suggests that it might be some time before pre-orders are initiated. Nevertheless, pre-orders could commence later this year.
The Vision Pro comes with a substantial price tag of $3,499. Positioning it in a completely different league than the Meta Quest 3 and other gaming-centric VR headsets we're more accustomed to seeing.
We will promptly update this page as soon as we have more information about the pre-order status of the Apple Vision Pro. If you're interested in staying abreast of the latest developments regarding this exciting new product, we will provide regular updates and news as they emerge.
Interested in the Vision Pro? Check out what YouTubers with hands on experience are saying!