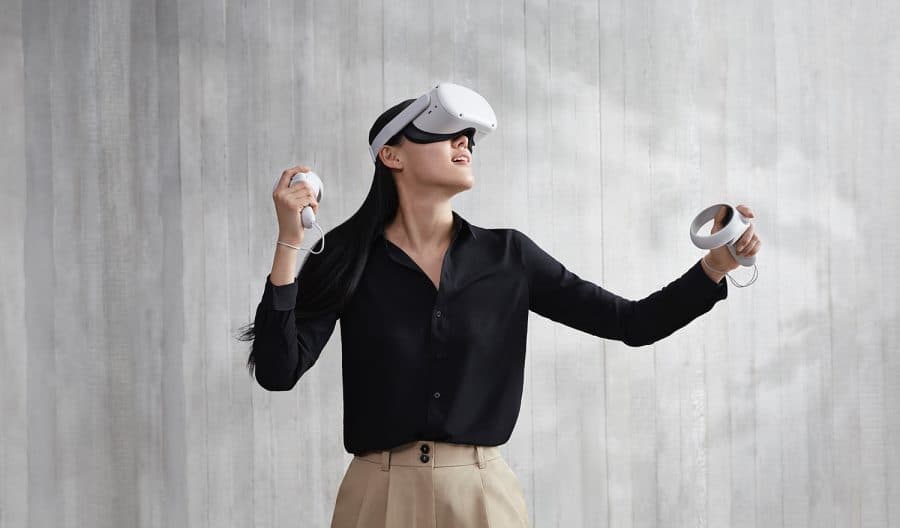 Facebook has poured in a great deal of resources into making the Oculus Quest 2 headset stand out from the competition and attract more people into the world of virtual reality.
Those who are new to VR and have just heard about the Oculus Quest 2 often have many questions about the device. One of the questions that is often raised: do you need a PC to run the Oculus Quest 2 headset?
The short answer here is that no you don't need a PC for the Oculus Quest 2. It is a standalone device that can function on its own. However, if you have a compatible PC you can connect the Quest 2 to your PC and additionally play a large library of PC VR games.
Let's talk more about both sides of the coin.


The Quest 2 As a Standalone Headset
The Oculus Quest 2 is a standalone VR headset that contains all required components required to run (display, storage, battery, …) within the device. It doesn't need to be connected to any external devices to work.
Do keep in mind that you need a smart phone with internet access for the initial setup and configuration of the Quest 2.
After that all you need to do is power it on, make sure everything is charged, and you're ready to start gaming.
There is an ever-expanding library of games and applications that can be accessed directly through the built-in Oculus store on your Quest 2. Navigating to this application with the headset on allows you to explore the entirety of this VR device as a standalone headset.
That being said, I wouldn't directly say that you should not consider having a PC at all. There's plenty of advantages to having one.


Oculus Link Can Turn your Quest 2 into a PC VR Headset
Oculus Link is the feature in the Oculus Quest 2 that allows connectivity with your PC. For that you'll need a high-quality USB cable that connects your headset to your PC.
The charging cable included in the package also works, but it is too short to really have an immersive VR experience (but it is fine for testing the functionality)

The Recommended PC specifications for using Oculus Link
| | |
| --- | --- |
| Component | Recommended Spec |
| Processor | Intel i5-4590/AMD Ryzen 5 1500X or greater |
| Graphics Card | See supported GPU list here |
| Memory | 8 GB+ RAM |
| Operating System | Windows 10 |
| USB Ports | 1 x USB port |
You can learn more on Oculus Link compatibility and requirements by visiting this link.
At this point you might be wondering "why do I need to know all this?" Well, the answer is that knowing all this and setting it up lets you access the entire PC VR game library. 
Your main additional market might be on Steam, but getting to experience modifications made by players and developers, and various other libraries could be exactly what you're looking for to expand your VR experience.
The Quest 2 is guaranteed full Oculus Link support by Facebook; so why not make the most of it?
Something that may have crossed your mind by now is a much talked-about factor of the VR community: wireless gaming. Doesn't connecting a USB cable to your PC take away the entire point of having a wireless VR gaming headset?
The answer here is: not necessarily.


Playing PC VR Games Wireless with Virtual Desktop 
Virtual Desktop is an application native to the Oculus Quest store that's designed specifically to give you high quality and low latency streaming experiences.
You can easily download Virtual Desktop here for free. Setting it up with your PC is relatively straightforward, with most of the instructions appearing on your screen from within the app itself.
From that point on, you can explore to discover other features such as being able to connect to 4 PCs at a time and seamlessly switching between them. 
And just in case you're wondering, Virtual Desktop supports Windows as well as the Mac OS.


What Else Can A PC Do With The Oculus Quest 2?
If you're looking for something other than a more expansive VR gaming experience with your PC, then you'll be happy to know that you can connect with your Quest 2 for much more too. 
The options below work just fine even if you have a low specification PC that does not meet the minimal requirements for Oculus Link or Virtual Desktop.

Watching movies: Sometimes we prefer the experience of watching a downloaded movie or series without the hassles of streaming it. Well, with your PC and a cable, you can easily transfer movies, or any other compatible video files, to your Quest 2 and enjoy the complete VR watching experience!
Sideloading games: Install SideQuest on your PC and get access to a variety of games and applications that are not released in the Oculus Store. Once the games are installed on your headset you can play them with your Quest 2 in standalone mode.
Transferring data: Your Oculus Quest 2 will be storing images and videos that you save from your VR experiences in its internal memory. A PC comes in handy when you don't want to delete these memories to make room for new ones. You can transfer your images and video files to your PC to clear space in your Quest 2, and carry on!
Saving game data: If you're a streamer, content creator, or generally just need to store your game data, you can use your PC to save these valuable files for use later!


Is Oculus Quest 2 Worth It Without A PC?
So if you're considering your purchase of the Quest 2 on the type of PC you have – or don't have, there's no single answer for it.
Most people in the VR community, including myself, say that Quest 2 is definitely a worthwhile purchase even if you do not have a PC. This is mainly because you get the entire Oculus library at a cheap price that demands no other hardware. Enjoy VR anywhere!
However, if you feel that a compatible PC is something you could use to enhance your VR experience, then you'll definitely want to factor that into your decision.
Regardless, what doesn't change is that the Quest 2 will run perfectly fine without a PC, TV, or any other screen for that matter!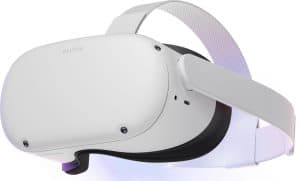 Oculus Quest 2 is still the king of consumer VR! Don't miss out and enter the world of VR experiences, unlike anything you have ever seen!