Oculus Link is one of the best ways to bridge a gap between the Oculus Quest and VR perfection. It lets you hook up your headset to your PC for an integrated wonderland of new possibilities. But the official Oculus Link cable, costing $79, isn't exactly everybody's cup of tea.
In this article I'll be talking about Oculus Link and some cheaper link cable alternatives you can use to get the same job done as the official one!
For those looking for quick answers, I'll be talking about the cables listed below. (* Prices as listed at the time of writing)
If you are unsure which option to pick, go for one of the Kuject Oculus Link cables. This is what I also bought personally and it has worked flawlessly for me.
Before I talk about the descriptions of each, let me give a quick overview on what a link cable is, and which properties you should consider when shopping for one.


Oculus Link Cable Specifications and Requirements
The Oculus Link functionality can turn your Oculus Quest / Quest 2 into a PC VR headset and this way you can enjoy the vast and growing selection of PC VR games.
But what are the required specifications and qualities for a good Oculus Link compatible cable?
Length
Naturally, once you're hooked up to your PC you don't want to be tugging too hard and breaking your beloved hardware!
At the same time, having one that's a little too long will get tangled up around your feet and that's a nuisance on its own. Nobody wants that tingly feeling at their feet while they're in VR! Of course, unless there's something you see through your headset that's worth feeling tingly over.
Data Transfer Speed
The average link cable will claim to have a data transfer speed of up to 5 gigabytes per second (GPBS). During regular use, this full potential is hardly reached with user tests showing a maximum of around 3GPBS.
The original Oculus Link cable from Oculus also has a bandwith of 5Gbps so make sure the one you are going for can move same amounts of data.
Thickness & Weight
Depending on how thick and heavy the cable is, you can get an idea on its sturdiness. There's a good chance you'll be occasionally stepping on the cable when in VR, especially if you're not used to a wired connection like with PCVR or the PSVR.
Similarly, feeling the tug of the cable while you're trying to immerse yourself in the realms of the future isn't the best feeling. 
Hence, judging the cable for its thickness and weight are important factors in buying it!
Now that you know what to be on the lookout for, let's talk about cheaper alternatives to the Oculus Link Cable!


This is the cheapest cable I'd recommend because it gets the job done in as little of an expense as possible without venturing into a market that's too cheap. For $16.99 you get a sturdy 10-foot cable along with 3 cable clips to keep your playing area neat and clean!
There's not much to talk about in terms of design, it's simple, strong, and angled specifically to be used with the Oculus Quest. So you can expect it to fit in properly and not wobble. 
It`s really a reasonably priced and good quality cable that gets its job done well.

Having Kuject being recommended a second time would probably give you a good idea of the quality of this brand. Which is one of the reasons I opted for this specific product myself.
The Nylon Braided cable comes at a higher price point for those looking for a more flashy cable that's still way cheaper than the Oculus link cable. A nylon cable is not only lighter than your typical cable, but also great to feel and look at! To cap it off, it doesn't damage easily either! 
The cable comes either 16 or 20 feet long. The only downside of the cable is that in an ideal world I would prefer it to be a bit lighter.


Up next we have the Sicotool Link Cable. This is also made of a premium nylon braid, and promises some competition to Kuject!
At 16 feet long, you likely won't need much else. The cable doesn't tangle easily, and is designed to fit perfectly into your Quest 2 headset!
Despite being relatively new to the market, Sicotool has had largely positive reviews. They also offer a 30-day money-back guarantee and a 12-month warranty!
So that's a safe bet. The only potential downside could be that the cable weighs 6.7 ounces, which makes it even heavier than the Kuject counterpart.


Dropping the price a little brings us to the 10-foot long Vookoo cable for $17.99.
This cable doesn't have the fancy nylon outlook, but instead goes for a simple and sturdy black cable. At only 3.53 ounces, the only connection you're likely to feel is between you and your VR worlds.
With over 2300 positive reviews, the general consensus seems to be that this is exactly what you're paying for: a budget friendly link cable that gets the job done. 


Is The Original Oculus Link Cable Worth It?
With alternatives being more than 60% cheaper than the official, is it really worth it to be spending your hard earned money on the Oculus Link Cable?
The answer is that it would depend on the type of consumer you are!
If you can easily afford the cable, after already owning a Quest 2 and a gaming PC, then the Oculus Link Cable will definitely be worth it!
The official cable itself is 16 feet long – or 5 meters. The special feature of this optic fibre cable is that it comes with a parallel copper line used for charging your Quest 2.
This is really the main difference – you get to charge your headset properly while it is connected to your PC.
Most alternative passive cables do not have this feature, and you can expect your headset`s battery to drain faster as you go through your gaming sessions.
The Oculus Link cable is designed specifically to be smoothly integrated for Oculus Link. Facebook has tried to justify its worth at the heavier price of $79, promising to give you the premium feel of any branded product.
Of course, if you don't plan on gaming long enough for the battery on your Quest 2 to run out, then there's really nothing stopping you from looking at the alternatives.


Is Any USB-C Cable Suitable for Oculus Link?
The quick answer is yes, essentially any USB cable will work for Oculus Link (even USB 2.0 will work at the expense of reduced bandwidth and quality). However, you should better go for a good quality USB 3.0 cable to offer you a worthwhile Oculus Link experience.
Make sure the Oculus Link cable you go for is at least 10FT (3 meters) long, is USB 3 compatible and has a data bandwidth of at least 5 Gbps.
Additionally, for Quest / Quest 2 headsets you should prefer a cable angled at 90 degrees at one end to fit perfectly into its dedicated USB port. Straight cables, for instance, are harder to move around with and can bend from the exerted pressure and risk damage.
Each recommended alternative seems to do the job exactly as required, so I hope you make the most of the opportunity to expand your VR horizons!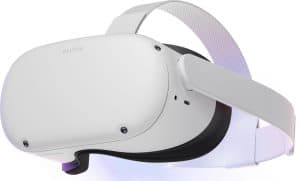 Oculus Quest 2 is still the king of consumer VR! Don't miss out and enter the world of VR experiences, unlike anything you have ever seen!