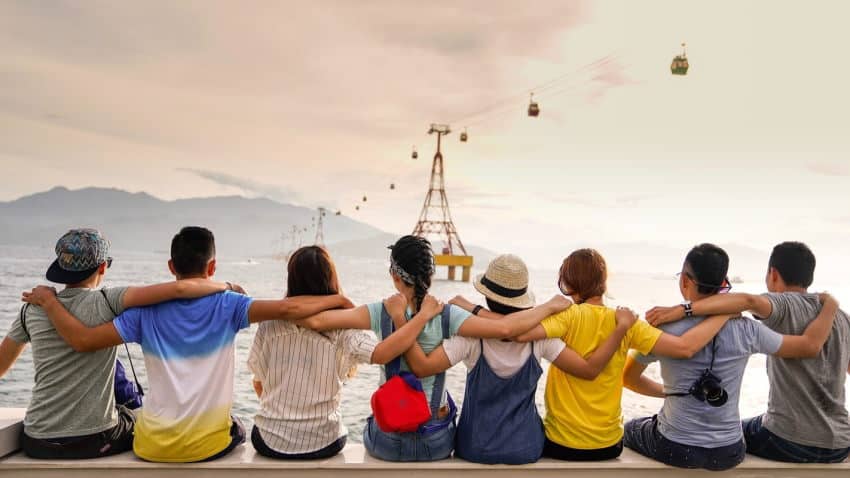 The dawn of mass online multiplayer games cast something of a shadow over the gem known as local multiplayer. Call it local co-op, couch multiplayer, or asymmetrical VR, the fact is that there are some absolutely amazing multiplayer VR titles that only require one headset!
In this article, I'm going to be talking about the best Oculus Quest 2 games you can play with your family and friends with one VR headset to go around.
Note! This article also covers PCVR games that are accessible on the Quest 2 via Oculus (Air) Link or Virtual Desktop.
Here's a list of some of the best Oculus Quest 2 party games for friends and family to play together:
Acron: Attack of the Squirrels!
Reiko's Fragments
Keep Talking and Nobody Explodes
Takelings House Party
Beat Saber (Party Mode)
ForeVR Bowl
With that being said, let's get right into talking about which games are the best for you!


Acron: Attack of the Squirrels! – $19.99 on Oculus Store
A game that allows everybody to take a break from fast-paced action and give in to the lighter side of gaming. Acron: Attack of the Squirrels is an objective-based game that can be played across 7 maps and with up to 8 other players!
Why it's great:
The player with the VR headset takes the role of a great tree defending its golden acorns. Other players on either Android or iOS devices can join in and attempt to take these acorns for themselves – nobody wants to starve. 
One side uses tactics, abilities, and the power of party humor, and the other side is … a tree. But hey, if you ever played the tree in your school play, you'll know exactly what to do.


Reiko's Fragments – $5.49 on Steam
When it comes to horror games, the VR library usually just has a programmed set of jumpscares. What makes Reiko's Fragments so incredible is that each playthrough is a new programming done by none other than your friends and family!
Why it's great:
The player with the VR headset would usually seem like the powerful one, but in Reiko's Fragments they're running for their lives. What's the danger? Simple. A deadly spirit, and everybody with either a phone or a PC linked to the game!
Up to 8 flat screen players get complete control over a haunted house as they play the role of the ghost. The unlucky one with the headset has to escape a sinister spirit and all their friends while wetting their pants as little as possible.
Plot your revenge for whatever reason –  I won't judge, in this unique and memorable game! 
Note! This game is still in development and a native Oculus version is planned for release.

Keep Talking and Nobody Explodes – $14.99 on Oculus Store
Considered by some in the VR community as the game that kickstarted asymmetrical VR experiences, this one is not to be missed.
Keep Talking and Nobody Explodes is an intense test of teamwork, pressure handling, and communication skills. You either finish the game as a better communicator or with a new curse word. 
Why it's great:
One person with the VR headset is looking at a bomb, and the flat screeners in the real world are looking at the manual to defuse the bomb. Neither can see what the other sees, and they can only communicate by talking.
Defuse the bomb before time runs out. Sounds simple? Try it once.


Takelings House Party – $8.19 on Steam
Described as "staggeringly fun" by largely positive Steam reviews, Takelings House Party lets up to 8 players without a VR team up against the VR headset player.
Why it's great:
From fun gimmicks and playthroughs, this game has you and your family laugh along to three different game modes, each involving unique ways for the "Takelings" to survive against the VR player. What really makes Takelings House Party special is that everybody gets to have their own fun, with or without a VR headset!
Flat screen players can join from PC as well as their smartphones, so prepare for the VR fun that you never knew your group needed.
Note! As an Early Access game, Takelings House Party is still in development. Nevertheless, players don't usually regret getting aboard the game train!

Beat Saber (Party Mode) – $29.99 on Oculus Store
Being familiar with VR titles means there's a good chance you've heard of the lightsaber-weilding workout extravaganza known as Beat Saber. 
Since I've covered most of the awesome group-based games, let's take a look at something that's referred to as a "pass and play" game.
While Beat Saber is mainly known for the single player music and action thrill, the Party Mode feature lets you experience a whole new way to play. That's right: with a friend!
Why it's great:
Party mode lets you put on a track from your collection in the game and gives you lightsaber-like weapons to give it your best hack-and-slash shot. 
However, rather than uploading your scores online, you can enter a name and save them locally and offline. Something like classic arcade games from the 90s where the top scorer has their name displayed on the screen – with full bragging rights of course. See which of your friends and family would dare to challenge the top scorer!
For a game released in 2019, you might be thinking you can wait for a sale. Given the popularity of Beat Saber, I wouldn't be holding my breath on that.


Building up on the pass and play kinds of games, there's nothing more classic than the bowling experience of ForeVR Bowl. All you need is one Quest headset to play as you take turns with your party for a true VR bowling experience!
Why it's great:
When you're trying to bond with the family, there's likely a few people who don't want to get into fancy controls for games. So, why not take them through a classic bowling experience? Nintendo mastered this with its Wii back in the day, and now VR has come to spice up the experience even more!
Rack up your score and take on your friends using over a hundred different bowling balls and a variety of maps. Spoiler alert: you get to bowl on the moon.
That concludes my list for the current best VR games to play with friends and family on your Quest – let the bonding begin! 
HARDWARE USED FOR TESTING AND WRITING THE ARTICLES:
* Meta Quest 2 (My "daily driver" headset which I absolutely love & recommend)
* Lenovo Legion 5 Pro (AMD Ryzen 5 5600H, Nvidia Geforce RTX 3060, 16GB RAM)
* TP-Link Archer C6 (budget dedicated router for Air Link, see my full setup tutorial)

ESSENTIAL QUEST 2 COMFORT ACCESSORIES:
* VR Cover Foam Replacement (one of the easiest & cheapest ways to improve headset comfort)
* BoboVR M2 Head Strap (reduce pressure on your head and improve the overall fit of the headset)