The fight for the best VR headset has never been closer and today we're looking at the top two VR headsets you can buy right now – the Oculus Quest 2 and the HP Reverb G2. In one corner we have the untethered Oculus Quest 2 that pushes boundaries going up against the high-end HP Reverb G2 that offers exciting features, albeit at an above-average price tag. 
And while on paper, the HP Reverb G2 seems the better headset when compared to the Oculus Quest 2, the contest is a lot closer than you think. There are several factors you need to consider when picking the best VR headset for your budget, the virtual reality experiences and games you want to play and where in your house you'll use the headset.
This means if you're stuck on deciding which VR headset to spend your hard earned money on, the answer isn't easy. Not all VR headsets are created equal and some are better suited for certain situations than others and we're here to help. 
In this showdown between the VR titans, we'll compare all aspects you need to factor in to find the VR headset that's the right fit for you.


Quick Specification Comparison
OCULUS QUEST 2
HP REVERB G2
HEADSET TYPE
Standalone
Integrated Snapdragon XR2 processor,
6GB RAM
64GB or 256GB on-board storage
PC tethered
6-meter cable included
DISPLAY
Single fast switch LCD (RGB Stripe)
Dual 2.89-in LCD (RGB Stripe)
RESOLUTION
1832×1920
2160×2160
REFRESH RATE
90Hz
90Hz
FOV
~89° 
~94°
IPD ADJUSTMENT
3 settings – 58mm, 63mm, 68mm
60mm to 68mm
AUDIO
Integrated microphone
Speakers through straps
Integrated off-ear speakers,
dual microphones
TRACKING
6DoF, 4 camera Oculus Insight technology,
stationary and room-scale   
6DoF, 4 camera,
Windows Mixed Reality tracking
CONTROLLERS
Oculus Touch 
Redesigned Windows Mixed Reality 
WEIGHT
503g
550g
FACE MASK
Foam cushion, replaceable 
Magnetic, replaceable 
BUY FROM
Oculus / Amazon
HP

Headset Type and PC VR Capabilities
HP Reverb G2 is a full-fledged PC VR headset which means that in order to use the headset you must own a high-end gaming PC. With a USB cable connecting your headset and PC, the latter does all the hard work and the content is then displayed in your headset.
Oculus Quest 2 on the other hand is a hybrid VR headset – it can function in standalone mode and also when tethered to your PC.
In standalone mode, the headset itself does all the required computing to run the actual games. This usually means that the games are tuned down slightly to be able to perform on the mobile hardware. Additionally, not all titles (especially the more resource-intensive ones) are available.
The magic of the Oculus Quest 2 is that it also supports PC VR gaming. You can either use an USB cable to connect the headset to your PC or play totally wireless using Virtual Desktop. 
Most of us who have tried wireless gaming don't really want to go back to the old wired ways. However, if you are looking for a VR headset primarily for PC VR gaming and don't mind being physically tethered to a PC, then the purpose-built Reverb G2 probably is likely the more optimal choice (especially for flight and racing sims).


Display and Visuals
When it comes to visuals there's no doubt that the HP Reverb G2 edges out the Oculus Quest 2 in terms of sheer specs. The Reverb G2 uses a dual LCD RGB stripe display with a 2160×2160 per eye resolution and 90Hz refresh rate support resulting in a clear and bright display that eliminates the screen door effect completely.
Playing games is an absolute pleasure on the Reverb G2 with immersion taken to a whole new level. The field of view at ~94° is narrower than what we'd expect from a headset at this price but it's not a deal-breaker.
The Oculus Quest 2 is no slouch either. With a per-eye resolution of 1832×1920, games look crisp and the screen door effect is nearly invisible. The Quest 2 also supports 90Hz refresh rates for games that allow it and it's super helpful in reducing motion sickness. It has a field of view of ~89°, which is respectable for a headset at this price point and is on par with the competition.
Overall, the Reverb G2's higher resolution display beats the Quest 2 hands down. But you'll need a high-end gaming PC or laptop to power the Reverb G2 and make the most out of it whereas the self-contained Oculus Quest 2 does a remarkable job of delivering a crisp display and high frame rates without being tethered to a PC. 


Through the Lens Comparison
Here's a cool through-the-lens comparison of the two headsets. You can see the Reverb G2 slightly edges out the Quest 2 in direct comparison and it's amazing to see how close the cheaper priced Quest 2 gets to the Reverb G2 in terms of quality.

Comfort and IPD Adjustment
The Oculus Quest 2 and HP Reverb G2 have standard head strap designs. The Quest 2 is lightweight and fairly comfy employing a two-layer adjustable strap instead of velcro. But the extra padding on the Reverb G2 and soft adjustable straps feel more premium and make for a comfier fit.
Both headsets also allow you to adjust IPD through mechanical sliders on the headsets. IPD stands for inter-pupillary distance meaning the distance between your eyes. Depending on the shape of your face, you can adjust IPD for a better fit. 
The Oculus Quest 2 has three slots for IPD – 58mm, 63mm or 68mm – while the Reverb G2 has a slider on the outside of the headset letting you slide between 60m all the way to 68mm. The Oculus Quest 2 definitely covers more distance but the Reverb G2 gives finer granularity for selecting IPD. 


Tracking
Tracking is a crucial component for creating immersive VR experiences and the Oculus Quest 2 does it a lot better than the HP Reverb G2. Both the Quest 2 and the HP Reverb G2 use four inside-out cameras to give you 6 degrees of freedom motion tracking but there are big differences in the way they are implemented.
The Quest 2's cameras are positioned along the edges of the headset resulting in a larger tracking volume that allows it to track a user's hands along a wider area. The Reverb G2 has two cameras positioned in the front and two on the sides, which is an odd design choice that results in a smaller tracking volume.
This means that the Quest 2 is better at keeping track of a wider variety of hand motions than the Reverb G2, for instance, the Reverb G2 will likely lose tracking if you place the controllers close to your chest during a shooter game or keep your hands by your side. 
Another point to note is that most Windows Mixed Reality controllers like the ones that come with the Reverb G2 use visible light tracking meaning they are sensitive to the lighting conditions in your play space. This makes the Reverb G2's controllers highly inconsistent. If there's direct sunlight or a direct light source in your room, it will interfere with the controller's tracking mechanisms. You don't have to worry about that with the Quest 2 as it uses infrared sensors.


Controllers
The Oculus Quest 2 and the HP Reverb G2 have very similar-looking controllers. Both have tracking halos that emit light, baton handles with grips and triggers as well as face buttons and mini joysticks for your thumbs on the top.
The Quest 2's controller is an upgraded Oculus Touch capable of tracking at 60Hz for improved accuracy and reduced latency. The Reverb G2, on the other hand, uses Windows Mixed Reality controllers and they're just fine. 
Head to head, we definitely prefer the Oculus Touch controllers as they have better ergonomics, more tactical buttons that have good travel between them. The River G2's controllers feel weird the first time you hold them with buttons that feel click-y with shorter travel than the Oculus Touch. 


Audio
The Oculus Quest 2 has stereo speakers built into the headset's straps near the ears. It has an upgraded 3D positional audio to provide directional sounds for more immersion. The speakers are decent and get reasonably loud letting you lose yourself in a game while also allowing some awareness of your surroundings.
If someone's in the room with you, they will hear everything in which case you can connect your headphones via a 3.5mm jack for a private session. 
The HP Reverb G2 has better audio with its over-the-ear speakers that produce remarkably clear and crisp audio that gets plenty loud without touching your ears. Because the speakers are over your ears, the audio feels truly spatial and like it's coming from the environment around you. This makes for a more immersive audio experience which it should do since there is no audio jack to plug in your own headphones.


Setup and Ease of Use
Setting up VR headsets can be a painful affair involving fussing with wires and arranging external sensors. But since both the HP Reverb G2 and the self-contained Oculus Quest 2 use inside-out tracking cameras, they are fairly easy and intuitive to set up. 
Once you've wired up the HP Reverb G2, the Windows Mixed Reality portal pops up letting you configure your play space. It's a nice-looking interface with a decent amount of content but you can get even more out of the headset once you install Steam VR. Once you've done the initial setup, the HP Reverb G2 becomes an easy plug-and-play VR experience.
The Oculus Quest 2 is also easy to set up, taking just 5-10 minutes to configure. When you first turn the headset on after its first charge you'll see a series of intro videos, set up your play space in the Guardian setup, learn how to navigate menus and you're all set. 
Because the HP Reverb G2 is a PC-tethered headset, you have to first connect all the wires to your PC or laptop then boot your PC and enable the VR software. Compared to the standalone Oculus Quest 2, this can be a cumbersome process as the Quest 2 requires you to just wear the headset and turn it on.
The one caveat with the Oculus Quest 2 is that it requires you to link a Facebook account, which can be a deal-breaker for many folks. For existing users who have an Oculus account, Facebook has promised to support Oculus accounts up until January 2023
In contrast, the HP Reverb G2 only requires a Windows Mixed Reality account. So if you're against using your Facebook account for VR gaming, then the Reverb G2 is a strong contender.


Mods & Upgrades
For VR headsets, the one-size-fits-all approach rarely works as head shapes and sizes vary from person to person. It's important for the VR headset you choose to invest in has a healthy amount of accessories and mods available so you can find your perfect fit and improve your overall Vr experience.
The good news is that both the HP Reverb G2 and the Oculus Quest 2 headsets have a variety of options that you can buy. The Oculus Quest 2 has a number of officially licensed products including an elite strap, a headband with a built-in battery pack to extend play time, audio accessories from Logitech, and several inner face plates in a range of sizes. You can also get customizable facial interface kits, carry cases, lens covers, gun stocks, nose guards to prevent light leaks and more from third-party sources.
The HP Reverb G2 doesn't have official accessories but there are loads of third-party mods and upgrades you can buy. VR Brother offers a replaceable strap for a comfier fit or a replacement facial interface from VR Cover. Other third-party mods include better batteries for the headset, lens covers, carry cases, gun stocks, controller grips, customizable 3D printed accessories and more.


Games & Content
This is one area where the HP Reverb G2 and Oculus Quest 2 vary a little. The Quest 2 is more like a gaming console at first glance where you might be concerned with the depth of the game library available while the Reverb G2 has access to hundreds of great performing PCVR titles, but don't dismiss the Quest 2 just yet.
Out of the box, the Oculus Quest 2 offers games and VR experiences from the Oculus Store, which also includes some of the best VR titles like Superheat VR and a bunch of exclusive titles like Journey of the Gods. You can also play Android-based VR games on the Quest 2 and play Android exclusive games that you can't on the Reverb G2. 
Meanwhile, the HP Reverb G2 comes with the Windows Mixed Reality store out of the box, which has a decent amount of games and apps. What's even better is that you get easy access to SteamVR and hundreds of incredible VR games like Star Wars: Squadrons and Half Life: Alyx. The Reverb G2's high-resolution lenses take immersion in these games to a whole new level.
You can also access SteamVR on the Oculus Quest 2 by tethering it to a PC via Oculus Link and get an almost PCVR-like experience. Of course, you'll need access to a higher-end PC or laptop to make the best out of Oculus Link. If you have a top gaming PC but you're on a tight budget, the Oculus quest 2 can be a great gateway to PCVR without burning a hole in your wallet.



HP Reverb G2 vs Oculus Quest 2 – Which Should You Buy?
Buy the HP Reverb G2 if…
You have a high-powered PC and have money to spend. The Reverb G2's higher resolution means you'll need a fairly decent gaming PC or laptop to power it. It's a brilliant VR headset for gamers who have the dough to pay for it and want the best visual quality.
You want a VR headset that's simple to set up. Unlike other expensive PCVR headsets, the HP Reverb G2 doesn't require external sensors and base stations. And with most of the software easily available on Windows 10, setup is intuitive and easy.
You want the best VR immersion. The Reverb G2's higher resolution makes a lot of difference and the clarity enhances VR experiences in a revolutionary way. You really need to see it to believe it.
You don't mind being tethered to a PC. There's no option for wireless play on the Reverb G2, which can limit immersion in some aspects. And even though you get a 6 meter cable with the headset, it does limit room for movement.
You enjoy playing racing and flight simulators.
Buy the Oculus Quest 2 if…
You want a wireless VR experience. Standalone and incredibly easy to use, the Quest 2 is an accessible VR headset that's perfect for both tech beginners and experienced techies.
You have ample space for play. The Quest 2 has great scalability and you can get the Guardian room tracker to work for all kinds of VR experiences from seated to expansive free roaming in a digital world.
You're on a budget. At almost half the price of the Reverb G2, the Quest 2 represents remarkable value for money. You get incredible performance for the price that's comparable to more expensive VR headsets and access to a plethora of Oculus quest and Android-based exclusives. And if you have a VR-capable gaming PC, you can get even more bang for your buck with access to hundreds of excellent Vr games via SteamVR. 
You don't mind being tied to Facebook. Oculus requires you to have a Facebook account to activate the Quest 2 and this can be a major put-off for many. If you're not a fan of Facebook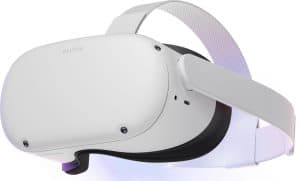 Oculus Quest 2 is still the king of consumer VR! Don't miss out and enter the world of VR experiences, unlike anything you have ever seen!