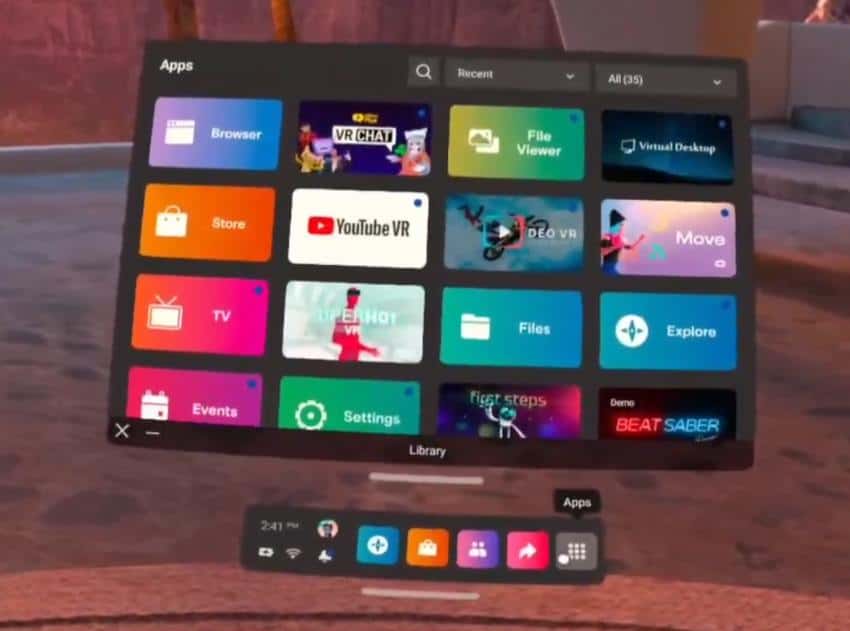 So here's the scenario – you get a Quest 2 and try a bunch of different apps, simply to test them out. Some you like, some you don't and you go ahead and uninstall them.
If you happen to share your headset with other people, you sometimes might also simply want to hide some specific apps (e.g not show them in the "Recently played" section). So is there a way to do it?
There currently is no official way to hide or completely remove apps from your Quest 2 library. You can select the "Installed" filter to hide uninstalled apps (and there is also a way to make it the default option from Personalization settings).
Alternatively, there is a third-party app called Pi Launcher which only shows installed apps by default and allows you to categorize and hide items in your library.
Let does next look at these and some other opportunities to overcome the issue in more detail.


Manually Select the "Installed" Apps Filter
One of the most obvious ways to hide uninstalled apps (which most of you probably already know) is to simply select the "Installed" filter instead of the default "All" option.
This does help to make your list much less messy when you have previously installed/uninstalled a lot of different apps. There is now a way to also make it permanent!
Follow these steps if you want to change the default filtering or sorting options for your apps:
Press the Meta (Oculus) button on the right controller to bring up the universal menu
Open Quick Settings by clicking on the clock area



Click on Settings (top-right of your screen)



Open Personalization settings



Select App Library from the menu on the left. Change the Filter By and Sort By options based on your preferences.



This way the changes to the application sorting and filtering options are made permanent and you will still see your applications the preferred way each time you reboot your headset.
Use Pi Launcher to Hide and Categorize Your Quest 2 Apps
Another, more permanent solution to hide uninstalled apps by default and categorize/hide other apps in your library is to use a third-party app called Pi Launcher. It is not available in the official Oculus Store, but you can sideload it on your Quest 2 using SideQuest.
The user interface of the application is shown in the image below. As mentioned, the application hides uninstalled apps by default and you can create and place your applications and games into different categories. There is also an option to hide specific apps altogether.
Whilst normally you would have to launch sideloaded apps from the "Unkown sources", Pi Launcher has a built-in option to boot up automatically each time you power on your headset. Or if that's too intrusive, you can alternatively configure a shortcut (hold the volume down button for ~2 seconds) to launch the application.
I tried the app and it works nicely. I won't be using it personally, but if you are keen on keeping your games library tidy (and you want to hide some apps from your kids for example) then it's a nice alternative to the Oculus default library.


Use a Different Account
If your goal is to hide certain games/apps from your kids, for example, your best option might simply be to add a secondary account to the headset (Settings – Accounts – Add Account).
If you don't enable app sharing, the secondary account won't see any of the apps and games you have installed. If you do decide to enable app sharing, the secondary user will be able to see and play all your purchased titles.


Contact Oculus Support
It is worth noting that the games appearing in your Quest 2 library are tied to your Facebook account. For this reason, there aren't any workaround solutions to stop the Quest 2 from displaying certain apps (e.g edit a configuration file).
What you can do, however, is to contact Oculus support and ask them to remove certain games/apps from your account. This might be useful if you want to get rid of demo titles, games from App Lab, etc.
So just create a support ticket with the list of games you want to remove from your account and they might actually do it. I haven't personally done this, but I have read that several people have had Oculus Support actually fulfill the request.
And maybe, just maybe Oculus will finally consider making the user experience of the platform better and allow users to properly manage their applications.
HARDWARE USED FOR TESTING AND WRITING THE ARTICLES:
* Meta Quest 2 (My "daily driver" headset, which I absolutely love & recommend)
* Lenovo Legion 5 Pro (AMD Ryzen 5 5600H, Nvidia Geforce RTX 3060, 16GB RAM)
* TP-Link Archer C6 (budget dedicated router for Air Link, see my full setup tutorial)

ESSENTIAL QUEST 2 COMFORT ACCESSORIES:
* VR Cover Foam Replacement (one of the easiest & cheapest ways to improve headset comfort)
* BoboVR M2 Head Strap (reduce pressure on your head and improve the overall fit of the headset)