You've got your epic VR headset. You've changed reality around you. You've perhaps already taken a stroll down the video game lane too. If the sportsman in you just knows that there's still that spark demanding something more, then you're at the right place!
In this article I'm going to be listing the best ways in which you can watch sports live on your Oculus and Oculus Quest 2 headsets!
Did you hear? Facebook (Meta) is going all-in on virtual reality and metaverse. Get a Quest 2 headset and be a part of the future of entertainment!
1) Redbull TV
| Schedules and More Information: Redbull TV Website / Oculus

Redbull TV is a premium TV app that one can subscribe to while using VR. It contains all kinds of thrilling sports for its fans. Particularly so if you enjoy racing sports such as Formula 1, WRC or various extreme sports (Snowboarding, Biking, Surfing, etc)
The number of sports that are available live on the Redbull TV app are limited. The app also doesn't broadcast events all that often. However, you can easily use this as an opportunity to rewatch some of the best sporting moments out there!
In fact, Redbull TV comes with quite a large selection of sporting events and documentaries for you to browse through without the pressure of missing anything! These range from motorsports, biking, winter sports, water sports, and various aerial sports as well.
If you're looking particularly for a live event, you can find the list of streaming events here.
All in all, this app is definitely worth a try for any sports enthusiast!


2) MLB TV
| Schedules and More Information: MLB.TV Website / Oculus
If you happen to be a baseball fan, MLB TV has some exciting opportunities for you.
In their dedicated Oculus app, not only can you stream live baseball, but you can also watch highlights, interviews, commentaries, match analysis, and short clips from the ongoing as well as previous seasons 24/7!
Do keep in mind that you need a MLB.TV subscription to watch live games.


3) ESPN+
| Live Schedules and More Information: ESPN / Oculus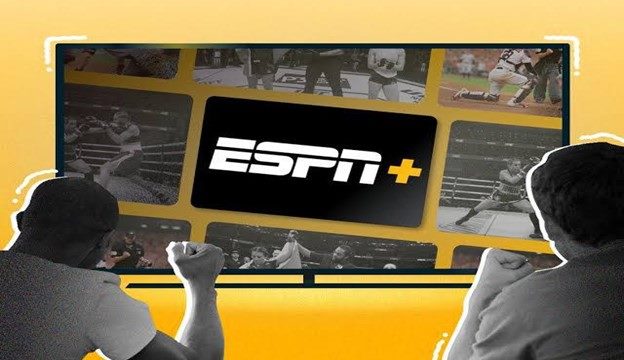 ESPN is yet another franchise in the sports industries. If you happen to be a soccer fan, there's a reason you may already be well aware of ESPN.
The guys here have also come up with a dedicated Oculus store app. This lets you stream basketball, soccer and various other sports live from anywhere with an Internet connection.
In addition, it keeps a recording of all the previously streamed content in the form of highlights. All you have got to do is buy their premium subscription and voila! A world of sporty goodness awaits you inside your VR headset.


4) Bigscreen TV
| More Information: Bigscreen TV / Oculus
Bigscreen TV is one of the best free apps that are available for watching TV content using your VR headset. It has a varying range of 50+ free channels, some of which offer live sports as well. The major sports channels that can be found on this platform are:
Pluto TV Sports
MLS
PGA Tour
World Poker Tour
CBS Sports
FOX Sports
NFL
Fubo Sports
Red Bull TV
Fight Channel
MMA Channel
So if you are a sports fan, pretty much of all you want is on BigScreen.


5) Pluto TV
| More Information: Oculus
This is a free TV service that has more than 100 TV channels. If you just cannot manage to find that one unique sports channel anywhere else, chances are you can manage to find it at Pluto TV.
With rising user satisfaction and, of course, allowing for free streaming, Pluto TV makes a mark as an app to definitely check out on your Oculus!


6) Use Web Browser
If the options already mentioned don't suit your fancy, then allow me to talk about a standard option that can be utilized to watch sports as well as any other content: the Oculus Browser.
The Oculus browser works just like any other browser: all you have got to do is enter the website or streaming service that you want to log into and the browser will run it for you.

7) Live Streaming
One option that's always viable is to search for the live streaming of your desired match or event on the Oculus browser. Simply go with something like "Wimbledon Tennis live stream", and prepare to enjoy the entire thing with your VR headset!
The various search results that show up often position themselves in a legal grey area. However, you might be happy to know that most of the repercussions are on the host of the stream and not on the viewer. You'll often find a community chat box for these live streams too!
Note: Visiting unverified websites may place you at risk of being subject to viruses and data theft. It is always advised to exercise caution when surfing the Internet like this.
PS! If you happen to bump into problems with Oculus browser, an alternative to check out is Firefox Reality. Yes, Mozilla Firefox has a dedicated VR and it has proven to work better compared to the Oculus browser in some cases.

You can learn more about Firefox Reality and download it here.


8) Virtual Desktop
| More information: Oculus
The Oculus browser, effective as it may be, has been reported to have a few minor problems while logging into specific streaming services. A quick and easy way to save yourself the trouble is to go directly to your PC using the Virtual Desktop app!
This app can tether the browser content on your PC straight to your VR headset. You can always log in to your favorite streaming service through the dedicated applications on your PC and stream live sports straight on your VR headset!
Yes, all this stays completely wireless!
So that's all for this list. Be sure to stay tuned for updates as there's a lot more in the works for VR live streaming
HARDWARE USED FOR TESTING AND WRITING THE ARTICLES:
* Meta Quest 2 (My "daily driver" headset which I absolutely love & recommend)
* Lenovo Legion 5 Pro (AMD Ryzen 5 5600H, Nvidia Geforce RTX 3060, 16GB RAM)
* TP-Link Archer C6 (budget dedicated router for Air Link, see my full setup tutorial)

ESSENTIAL QUEST 2 COMFORT ACCESSORIES:
* VR Cover Foam Replacement (one of the easiest & cheapest ways to improve headset comfort)
* BoboVR M2 Head Strap (reduce pressure on your head and improve the overall fit of the headset)