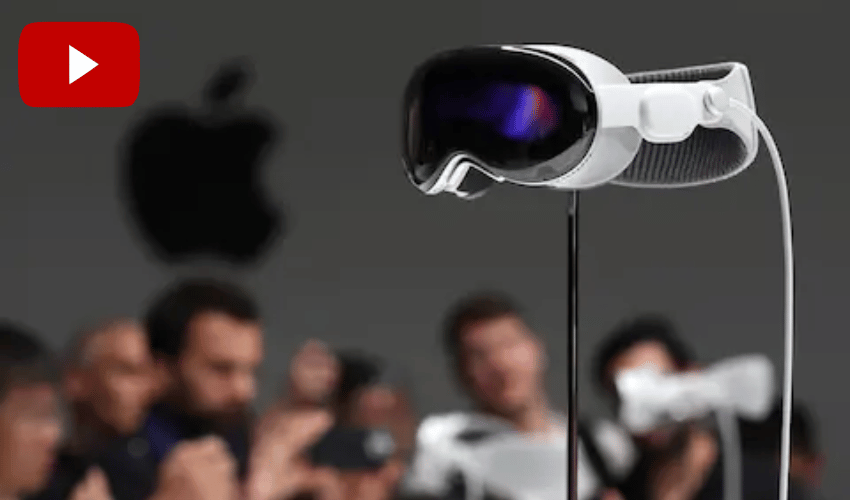 In an age of constant technological evolution, staying abreast of new products like Apple's recently released Vision Pro is key. This game-changing device has sparked global conversation, but it's not just tech journalists weighing in. Instead, real insights often come from YouTubers, who offer candid and accessible reviews.
As we delve into the world of YouTube reviews, here are some key influencers we'll focus on:
MKBHD
UrAvgConsumer
Brian Tong
Linus Tech Tips
These tech enthusiasts provide an authentic user-based perspective, enhancing our understanding of the Vision Pro's real-world performance.
Let's explore their takes.
Marques Brownlee (MKBHD) Thoughts 
Summary: The video provides the reviewer's impressions after a 30-minute demo with Apple's new AR/VR headset, the Apple Vision Pro.
Key Points:
What is it?: The Apple Vision Pro is a standalone AR/VR headset, a first-generation device from Apple. It's equipped with numerous cameras and sensors, an M2 chip, a 4K micro-OLED display for each eye, a dedicated R1 chip, and built-in speakers. The device doesn't pair with an iPhone or a Mac by default and is controlled through gestures and voice.
Price and availability: The Apple Vision Pro is set to retail starting at $3,500 and will be on sale sometime early next year.
How does it work?: The headset uses its myriad of sensors to track the user's environment, hands, and eyes to interpret commands. It features a two-way passthrough system, with OLED screens that display what your eyes look like to the cameras inside the headset.
Capabilities and features: It runs a whole new operating system called visionOS, which is reminiscent of iPadOS. Its features include a built-in browser, ability to mirror a MacOS display, FaceTime capabilities, and a new feature called Optic ID which uses the unique biometric pattern of a user's eyes for identification. The headset allows you to move, resize, and interact with virtual 4K windows in real-time.
Content: Apple is expected to leverage its brand power to encourage content creators, big motion picture studios, and sports leagues to create high-quality VR content.
Pros:
Eye-tracking: The eye tracking technology is considered exceptional, providing a near-magical experience for the user.
Responsiveness: The responsiveness of the device when interacting with the virtual windows is reportedly excellent.
Sharpness: Apple uses selective rendering based on eye tracking to provide a sharp image where the user is looking.
Cons:
Price: The $3,500 starting price might be a significant barrier to many potential buyers.
Limited apps: As a first-generation device, only Apple's apps are available at launch. However, this is expected to change as developers create more apps.
Uncanny Valley FaceTime: The 3D rendered model of the user during a FaceTime call may not feel as personal or genuine as a traditional video call.
Possible eye fatigue: Despite the high resolution and refresh rate, extended use could still potentially lead to eye fatigue.
Overall: The reviewer is impressed with Apple Vision Pro's capabilities, particularly the advanced eye tracking, the responsiveness of the device, and its sharp display. However, the high price point and the potential for eye fatigue could be drawbacks for potential users.
UrAvgConsumer – I tried Apple Vision Pro – My First Impressions!
Key Points:
The Apple Vision Pro is an augmented reality headset designed to merge the digital and real world.
It uses advanced technology to create an immersive experience, from high-quality visuals and audio to interactive features.
With eye-tracking technology and gesture control, interaction is intuitive and accessible.
The Vision Pro supports 3D content, FaceTime calls, and can be paired with other Apple devices for increased functionality.
One of the main drawbacks is the limited battery life, and there's a lack of information on internal storage capabilities.
Pros:
Immersive Experience: The Apple Vision Pro delivers a highly immersive experience, blending the digital and real world seamlessly.
High-tech Features: With 12 cameras, five sensors, six microphones, an M2 processor, and Apple's new R1 chip for image processing, the headset promises high-quality visuals and sound.
Ease of Interaction: The device uses eye-tracking technology and gestures for navigation, making it easy to operate. It's also adaptable for people with accessibility needs.
Quality Visuals: Offers high-definition visuals with 23 million pixels across two lenses, akin to having a 4K screen on each lens.
3D Content: Capable of capturing and playing back 3D content, making it more engaging for the user.
Interactivity and Flexibility: You can interact with apps and content in a unique, spatial way, allowing for customization of the user experience.
Facetime and Multi-device Compatibility: It supports FaceTime calls with realistic digital representations and can pair with other Apple devices, including the Magic Keyboard and Trackpad, making it usable like a standard computer.
Cons:
Battery Life: The headset only provides two hours of battery life, which is quite short compared to the duration of some experiences like movies.
Possible Social Awkwardness: Using the device in social settings, like capturing 3D photos at events, could be awkward.
Limited Info on Storage: Information on internal storage and whether the USBC port can support SSD storage isn't clarified.
Suggestions: While this review presents a favorable impression overall, Apple might want to improve battery life and provide more details on storage capabilities. The company could also offer guidance on how to use the Vision Pro in social situations to overcome any potential awkwardness.
Brian Tong – Apple Vision Pro – I Got The Hands-On Demo At WWDC 2023! My Raw Reactions!
Brian Tong delivers an enthusiastic review of the Apple Vision Pro, unveiled at WWDC 2023. The immersive VR experience, high resolution visuals, ease of use, and unique features like 3D photo and video creation and digital persona, all contribute to his positive reaction.
Key Points:
Apple Vision Pro: The VR headset offers an immersive and intuitive user experience.
High Resolution: The headset provides high fidelity visuals with 4K resolution for each eye.
User Interface: Simple hand gestures and eye tracking make navigating the interface easy and intuitive.
Digital Persona: A lifelike digital avatar of the user enhances the VR experience.
Multitasking: Users can use multiple apps simultaneously.
Immersive video and content: Unique immersive content like Apple immersive video adds to the user experience.
Weight and Comfort: While the headset does feel a bit heavy over time, it is not a deal-breaker.
Pros:
High fidelity and resolution visuals
Intuitive user interface
Unique experiences through immersive video and content
Creation of a digital persona to enhance VR experience
The ability to use multiple apps at the same time
Cons:
The weight of the headset may cause discomfort over extended periods of use
High price point ($3,500) could be a barrier for many consumers
Overall: The Apple Vision Pro appears to be a groundbreaking VR headset, with unique features like high-resolution visuals, intuitive gesture and eye tracking controls, and a digital persona feature to elevate the VR experience. The headset also allows for multitasking with different apps and provides unique immersive content. 
Although its weight could be a concern for some, the device offers a level of experience and technology that surpasses anything seen before in the VR field. However, the high price point might limit its accessibility for many consumers. The Apple Vision Pro is a promising development in the VR field and is definitely something to watch.
Linus Tech Tips – Hating Apple is Getting REALLY Hard – WWDC 2023
Apple's WWDC 2023 unveiled two significant products, the Vision Pro headset and a new Mac featuring an M2 Ultra chip. The Vision Pro offers groundbreaking features and innovative AR technology, though at a hefty price of $3,500. The new Mac contains a 24-core CPU and a 76-core GPU within its M2 Ultra chip, but it seems to lack support for memory upgrades or additional GPUs.

Key Points:
Vision Pro Headset: Apple's new AR headset offers spatial computing capabilities and contains an array of sensors for precise tracking. The device comes with an M2 processor and R1 chip to facilitate real-time VR experiences. It's Apple's most ambitious headset to date, with a $3,500 price tag.
New Mac with M2 Ultra Chip: The Mac has a 24-core CPU, a 76-core GPU, and a 32-core neural engine. However, it does not seem to support memory upgrades or additional GPUs, which could be a drawback for some users. The base model starts at $7,000.
Software Updates: Apple also announced software updates for both Mac OS and iPad OS.
Pros:
The Vision Pro offers unprecedented AR capabilities and the potential to replace various tech products like TVs, monitors, and sound systems.
The new Mac's M2 Ultra chip is incredibly powerful and capable of high-speed processing.
Apple is pushing towards making gaming more accessible on their devices.
Cons:
The Vision Pro's price is high, making it inaccessible to many consumers.
The lack of support for add-on GPUs and memory upgrades on the new Mac could limit its versatility and scalability.
Despite promising advancements, Apple's software updates still lag behind some features offered by competitors.
Overall: Apple's WWDC 2023 presented an exciting yet pricey vision of the future with the Vision Pro headset and the new Mac with M2 Ultra chip. The Vision Pro's AR capabilities are unparalleled, but the high price tag might hinder its acceptance. The new Mac's M2 Ultra chip offers unprecedented processing power, but the lack of support for memory upgrades or additional GPUs could disappoint some users. 
The software updates reflect Apple's commitment to improving its systems, though they still lack some features available in competitor products. Despite these drawbacks, the advancements signify a giant leap for Apple, reinforcing its reputation as a tech innovator.