Used chiefly to either record an event or to spy on something (or someone, for that matter), so many camera glasses have been released recently that it's difficult to know which one is most suitable for you. After all, not all camera glasses are made equal. For this reason, it`s a good idea to do some research beforehand and make a conscious decision about the product you are going to buy.

There are several factors which you need to bear in mind when evaluating a pair of camera glasses, including video quality, sound and image quality, durability and comfort of use among others. I've taken some time to do the research and lay everything out for you. That said, these are the best camera glasses on the market right now.
DISCLAIMER: I do not own all of these glasses (I do own Kamre and have also briefly used Gogloo). However, I did conduct in-depth research, and based on my findings, tried to compile as useful buyer`s guide as possible.

Best POV Camera Glasses in 2022 – Quick Summary and Comparison
Below you will find a table comparing the main features of camera glasses. Click on the specific product name in the first column to quickly navigate to the review part of that particular model.
At the end of this article, you will also find my general recommendations to consider, when purchasing camera glasses.
Device Name

Video
Recording Time
Comments
Kamre Full HD Camera Sunglasses
5 MP, 1920*1080P, 30 frames per second
60 / 140 degree wide angle

60-80 minutes
Cheap price, great customer support,  140 degree wide angle lens option
Check Price (Amazon)
OHO Sunshine 1080P Waterproof Video Sunglasses
5 MP, 1920*1080P, 30 frames per second,
70 degrees angle

~60 minutes
Waterproof, suitable for water sports
Check Price (Amazon)
iVue Rincon 1080P HD Camera Sports Sunglasses
8MP,  1920*1080P, 30 frames per second
1280*720P, 60 frames per second,
110 degrees wide angle

~90 minutes
8 MP sensor, Camera tilt adjustable, mobile app, 60fps option
Check Price (Amazon)
Gogloo Polarized Camera Glasses
10 MP, 1920*1080P, 30 frames per second,
90 degrees camera angle
~90 minutes
10 MP sensor, cooling system
Check Price (Amazon)
Coleman VisionHD Sports Glasses
5 MP, 1920*1080P, 30 frames per second
1280*720P, 60 frames per second, 135 degrees wide angle
~120 minutes
Waterproof, 60fps option, 135 degree wide angle
Check Price (Amazon)
Forestfish Bluetooth Camera Sunglasses

5 MP, 1920*1080P, 30 frames per second, 64 degrees angle
90-150 minutes
Changeable lenses, Bluetooth connectivity (listen to music, answer phone calls)
Check Price (Amazon)
Miota 1080p Camera Glasses
5 MP, 1920*1080P, 30 frames per second, 65 degrees angle
60-80 minutes
Discreet-looking,  cheap
Check Price (Amazon)
Kamre Full HD Camera Video Recording Sunglasses – Best For (Motor)cycling
Are you in need for sunglasses that protect you from the harmful UV rays while also being able to record some video when needed? These glasses From Kamre might just do the trick for you. I also personally own a pair and have reviewed them in a previous post.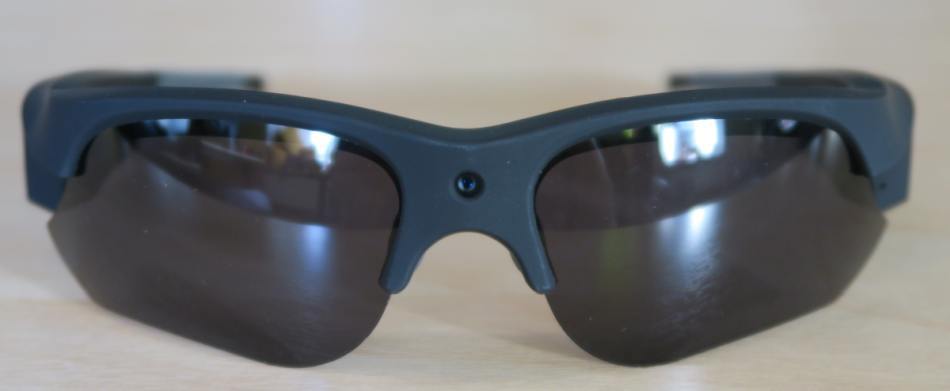 The glasses come with a 1080p full HD camera and a choice of 65 and 140 degree wide angle models. The video quality of the product is surprisingly good for the price.  Do not be expecting GoPro quality, but the video is crisp and clear in reasonable light conditions.

I purchased the 65 degree view angle version, but from my own experience as well as reading other reviews of the product, you might be better off getting the 140 degree version. It really depends on the use case you have for the glasses, but in most cases wider shooting angle is better.

The audio quality is also good and you really can not complain in that department. You will be able to record and easily understand speech as well as nature sounds.

The glasses are easy to operate. With a single button, you can start and stop recording and also turn the glasses on / off.  The manual and video instructions were easy to understand and I personally had no problem using and setting the glasses up.

Things to keep in mind before buying is that the camera is aimed slightly upwards and to the right. It is suitable for bicycle and motorcycle riding but can be off for other activities.
The camera aim can be corrected manually however by adjusting the position of the frames on the ears. It might be good for you as it is, but you should keep this in mind an do some testing before going out and shooting videos.  
Another thing to take into account is that when you are the type of person who has a narrow head, the glasses might look too wide on your head. The grip of the glasses is good nevertheless. It just comes down to the looks.

I won't be telling anything about the looks specifically. From the picture you can see if you like this kind of style or not.  However the glasses do have a nice rubbery finish to them which should also prove to be quite durable.

Technical Specs
Dimensions (unfolded) : 5.9 x 6.9 x 1.5 inches  (15 x 17.5 x 3.8 cm)
Weight: 1.76 ounces (~50g)
Sensor: 5MP CMOS Sensor
Video: 1920*1080P, 30 frames per second, MOV format
Lens Angle: 65 / 140 degree wide angle
Memory: Not included, max 32GB Micro SD, Class 10 or better
Battery: 450mAH, Li-polymer
Recording time: ~60 – 80 minutes
Battery charging time: 2 to 3 hours
Power Adapter: DC V5 1A
OS Support: Windows / iOS
Working temperature: 14F – 158F (-10 to 70 °C)
Sample Videos Taken with the Glasses
Below you will find some of the test videos that I have taken with Kamre camera sunglasses.
Outdoor Bicycle Riding

Indoor

Low Daylight

Pros
Video / audio quality in reasonably good lightning conditions
Easy to operate
Cheap price
Firm grip of the frames (won´t wobble on your head)
Nice and durable rubbery finish
Great customer support by Kamre
Cons
Camera aimed too upwards and to the right for some activities (can be manually adjusted)
Might be too wide if you have a narrow head
Video quality suffers in low lightning conditions
65 degree FOV is not enough, go for the 140 degree option

FAQ (frequently asked questions)
Are they waterproof?  They are class IPX4 (resistant to water splashes from any direction). Not suitable for use in rain or underwater sports.

Can you take photos? No, only videos

How long does the battery last? About 60-80 minutes of continuous video taking

Maximum Video Length? 10 minutes maximum (configurable), after that the file is rotated and video is continued in a new file. So for a 30 minute video, there would be 3 separate 10 minute files

Can you change the lenses? No

Can you playback the video? No. You must connect the glasses to your PC via USB plug and play them there.

Does it come with a memory card? No, you must buy a maximum 32GB capacity, class 10 (or better) micro SD card separately.

Amazon Reviews Summary
The key point from the customers who have purchased the product was that they are happy with the video and audio quality of the glasses. People also like how is easy it is to operate the glasses with the single button functionality.
Another aspect the buyers were also really happy with, was the customer support by Kamre. If there were problems, Kamre assisted any way possible (including sending new product and/or refund).

The key point on the negative side was the aim of the camera (slightly too upwards and also the right). Couple of people also mentioned the 65 degree field of view is too narrow and therefore you should consider the 140 degree FOV version.

There were also one or two mentions about the glasses getting hot after long use (I have not experienced this myself) and that the product might indeed be too wide for you, if you have a narrow head.


Verdict
These glasses are definitely worth considering when you want something cheap to capture your motorcycling, fishing, hunting or travelling experiences. You get  UV protection, reasonably good video and audio quality (do not expect GoPro though) and the glasses are comfortable to wear. If you are considering buying, check additional info and latest price from Amazon.




OHO Sunshine 1080P Waterproof Video Sunglasses – Best for Water Sports
These rather cool looking sunglasses from Oho Sunshine are not your average glasses. They come with a 5 megapixels camera sensor that can shoot videos in 1920×1080 resolution at 30 frames per second.

Like with most cameras in this price range, the video quality is of fairly good quality in sunny daylight conditions. When it gets darker (or you are indoors), you are going to see some pixelated disturbance appear on the video. However, since they are sunglasses after all, you probably are really not gonna wear them indoors or at night in the first place.

The lenses of the glasses offer UV 400 protection so you can safely mind your business on a sunny day and protect you eyes from both UVA and UVB radiation.

The glasses are also (semi) waterproof with class IP 66 rating. Keep in mind you shouldn't really go diving with them or have them in water for prolonged periods. However, they will survive periodical water splashes and even the situations when they drop into water. A reviewer from Amazon accidentally dropped the glasses in water while boating and they worked nicely after having been soaked a couple of minutes.

In addition to your regular sporting activities (biking, running, …), these glasses are therefore definitely suitable for various water related activities, such as surfing, canoeing, watermoto, etc. The frames and lenses are also impact resistant (ANSI / ISEA Z87.1) and should not break (and possibly damage your eyes/face) when colliding with external objects.

The glasses are operated by a single button which you can use to turn them on and start recording video. The same button is used to stop the video recording and turn the glasses off again. A nice additional feature is that you can also take photos by promptly tapping the button. This can also be done during video capturing. People have reported however, that the image quality is not as good quality as the video itself.

Technical Specs
Sensor: 5 Megapixels
Video: MOV,H264 (1920×1080@30fps)
Lens Angle: 70 degrees
Memory: 32GB built-in
Recording time: ~1 hour
Battery charging time: ~1-2 hour
OS Support:  Windows / Mac OS

Sample Videos Taken with the Glasses

Pros
Decent video quality in good lightning conditions
Possibility to take photos
Quick to set up and easy to operate (single button)
Waterproof (IP 66 rating)
Built-in memory
1 Year warranty
Cons
Video quality at low light
After prolonged use they might feel uncomfortable on nose and ears
Get hot after long use

Amazon Questions Summary (FAQ about the product)
Are they really waterproof? Yes and No. Users reported having fallen in water and both the video and glasses were fine. However, not recommended for long underwater usage

Can you film while charging? Yes. Useful when using battery bank for example

Can you change memory card and/or battery? No. Sealed securely in order to be waterproof.

Can you change lenses? The lenses do pop off when you need, but the package only includes standard lenses

How to playback video? Connect USB cable to computer, TV and play the video files with media player


Amazon Reviews Summary
The main point that comes through from people reviewing this product is that the video (and audio) quality of the glasses is actually really good. Many people did not expect much when ordering the product, but were positively surprised after having used the glasses.

The single button that is used to operate the glasses – most people found it really convenient and easy to use. A few reported that it takes some practice to get used to.

Some people were having problems accessing the files on the glasses. Most probably this is actually not the fault of the glasses but rather a hiccup in the USB connectivity where a restart of devices might help. If not, Oho has been reported to offer replacement product or refund.

On the negative side, people reported that the glasses might get hot after long use and also eventually feel uncomfortable to wear.  


Verdict
These glasses are definitely worth considering when you need sunglasses that can record some video. In addition to the camera functionality itself (which is offered by several different products), these glasses are IP 66 waterproof and therefore suitable for various water related activities. An added bonus is the possibility to also take photos in addition to videos. You can check more info and latest price from Amazon.




iVUE Rincon 1080P HD Camera POV Sports Sunglasses
iVUE is not a newcomer when it comes to camera glasses – they had previous success with their Horizon model. iVUE Rincon is their next attempt at creating sports styled action camera sunglasses.

The frame of the glasses is made of Grilamid TR90 and it has a lightweight and durable feel. Although not officially certified, the 2.2mm lenses are impact resistant and should offer good protection in case of a collision.

The glasses come with a 8MP CMOS Sensor from Sony and can shoot videos at 1080P (30 fps) or 720P (60 fps). The 60 frames per second option is useful when you want a smooth and fluid video capture. Many other similar priced products on the market do not offer such frame rate.

The 110 degree wide angle lens enable you to capture impressive recordings from your point of view. It is also possible to tilt the camera lens 12° up or 10° down from the default position. This way you can configure the glasses to meet your specific activity needs and head position. Definitely a very useful additional feature.

In addition to video capturing you can also take photos (single photo or burst mode). The frames hold two AAC2 stereo microphones to ensure good quality audio. A reviewer from amazon stated however, that the microphones placement might make them too sensitive to wind noise.

A nice added feature to the glasses, which a lot of competitors do not have, is wifi/bluetooth connectable app in your mobile phone. In the app you can configure various settings (time/date, video resolution, sharpness, …), preview the video (and actually see what the camera sees),  download and transfer videos and photos.

However, although there were many people who did not have any problems, there were several complaints that customers were unable to successfully use the app. Most probably there actually is something to this problem.


Technical Specs
Dimensions (unfolded) : 6,7 x 5,9 x 1.9 inches (17 x 15x 4,8 cm)
Weight: 1.83 oz (52g)
Video: 1920x1080P (30 FPS)  | 1280x720P (60 FPS)
Lens Angle: 110 wide angle
Memory: max 32GB Micro SD, Class 10 or better
Battery: 3.7V Li-ion, 480mAH
Recording time: 1,5 hours
Battery charging time:
Power Adapter: 5V | 1amp
OS Support:  Windows, Mac, Android, iOS
Working temperature: -4°F to 131°F (-20 to 55 degrees celsius)

Sample Videos Taken with the Glasses
Below you will find a couple of different clips filmed with iVue Rincon Sunglasses. These will help you better understand the quality you can expect from the camera.
Roller Coaster Ride
Pros
High quality 8 MP camera sensor from Sony
Tiltable lenses (12° up or 10° down)
Mobile App (change settings, transfer files, video preview)
Photo taking possibility
Video resolution and frames per seconds are configurable – 1080p (30fps) and 720p (60fps) options
Cons
The control buttons are small and a bit fragile. Not easy to operate with gloves. Buttons have been reported to break.
Several customers had problems connecting the mobile app.
Customer support could be more responsive and helpful

Amazon Questions Summary (FAQ about the product)
Are the glasses water resistant? No. They are light rain and sweat resistant, but not suitable for immersing under water.

What kind of lenses do the glasses come with? Dark and Yellow tint lenses are included in the package.

How much video can the memory card hold? Video size estimations: 6.5 minutes per GB in the 1080p mode. 9 minutes per GB in the 720p. 24 minutes per GB in the 480p

I have a fat head, will they fit? The frames will probably be quite a tight fit. On iVUE website, you can request for a slightly stretched version

Amazon Reviews Summary
People were mostly divided into two categories with the product – those who liked the glasses very much and those who were not not satisfied at all.

Customers were satisfied with the video and audio quality of the glasses. Although one of the customers reported that the microphones are very sensitive to wind, this did not seem to bother others. The possibility to tilt the camera up and down was a feature that many liked.

The general complaint was that the control buttons of the glasses could be a lot better. They are small and feel cheap and fragile. Definitely an area were iVUE can improve a lot for their next release of new glasses.

Another thing people complained a lot about, was not being unable to successfully connect the glasses to the app. On the contrary side, most people had no problems, but there probably is some small hiccup that kicks in certain conditions.
It was also reported that the customer support by iVUE could be more responsive and helpful


Verdict
iVUE Rincon is probably the best product overall that you can buy today at its price ring. High end video and audio quality, tiltable lenses and app connectivity are some of the features that make the the product stand out.
If you can live with the fact that the buttons take practice to get used to and that you might have some initial problems connecting the app, then this is the product to go for. Check additional info and latest price from Amazon.




Forestfish Bluetooth Camera Sunglasses – Best Camera Glasses For Outdoor Activities
Undoubtedly one of the most popular products to hit the camera glasses scene, Forestfish has been around since 2015. Thankfully, their relatively long stint in such a novel market has allowed them to get more experience in order to perfect their product over the years.

The Forestfish Camera Sunglasses have some nice features which aren't included in other devices. These include answering phone calls, listening to music, recording videos and taking photos. What's more, these camera glasses allow you to record for up to 2.5 hours video, which is quite a lot of time if you ask me.
These glasses also feature a 16gb SD card included in the package. While this is half the capacity offered by most top-tier camera glasses 32GB), these glasses are suitable for SD cards up to 32gb. The 16gb SD card is a courtesy gift from Forestfish: if you need more storage, the glasses can handle it.
In terms of the quality of the video recording, these glasses have the standard built-in HD 1080p video recorder. Not forgetting 5.0 mega pixels, these glasses will give you great videos and photo shots. With a simple click of a button, you can switch between video mode and camera mode with no difficulties whatsoever.
The device is also lightweight and has decent durability. It is made out of Swiss Grilamid TR90, a material which is known for possessing heat-resistant properties. Because it's not heavy, it's a pretty comfortable pair of glasses, something which was important to the creators. Too often, people shy away from both camera glasses and smart glasses alike because of the weight factor. Not this time: Forestfish was sure to give you something which was practical.

Even more interesting is the level of customization afforded to the user. They are sold with black lenses, however, you can switch them for any one of three color lenses. Speaking of lenses, Forestfish made sure to design them with UV400 ultraviolet protection and anti-glare. Because of this, these glasses are recommended for people who either drive a lot, or who do a lot of outdoor activities, especially if they're into sports. If you're into fishing, hunting, cycling, or just a frequent traveler, the Forestfish Camera Sunglasses might be the right choice for you.
These bad-boys are also long-lasting as they can go up to 10 days of standby time. That said, there have been a couple complaints regarding the camera glasses' ability to record when the battery gets lower than 15%.

Technical Specs
Dimensions (unfolded) : 7 x 3.7 x 2.8 inches
Weight: 8.3 ounces (235 g)
Video: AVI (1920×1080@30fps)
Lens Angle: 64 degrees
Memory: Micro SD card, 32GB max (16gb included)
Battery: 350 mAh
Recording time: 2,5h hours
Battery charging time: 2 hours

Sample Videos Taken with the Glasses
Below you will find some sample videos taken by the Forestfish camera glasses.
Outdoors
Indoors
Pros
Lightweight, comfortable to wear
Ability to customize lenses
Large memory capacity
Cons
The video function begins to give problems when the battery falls below 15%
The technology might be a little outdated

Amazon Questions Summary (FAQ about the product)
Can I change the lenses? Yes, the glasses come with 4 pairs of lenses (black, clear, orange, blue)

Do the recorded videos have timestamp? Yes, configurable. Can also be hidden

Are the glasses waterproof? No

How long does the battery last? A day of music listening, approximately 2 hours of video recording

Amazon Reviews Summary
Customers weighed in on how they felt about these camera glasses. There were some who praised the devices' audio and video quality. One actually stated that it was a good device if your priority was to make calls using them or even to listen to podcasts. Some people also felt that the camera was well-hidden, which was a plus.

That said, the overwhelming majority of customers didn't have a lot of positive things to say about the Forestfish Glasses. In terms of the video quality, some complained that in low light, the quality diminished considerably. However, this is expected for cameras in this price range. What's more, a few stated that the earbuds quality was mediocre considering that there was no bass.

Then, there was the issue with the memory card slot. Some felt that it was too flimsy and could easily be broken if one wasn't too careful. A customer even mentioned that the product itself wasn't made from a strong material as it tended to break often. There were also complaints that there were some issues with regard to charging the device. As a result, the battery would often run dead or cause the glasses to get extremely hot.

In terms of more practical advice related to the use of the device, customers urged future buyers that the size of the glasses might not be suitable for someone with a narrow head considering that they're pretty wide. A few people also wished that the glasses came in a different color. One person stated that the camera might have been aiming too low, but that could entirely subjective.


Verdict
The Forestfish Sunglasses are oldies-but-goodies. While they may not feature the latest in technology developed for camera glasses, they are still suitable for a select group of people. The added bonus of bluetooth connectivity let`s you listen to audio and podcasts while being able to record videos when needed.
All in all, these camera glasses are fairly good: at least better than quite a few of them on the market. If you're looking for a pair which is fairly comfortable, cheap and you're not very big on getting the latest, then this is definitely a pair to consider. Check out more information about the product from Amazon.




Coleman VisionHD 1080p POV Sunglasses Camcorder – Great Sports Glasses
Part of a series of products and services developed and designed by Stephen Coleman, a medical practitioner based in Albuquerque, New Mexico, these camera glasses are among the best that money can buy. Because of his experience in laser vision correction, Dr. Coleman is extremely knowledgeable about the eyes. He understands that they are our windows to the world, and that one needs to care of them throughout their lives. For this, he developed the Coleman VisionHD 1080p POV Sunglasses Camcorder, a pair which is supposed to cater to a user's every visionary need.

In terms of the video quality, these glasses boast the standard for top camera glasses: 1080p full HD 5.0 megapixel camera. This guarantees that the user will be able to take good shots and capture clear videos.  
Another neat feature is that apart from having a full HD option for those looking for those high-resolution shots, they've also got a 720 HD 60fps option. Therefore, you can alternate between fluid video and  image-quality produced, which is definitely useful for many buyers.

Yet another really nice design of these camera glasses is the fact that they have 135 degree wide angle lens. This makes it one of the top-tier glasses when it comes taking wide angle shots. It's better than most, and is second only to the Kamre Full HD Camera Sunglasses.
If you're worrying about storage, these glasses feature the typical built-in micro SDHC which can accommodate up to 32gb of storage. So far, what differentiates these glasses from the rest is that they have really good wide angle lens and the ability to capture 60fps videos.

Developers also took their time to work on the aesthetic appearance and durability of these camera glasses. These glasses are waterproof. Of course, that's up to a certain depth, specifically up to a little more than 3 feet. I wouldn't advise you to test the glasses' ability to resist water beyond that point.
What's more, it can function well even when it's as cold as -20 degrees celsius (-4 F), which is perfect for people who would still like to use their camera glasses during the coldest of winters. They're also resistant to typical wear and tear such as scratches and are dust-proof.

In terms of the makeup of the glasses they have a built-in lithium-ion battery, USB port, and audible alerts. That said, I wouldn't give them an A+ for design. They make these glasses with hard plastic, something which I personally am not a fan of. I think that there are materials which can be used which give the glasses a better look, and are more durable.

Technical Specs
Dimensions (unfolded) : 3.4 x 9.3 x 5.6 inches
Weight: 1.1 lb (package)
Video: 1080p Full HD 30fps/720p HD 60fps
Lens Angle: 135 degree wide angle
Memory: 32GB
Battery: Lithium-Ion

Sample Video Taken with the Glasses
Pros
Waterproof
Can operate well in the extreme cold
Great angle
Cons

Amazon Questions Summary (FAQ about the product)
Does this include a time stamp on the video footage? It can, but that is entirely dependent on whether you want that feature to appear. When a MicroSD card is inserted into the device, a settings file will appear which you can tweak to your satisfaction (configure timestamp on/off)

Can you remove the lens and put prescription lenses in their place? The answer is a resounding no. You cannot interfere/change/alter the lenses in these glasses.

What USB adapter does it use? These glasses use a USB mini B. Thankfully, this cable normally comes in the packaging. However, should the need arise to purchase another cable, you should get a USB mini B.

What is the z87 rating of these glasses? Essentially, these glasses are classified as sports safety goggles. I cannot say in good conscious that these classes are or aren't Ansi Z87 safety goggles. I have looked high and low looking for something to either prove or disprove this, but haven't found anything.

Amazon Reviews Summary
Based on reviews provided by customers, the glasses generally received good reviews. One customer in particularly praised the glasses' video and camera quality, something which he didn't expect. Thankfully, it came as a pleasant surprise to him.

The glasses can also go for as long as 2 hours of consecutive video recording, which is pretty good. That said, the same customer did find that the glasses were a bit too heavy for comfort. While it didn't bother him immensely, it might probably bother another person. As long as someone doesn't mind the possible heavy weight, he would wholeheartedly recommend anyone to buy the glasses!

However, not all reviews were as positive as this one. One customer claimed that upon receipt of the package, there was no charging cable. While the customer did not provide any comments about the quality of the glasses, I figured that it would be good to mention that you might end up not receiving all required components.


Verdict
Generally speaking, these camera glasses are one of the best on the market. The great thing about them is that they feature 135 wide-angle lens and 60fps video option.

The only downsides to these glasses would probably be the material from which they are made which has the added effect of making the glasses bulky, and the fact that they're a bit pricey. They cost around $170 range (at the time of writing), which for some people is outside their budget. If you ask me, I'd say if you have the money and don't mind the weight of the glasses, go ahead and purchase them because they're really quite good. If you are interested, check more information and the current price from Amazon.





Gogloo Polarized Camera Glasses With Microphone – Great For Outdoors
Yet another high-quality pair of camera glasses to hit the market, the Google Camera Glasses are developed by Gogloo, a tech-brand committed to offering great products. For years, they have released sports and action video cameras. However, in recent years, they decided to delve into the camera glasses industry to see how well they would fair.

When creating these glasses, Gogloo had a vision in mind to merge the best in aesthetic appeal and high-quality functionality in order to produce these glasses. Developers felt as if something was missing on the market. Too often, persons complained that even though camera glasses were high-quality, they weren't comfortable, or worse yet, they looked ugly. Then, it was the reverse: camera glasses which looked fabulous but didn't quite get the actual job done. Interested to know how Gogloo faired on our list?

Gogloo feature the standard 1080p video resolution, but what sets them apart from their competitors is the 10 megapixel camera. You can be sure that these glasses take some stellar shots. Even more cool is the fact that these glasses have a 90 degree angle, allowing the lens to capture more footage during shooting. Consequently, you can expect to have great quality POV shots, something which most people will appreciate. While they're not on the same level as Kamre or Coleman, 90 angle lens is still very good.

If you're worried about these glasses heating up on you, I'd like to dispel that from now. These glasses feature a cooling system which ensures that they don't overheat. This is extremely important, especially considering that there are camera glasses which are reported to have overheated on people. Not only does this spell a sign of over-usage, but it also signals that the device might not last for much longer. Therefore, this is a really nice feature which protects you as the user and also guarantees the product's longevity.

These glasses can last for as long as 90 minutes when fully charged. While this isn't great, what's cool is that they also have the ability to record even while charging, which means that your recording time is lengthened considerably.

These glasses are also made from really strong yet practical material which ensures the comfort of the user. Gogloo developers utilize Grilamid TR90, a material which is known to be durable,yet comfortable. This means that users are in no way, shape or form hampered by the weight of the glasses, leading to a comfortable experience for them. This material is also impact resistant, meaning that wear and tear minimally affect them.

Honestly speaking, Gogloo really took their time to make a pair of camera glasses which were an all-round seller, and for that, they deserve a pat on the back.


Technical Specs
Dimensions (unfolded) : 7.4 x 4.5 x 3.8 inches
Weight: 11.4 ounces (package)
Video: 1080P, 10MP camera
Lens Angle: 110 degrees
Memory:
Battery: 1 Lithium Ion Battery
Recording time: 1,5 hours
Battery charging time: 90 minutes

Sample Video Taken with the Glasses
Pros
10 MP camera sensor
Records while charging
Unique cooling sytem
Comfortable, lightweight and durable
Cons
Night recording could be better

Amazon Questions Summary (FAQ about the product)

How long does the battery last after charging? Once the battery has completely charged, it can go for as long as 1.5 hours.

Do these glasses come with an SD card?  No, they do not. You would have to purchase one separately. That said, if you're lucky, you might get one when they're on sale.

Do they work at night as well? Yes, they do work at night or in poorly-lit areas.
Amazon Reviews Summary
For the most part, Amazon reviews for these glasses were very positive. Customers praised the device's video and audio quality, ranking them as among the best, if not the best, on the market, especially considering that the camera is so small.

Customers also expressed their happiness with how easy it is for these glasses to be used. All it takes is literally one tap of a button to get this device recording, and another tap to have it stop. For some, especially those who aren't very tech-savvy, its simplicity is a great selling point.

Customers also love the fact that these glasses can be charged while in use. it guarantees the longevity of the glasses' ability to record, which is great especially if you're using the device for long periods of time without pausing.

There were, however, a few customers who left some comments about these glasses which was not very positive. One said that he felt that the glasses could have been improved in several ways. One of them being in the quality of recording either at night or in dimly-lit rooms. Also, there was a complaint that the nose bridge of the glasses might just be a little too narrow, consequently not making for a very good fit for some people.


Verdict

These glasses are among the best camera glasses on the market today. I think that they're good value for money. The developers really took their time to ensure that these glasses worked great, looked great, and felt great.

They have a great 10MP camera would is fabulous for taking still shots. They're also extremely easy to use, so they might also be a very good option for people who are new to using these devices. Definitely a product which I would recommend. For more information and latest price, head to Amazon.




Miota 1080p Camera Glasses – Budget-Friendly Outdoors Glasses That Take Pictures and Video
The Miota Mini Video Glasses are an affordable pair of camera glasses which are out on the market. If you're shopping anywhere around the $40-$60 price range and are into the outdoors, these are worth considering.

In terms of the video resolution, you're looking at 1920 x 1080p Full HD, which is the standard quality when it comes to camera glasses. Rest assured that these glasses aren't lacking when it comes to this department.

There are other good facts about these glasses. These glasses support SD cards with up to 32GB of storage. This is a staple of many camera glasses. Yet another important thing which these glasses have is a good warranty. The warranty for this device extends up to 12 months, meaning that you have extensive coverage in case something were to go wrong.

However, these glasses begin to lose points for in other categories. Firstly, there's the problem with the view angle (65 degree lenses). Now, this is by no means bad, especially considering that you would buy these glasses for a slightly different purpose than the rest listed here.

The battery life isn't exceptional. When the glasses are fully charged, the video recorder can be used consistently for 60-80 minutes. All in all, these camera glasses aren't exceptional by any means. However, they are discreet-looking (which opens up various use-cases) and pretty inexpensive in comparison to their competitors.

Technical Specs
Dimensions (unfolded) : 7.6 x 3.4 x 2.9 inches
Weight: 5.3 ounces
Video: 1920 x 1080P Full HD
Lens Angle: 65 degrees
Memory: Micro SD which has a capacity for 32G
Battery: Built-in 500mAh li-polymer battery
Recording time: 60 – 80 minutes

Pros

Standard video quality
Pretty inexpensive in comparison to other brands
Good warranty
Has good storage capacity
Cons
Battery life isn't impressive
Lens view could be improved

Amazon Questions Summary

How do you take still images? In order to take a picture, all you need to do is briefly hold down the power button, at which point a blue flash will appear, and your picture will be saved.

Can you record in dimly-lit areas? Yes, the camera will record, but the quality will not be great.

How can I replace the micro SD card? The slot for the micro SD card is located on the side of the glasses. Remove the card from the slot and insert the new one in. Remember that the device only has a maximum capacity for a 32GB micro SD card. So when purchasing one, remember to keep within that limit.

Amazon Review Summary

Generally speaking, these glasses received a lot of positive reviews from customers. Feedback was extremely encouraging, especially when it came to the quality of the video and camera. Users were also satisfied with the quality of the images recorded.
One customer did mention that in order to take good pictures, you must use the glasses in a brightly-lit areas.  For if not, the quality of the images diminishes significantly. That said, as long as you keep that in mind, you'll be fine.

Customers who use these glasses in the outdoors praised not only the quality of the glasses' camera, but also its memory storage capacity. Several people reported that these glasses are good value for the money.

That said, as always, there were some customers who were less than satisfied with the product. One complained that they when they bought the glasses, the package came without any instruction manual: all it had were the glasses, a cloth to clean them, the charger, and the carrying case. Another complained that the lighting at night was terrible, but that we already know.


Verdict

The Miota 1080p camera glasses are pretty good. They're very affordable, especially when you take into account all the features that you're getting in exchange for the device. They are also pretty discreet-looking and you probably go around without people being suspicious about you.
Having said that, if you're looking for a camera which can take great shots at night, this isn't the pair of glasses for you. These glasses suit someone who is looking for a good, budget-friendly pair of camera glasses to use during the day. For more information and latest price, head to Amazon.





Features to Look For In Camera Glasses (General Buyers Guide)
Camera Quality
When purchasing a pair of camera glasses, ideally, you should look for a pair which can record high-quality videos and one which also take good, high-resolution still shots. Keep in mind, some of the glasses are only able to take videos and not photos.

Generally speaking, most glasses feature a 5MP camera sensor. However, in this list, the Gogloo camera glasses have a 10 MP camera sensor. This means the camera is able to capture high-resolution videos and photos. However, the 5MP camera lenses have also proven to be sufficient for most use-cases. See the video examples provided to get an actual idea of how the videos taken look.

Apart from the pixel count, another factor which you need to take into account is the glasses' frames per second (fps). Simply put, this refers to the frequency (rate) at which consecutive images (frames) appear on a display. More frames per second, means a more fluid video capture. See also the video below for comparison.

Of course, another major technical spec, which you should bear in mind when purchasing camera glasses, is the scope of the glasses' lens. Wider camera lens means that you will have more peripheral vision . Since you probably will not be doing close-up shots with camera glasses, wider angle is generally desired option.


Sound Quality
Another important thing to consider is sound quality. By this, we mean that you need to take into account how the glasses adapt to external factors such as wind disturbance. On many models, customers have complained that the placement of the mics on certain brands on camera glasses makes them susceptible to interference from wind noise. Needless to say, this affects your experience as a user as you might be bothered by unwanted noise if you're in a windy area.

Also, the number of microphones installed is something you might consider when deciding on camera glasses. Dual stereo microphones have been proven to offer better quality and reduce noise in an audio recording. If you're very particular about sound quality, try to find example video clips taken by the glasses and see if the quality satisfies you.


Storage
When it comes to storage, you should go for a pair which has a capacity to house a micro SD card of at least 32GB. Thankfully, most camera glasses already come with this amount of storage capacity. But it's still good to keep in mind, especially if you were to come across one which doesn't.

That said, in most cases you will have to purchase a micro SD card separately and install it yourself in the device. While this isn't difficult to do, some persons might not want to be burdened with the extra cost of buying a micro SD card.

When choosing the appropriate glasses (or memory card), take into consideration the most probable use-cases you will have for the glasses. Are you going to be able to periodically transfer your videos to a hard drive, in which case a smaller SD card might do the job. If however you can not move the video and photo captures between shooting, opt for larger memory capacity.

Wear Comfort
Comfort should probably always be one of your top priorities. Choose glasses which are comfortable. The last thing you want is to own something which isn't practical and you hate to wear.

Some glasses aren't for everyone. Take for example the Forestfish camera glasses. While they are good in other areas, customers have recommended that you should stay away from these glasses if you have a narrow head (as they wouldn't fit you comfortably). Or even the OHO Sunshine 1080P Waterproof Video Sunglasses: complaints have been made about these glasses when it comes to their fit (and getting hot after long use)

Bearing in mind that you want to enjoy wearing these glasses, putting on something which is comfortable is crucial to your enjoyment. Before you buy one, research the product online. Try to learn from what other people are saying about the product.


Durability
Another major thing to consider is how durable the glasses are. You're looking for something which doesn't easily break apart. Customers have complained about the longevity of certain glasses on the market and how they tend to fall apart in no time.

Both the iVUE Rincon 1080P HD Camera Sports Sunglasses and the ForestFish Bluetooth Camera Sunglasses have come under fire when it comes to this. Users have stated that the buttons have either broken off or ceased to work, almost as if the glasses were made from a cheap material which didn't last long. You have to take this into account before buying.

To avoid the hassle of having to constantly repair an existing pair of camera glasses or even the cost to purchase a new one, pick those which are made from more sturdier materials. For example, Grilamid TR90, is a great, sturdy material which doesn't compromise quality for comfort.


Price
Price is an important factor when choosing any product. For camera glasses, again, think through for what you need the glasses for. Higher price point generally (but not always) means better video and build quality. But for your use case, you might not need the best ones. So make a conscious choice about the product you are gonna buy.

Of this list, you might consider Kamre and Miota 1080p camera glasses when low price is important for you.. These are great glasses to purchase if you're on a budget and not fussy when it comes to specs. They've got the standard video quality that is comparable to other camera glasses, and most importantly, they're pretty inexpensive. If money is an issue for you, consider getting these.


Warranty
Another valuable thing to considering when looking for camera glasses is warranty. I'd recommend you to get a pair which has a warranty of anywhere from between 1-2 years. Thankfully, most companies come with a warranty spanning that time, but in case you come across one which doesn't, be on guard.
Having a warranty is important because it protects you on the off-chance that something were to happen to the glasses. In such cases, the manufacturer will either give you a new pair, or repair the damaged one free-of-charge.