In our modern world internet connectivity is available pretty much everywhere.
However, there are also scenarios where the sweet juices of internet data flow are cut off for you. This raises a question for VR enthusiasts. Can you still use Oculus Quest 2 offline without any internet connection available?
The short answer is that yes, you can play with your Oculus Quest 2 offline without an internet connection. This is assuming that you have completed the initial headset setup and pre-downloaded games or movies suitable for offline use.
Let's explore the topic a bit further.
Did you hear? Facebook (Meta) is going all-in on virtual reality and the metaverse. Get a Quest 2 headset and be a part of the future of entertainment!
Oculus Quest 2 Initial Setup Requires Your mobile and Internet connection
When you first unpack your magnificent Oculus Quest 2 VR headset, you can't just strap on the headset and get into the VR wonderland right away. You first need to complete the initial headset setup.
Among other steps, the initial setup requires that you have a mobile phone with internet connectivity. That is because you must download the Oculus mobile app and also sign into Oculus via your Facebook account (you can not use the headset without Facebook credentials)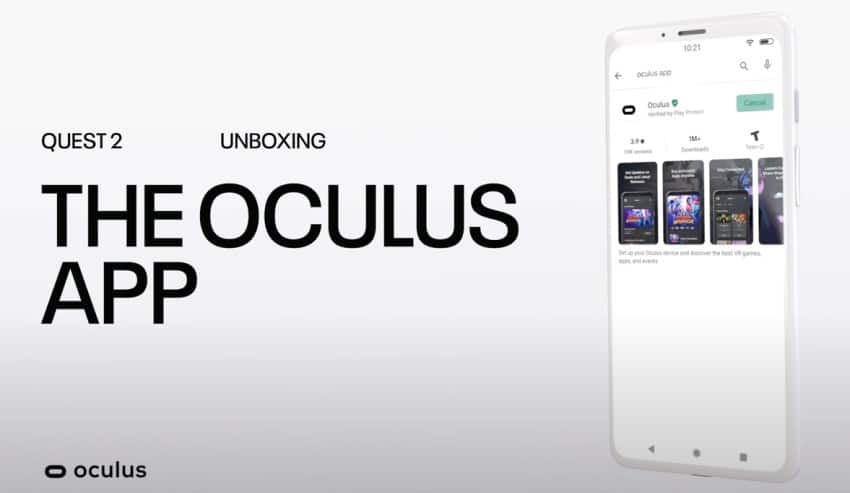 It is also quite likely that you will have to install the headset software updates that have been released. The key takeaway here is that during the initial headset setup you will have to have your WiFi credentials or mobile data (hotspot) ready to use.


Preparing your Quest 2 for Offline Use
The good news is that once you have completed the initial headset setup, it is possible to use the headset offline. 
So you strap on your Quest 2, grab the controllers and power on the headset, eagerly awaiting for some VR action. But then you open the content library…and it is pretty much empty.
You must first install or transfer some content on the headset that you can then later consume. It is true that the Quest 2 comes with a couple of pre-installed demo titles, but these are meant more for helping you understand what VR is about and how to use the controllers.
So if you know that at some point you will want to use the headset without an internet connection, it is best to prepare and download some content onto it.


Playing Games Offline With Oculus Quest 2
The obvious choice (and what the headset is primarily meant for) is playing games. Most VR games, after you have installed them on your Oculus Quest 2 headset, do not require that you have an internet connection present. You can check specific games on Oculus Store and look for "Internet connection not required" – in that case, you are good to go.
If you are interested, I have also covered the basics of using the Quest 2 offline in my Youtube video below:
So do some digging around and see what titles could possibly suit your preferences. If you are new to virtual reality, try out the demos, watch some gameplay videos and read some articles to sift out the possible candidates.
Do keep in mind to filter out games that are multiplayer only. For example, although Echo VR might just be one of the most intriguing Oculus Quest 2 games that is currently available, you just won't be able to play it offline. It also says "Internet connection required" on the game page.
If you are looking for some recommendations about which games to play offline on the Quest 2 headset, then the matrix-style Superhot VR, slashing music notes with lightsabers (Jedi-style!)  in Beat Saber, or guiding a cute mouse through puzzles in Moss are all worth checking out.


You Can also use the Quest 2 to Watch Movies Offline 
The truth is that VR doesn't have to be all about games. You can also sit down, grab a blanket and start enjoying some movie action on your personal big-screen cinema. 
I won't be going into too much detail here, but if you are interested, I have previously written a separate article about watching movies with the Oculus Quest 2. If you plan to watch offline, do keep in mind to prepare again. 
The easiest way to watch movies offline on the Quest 2 is to first download them to your computer. You then connect your Quest 2 with your computer (via the USB cable provided) and transfer the movie files to the headset (like you would with your mobile or any other external storage).
You can then later watch these movies offline using pretty much any of the video player apps available. My personal recommendation is to use the Skybox VR Video Player, which is one of the best ones around. 
In theory, you can also preload and watch movies from streaming services offline (e.g Netflix, Amazon prime). Do keep in mind that this is not officially supported and you must do some fiddling and going-around-the-edges in order for this to work. 
If you are up for it, then feel free to check out this article for example about how to download Netflix content to your Quest 2 headset.
And there you go! I hope this article has helped you understand how you can also enjoy VR wonders offline. 
HARDWARE USED FOR TESTING AND WRITING THE ARTICLES:
* Meta Quest 2 (My "daily driver" headset which I absolutely love & recommend)
* Lenovo Legion 5 Pro (AMD Ryzen 5 5600H, Nvidia Geforce RTX 3060, 16GB RAM)
* TP-Link Archer C6 (budget dedicated router for Air Link, see my full setup tutorial)

ESSENTIAL QUEST 2 COMFORT ACCESSORIES:
* VR Cover Foam Replacement (one of the easiest & cheapest ways to improve headset comfort)
* BoboVR M2 Head Strap (reduce pressure on your head and improve the overall fit of the headset)