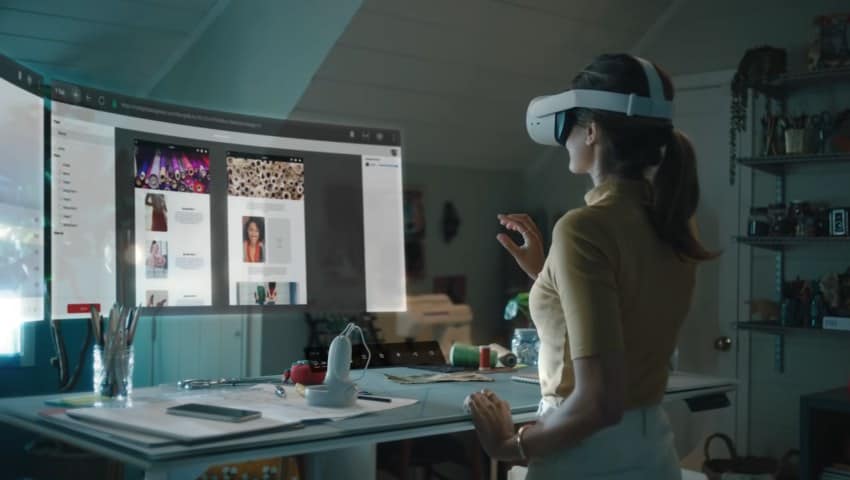 Virtual reality is gaining more and more popularity, there is no denying that. But other than regular VR gaming and immersive experiences, people are considering alternative ways VR headsets could be helpful to them. One practical application would be using VR headsets as a replacement for regular monitors. But can it be done?
Modern virtual reality headsets have come a long way in terms of resolution / visual quality and are becoming a viable option for regular monitor replacement. Leaving comfort issues aside, one can easily mirror their PC desktop into the headset and use it to watch movies and play regular flat screen games. You can even do actual work in a VR environment using multiple virtual desktop screens, collaboration, chat, and other helpful options.
Let does next look at the different possibilities (and also some obstacles) in greater detail.
Did you hear? Facebook (Meta) is going all-in on virtual reality and the metaverse. Get a Quest 2 headset and be a part of the future of entertainment!
Can You use a VR Headset With No Monitor at all?
If your plan is to throw the PC monitor out of the window and replace it with a VR headset, then hold on for a moment.
Current VR headsets are not plug-and-play devices that you can connect with your PC and start using instead of your monitor right away. You first need to install dedicated software on your PC that allows desktop mirroring into the headset. The software needs to be launched each time you connect your headset and you need your PC screen for that.
If you are a laptop user, however, then you can quite easily pack your VR headset with you and expand the tiny notebook screen into something much more larger and immersive.


The Pros & Cons of Using VR Headset as a Monitor
The idea of using a compact VR headset instead of a regular flat screen monitor might appear appealing to many. And while there are many concrete advantages, there are also numerous drawbacks to consider. Let does next briefly look at both sides of the coin.
VR Headset vs Monitor – The Good
Extra Large Screen – when using VR, you can essentially fill your whole view with whatever you want to display there. This cinema-like experience might be especially desirable for watching movies and playing flat screen games.
Multiple Virtual Monitors – Software such as Immersed lets you launch multiple virtual monitors within VR, that can all be moved around and resized as you please.
Compact Size – If you are a laptop user, you could easily carry your VR headset with you and use it to expand your viewing experience.
Less Distraction – Since you are "cut off" from the real world, there are fewer distractions to disturb you.
VR Headset vs Monitor – The Bad
Image Quality – The resolution and image quality of the latest VR headsets have finally become good enough that you can read the text and see objects fairly clearly. However, you really can not compare the sharpness to a regular monitor (at least yet).
Comfort – VR headsets tend to apply pressure to your forehead, nose, and face in general. Most people need a break after about 30-90 minutes before it becomes too uncomfortable.
Keyboard / Mouse issues – Since you can not see the real world, you also have to use your keyboard and mouse "blindly". For keyboards, more options are becoming available for displaying a virtual keyboard that mimics your real one (Immersed, Oculus Infinite Office)
Eye Strain – Having a display very close to your eyes for prolonged periods causes eye strain for many. Frequent breaks are recommended.
Shut off From Real Life – Eating and drinking become quite hard. You also can not see your surroundings, phone, etc.
PC Capabilities – You are going to need above average PC with a decent GPU to properly render the content to your headset.

Best VR Headsets to Use as Monitor Replacement
As with most tech gadgets, not all VR headsets are created equal. When the goal is to replace your monitor with a VR headset, the most important criteria will be the resolution and quality of the visual output in general. You should not overlook the comfort factor either, since current headsets really are not that pleasant to wear for longer periods.
That being said, here are my current reccommendations for VR headsets to use as a monitor replacement:
Oculus Quest 2 – The headset is reasonably priced (299$ at the time of writing) and comes with an LCD panel able to output a resolution of 1832×1920 per eye. The visual clarity of the headset is decent enough that you don't have to squint your eyes to read the text and other content. Comfort out of the box could be better, but luckily there are several official and also third-party straps, foam paddings, and cushioning to increase the comfort. The thing to keep in mind is that you will need a Facebook account to use the headset.
HP Reverb G2 – leaving the ultra-high-end VR headsets aside, HP Reverb G2 with its dual LCD panels (2160×2160 resolution per eye) is the headset to go for if visual clarity is your goal. It is also a bit pricier (around 600$) compared to the Quest 2. However, if you are serious about using a VR headset instead of your monitor, the Reverb G2 is the choice to go for.
Before jumping in and making a purchase I would reccommend you to search around and look for places where you could test the headsets to see if they would really satisfy your needs.

VR Headset as Monitor for Games & Movies
Since VR headsets are mostly used for entertainment purposes, that is what we going to start with. The truth is that VR headsets would be most suitable for some occasional gaming and watching movies. In addition to VR content, you can also stream regular 2D games to your headset.

The two best applications to mirror your PC screen into your VR headset are Virtual Desktop and Bigscreen. Both of them allow you to use your VR headset as a monitor replacement to play games, watch movies or do some regular web browsing.
If your goal is to watch movies, I have also previously written about different movie players and streaming environments and also ways you can watch 3D movies.


Is Working in VR a Viable Alternative To Regular Desktop Setup
Theoretically, the idea of working in a VR environment sounds nice. An extra-large screen and no distractions from the outer world should surely be beneficial to productivity, right?
However, speaking from my personal experience, I could not imagine myself working in VR. The biggest downside is the comfort issue – I just can`t bear the headset strapped on my face for more than an hour. And even during that time, you will feel pressure, heat, and other factors discouraging effective work.
This opinion is subjective, however, and I have heard of many people who actually do work in a VR environment. If you want to try this out yourself, there are a couple of applications that are aimed to boost your productivity and make working in VR as convenient as possible.
ImmersedVR
ImmersedVR is the pioneer in creating a virtual reality work office. You can spawn up to 5 virtual monitors and adjust their placement and size of the screens. You can also map and use a virtual keyboard in the application so that you wouldn`t have to type blindly.
There are several other nice features included in ImmersedVR such as telepresence (working in the same virtual room with your coworkers), remote whiteboarding for brainstorming, chat features, etc.
There`s a free trial available at ImmersedVR so you can test whether the application satisfies your needs.


Oculus Infinite Office
Oculus teased the Infinite Office feature a couple of years ago already and now finally in 2021 they are releasing it with the massive v28 update.
Infinite Office includes built-in features of Oculus Home that make working in VR more comfortable. You have the possibility to map your physical keyboard and also your desk into the virtual environment and use chatting features. Oculus is also sure to roll out additional features in the upcoming updates
HARDWARE USED FOR TESTING AND WRITING THE ARTICLES:
* Meta Quest 2 (My "daily driver" headset, which I absolutely love & recommend)
* Lenovo Legion 5 Pro (AMD Ryzen 5 5600H, Nvidia Geforce RTX 3060, 16GB RAM)
* TP-Link Archer C6 (budget dedicated router for Air Link, see my full setup tutorial)

ESSENTIAL QUEST 2 COMFORT ACCESSORIES:
* VR Cover Foam Replacement (one of the easiest & cheapest ways to improve headset comfort)
* BoboVR M2 Head Strap (reduce pressure on your head and improve the overall fit of the headset)