These days, one product which has been immensely gaining in popularity is bone conduction glasses. Both consumers and major technology-producing companies have taken much interest in products which feature unique and helpful installments that improve the user's experience.
With companies throughout the world promoting their glasses, it's difficult for you as a consumer to know which pair is right for you. Amidst a sea of bone conduction glasses, which one is the best? I have done some research to help you out.
For a quick overview, check out the comparison table below. By clicking on the product name, you will quickly be navigated to review section of that specific product.

Zungle VP 2 Viper & Lynx – Keeps The Sound Right Where You Want It
For me, and for so many others for that matter, the most recent model of smart eyewear released by Zungle is arguably the best pair of bone conduction glasses you can purchase at this given point. Even if objectively it weren't the best on the market, I would still recommend a newbie to try them out as a first taste into the smart eyewear world.
That said, I got to say that when Zungle first hit the market with Panther (their first generation audio sunglasses), to say that it was worth the money would be stretching it. The product was a hot mess. The touchpad kept malfunctioning, the quality of sound was dismal, to say the least. On top of that, the sound leakage was so bad that you had to wonder how this product could have even been released.
Thankfully, with the release of the Zungle Viper & Lynx, their second attempt at producing smart audio glasses, we can safely say that they corrected the wrong they did with their first disastrous release.
Now, they've already hit the market with Zungle V2, and what's more, it comes in two versions: the Zungle V2 Viper and the Zungle V2 Lynx. The former features a Wayfarer style while the latter has a more rounded style, making it more versatile.
In comparison to the Zungle Viper & Lynx, these babies got some pretty cool upgrades. Firstly, developers gave these smart audio glasses 5.0 Bluetooth. Also, and probably most importantly, the device's creators really took the time to fix problems related to its sound leakage. They installed a system which controls and regulates its sound leakage to ensure that the user has the best experience possible. Talk about learning from their mistakes!
On top of that, the version 2 glasses have AI voice assistance. This is an application which works like Siri and Google Assistant on smartphones. Cool, right?
The only downside is that the glasses' battery capacity was significantly cut down. From 300 mAh, now only giving users 115mAh of juice. Another thing to mention is that these are heavier than their predecessor, weighing in at 50g in comparison to the older model's 45g.
Luckily, Zungle took their time to craft this beauty. These gasses look elegant and classy, which is great considering that many people think that smart glasses don't look too fashionable. Now objectively, these glasses aren't a larger-than-life upgrade from Zungle Panther, but it's definitely an improvement! With these glasses, you can listen to music, answer calls, and be immersed into a world where sound is taken to the next level.
Even more important, some critics have given these pair of glasses great reviews. According to one, there was next-to-no sound leakage, and the sound quality was stellar. To beef-up on the quality of sound, developers added a dual-spring bone conduction speaker system.
Pros
Great sound and leakage control
Bluetooth 5.0
Take little time to charge (a little less than an hour)
Practical and easy to use AI button
Elegant and sophisticated design
Cons
Slightly heavier than the original model
Require Zungle`s own charger (instead of regular micro USB or USB C)
For some head shapes, adjusting the frames for best audio quality is a bit tricky
A few people have reported the frames of the glasses to break too easily
All things considered, these glasses are definitely worth considering. Go ahead and check them out on Zungle's official website or on Amazon. From time to time, great deals on these glasses might crop up, allowing you to get a pair with a discount.


Bose Frames Audio Sunglasses
I don't think this list would be complete if we didn't give mention to one of the leading (and most popular, for that matter) companies in the sound industry: Bose! Bose has such a legacy of producing devices which focus specifically on improving the user's ability to perceive sound that one might say that they're a leading pioneer in modern technology. With well over fifty years in the game, they're a household name.
That said, objectively, considering that this is a guide about buying the best bone conduction glasses, I shouldn't include these glasses, reason being that this device does not run on this type of technology. What it has is tiny Bose speakers installed which are of very high quality.
However, I thought that it was suitable to include it, because although not bone conduction, they are audio glasses after all. For some purposes (and external environments), the sound quality of these glasses is actually better than those which run on bone conduction.
Bose decided to use some pretty good quality materials to make these glasses: we're talking nylon rims and metal hinges. However, several people agree that the frames of the glasses feel cheap and for some, too thick.
The lenses offer a great visual experience and are made from a material which makes it difficult to get scratches or any type of damage for that matter. For the creators from Bose, comfort and durability are key: they want that when you buy these glasses, that they last you for a pretty long time.
That said, several consumers haven`t been particularly impressed with these guys. For those who love to hear bass, we're sorry, but these glasses aren't probably going to give you that Bose trademark sound you're looking for.
There's hardly a trace of bass effect. Also, because it doesn't rely on bone conduction, if you're in an extremely loud setting, you will have a hard time listening to music. In comparison to the Zungle, the Bose Frames Audio Sunglasses don't do well in very loud places. While that is the case, when it comes to listening to a more high-pitched sound (e.g podcasts, phone calls), Bose wins the challenge.
Honestly, with these glasses, deciding whether to pick these over a brand like Zungle (or VocalSkull) is entirely dependent on taste and what you're looking for. Below, I highlight the pros and cons of these glasses to help you better decide whether you should go ahead and make that purchase.
Pros
The lenses of the glasses offer a decent visual experience
Bluetooth range is excellent
Bose audio augmented reality enabled. You will automatically get future updates which improve the solution.
Great quality when listening to high-pitched audio, but poor bass.
Cons
The frames of the glasses feel cheap and a bit too clunky for many.
Require their own charging cable (instead of micro USB or USB C)
Can not control volume from the glasses frame (you must do it via your connected device)
The sound experience is directly dependent on the environment (noise) in which the users finds him or herself.
People have reported the sound level too low even at max volume.
When it comes to these, assess your needs and choose wisely. The glasses are excellent for answering calls and listening to podcasts/audiobooks (also music, if bass is not your top priority). However, they probably have most perspective with the augmented reality solution that Bose is developing. If the product sparked interest in you, they are available at Amazon.

VocalSkull Alien 5 Sunglasses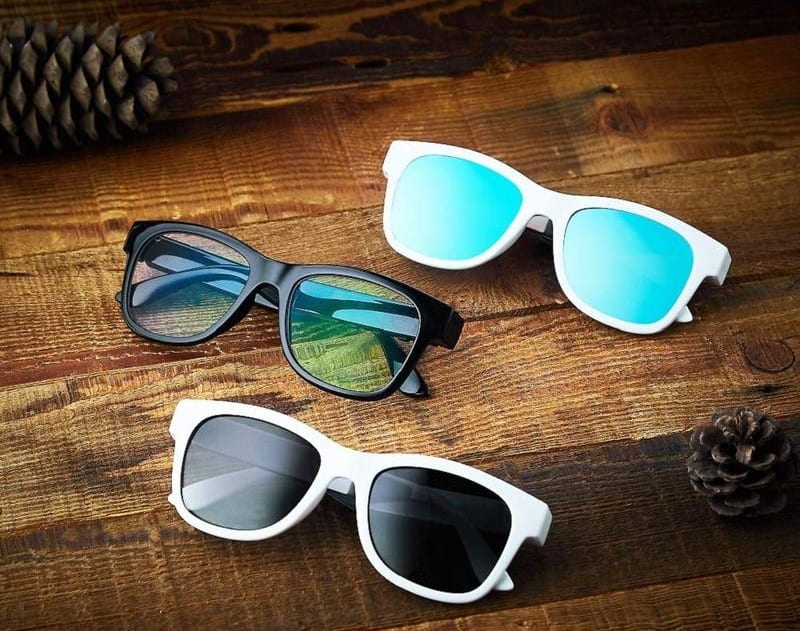 Ranking in after Bose's latest product, we got the VocalSkull Alien 5 sunglasses up in line. We really got to give props to brand and technology-company VocalSkull for releasing such a stellar pair of smart glasses.
Similar to Zungle, the VocalSkull Alien 5 sunglasses are actually the brand's second-generation product which has, by the way, garnered immense critical acclaim and positive reviews from users. However, we need to give VocalSkull even more recognition for the way that they come onto the market with their first-generation product.
Most brands which produce bone conduction products typically launch the product before a crowd during which there is at least preliminary testing for any hiccoughs which may have been missed. What's more, it also allows brands to get an idea as to how consumers react to the product. VocalSkull wasn't having any of that: they launched directly via Amazon.
Talk about confidence! They had no fear: in launching on Amazon without any previous feedback from consumers.They welcomed with open arms any sort of negativity or possible backlash from the public. VocalSkull wanted consumers to hit them hard with whatever flaws they had so that they can go back to the drawing board to improve upon their craft.
FYI, I did some investigation, and the model which precedes the VocalSkull Alien 5 is simply called VocalSkull. There's no Alien 2, 3, or 4. A bit of a weird way to name your products, if you ask me. But hey, not my business.
Moving along gingerly, in terms of design and aesthetic appeal, the VocalSkull Alien 5 essentially looks the same as its previous model. The main difference is that its developers changed the vibrator from a balanced armature to the more interesting dynamic driver, also known as a moving coil driver. Based on statements issued by VocalSkull, this was a necessary change. It dramatically improved the glasses' sound quality and also helped to reduce sound leakage.
In comparison to its closest competitor in actual bone conduction glasses, the Zungle Viper, VocalSkull's latest release is on par with its sound quality and its ability to control leakage. What's more, it's actually the cheaper pair between the two brands, although it must be said that the VocalSkull Alien 5 isn't as elegant and hi-tech as Zungle's product.
The VocalSkull's second-generation smart glasses are made with a superlight material. As a result, it weighs only 32g. This is great as the user feels more comfortable wearing it in comparison to other, heavier smart glasses. The glasses also run on a battery power of 250mAh, although this isn't exactly the greatest discovery ever. These smart glasses carry the same features as most of its generation does; excellent sound quality and minimized sound leakage.
In terms of thoughts from customers, generally speaking, users are extremely satisfied with this product. They have praised the glasses' fit, comfort, and general look, stating that they are definitely one of the better bone conduction glasses on the market.
That said, not everyone has been happy with VocalSkull's second-generation glasses. One customer complained stating that the sound quality wasn't all that to brag about. What's more, when he tried to connect the glasses to his iPod, the volume was extremely low, making it difficult for him to enjoy the 'supreme sound' experience.
Just to recap, these are the pros and cons about VocalSkull's most-recent Alien 5 glasses:
Pros
Extremely light, making for a comfortable fit
It is able to quite effectively control leakage of sound
Has a vibrator which provides better quality sound to the user
Cons
Bluetooth 4.1, not exactly the latest technology on the market
The plastic arms of the glasses give the product a cheap-feel.
That said, these bone conduction glasses are one of the best available right now. Officially, these babies are sold on either VocalSkull's website or via Amazon. Be sure to check them out if you're interested in buying a pair of bone conduction glasses!
AcTek Bone Conduction Sunglasses – Great For Cyclists Or Joggers
Developed by Actek, I got to say that these AcTek Bone Conduction Sunglasses aren't exactly the most popular ones on the market. The brand isn't widely recognized, nor is it popular to be quite frank. Perhaps the company's decision to rebrand from Bj Vison to AcTek added to the poor visibility of its products. After all, having multiple names tend to confuse people (including me).
That said, despite the fact that Actek isn't that popular among the smart glasses' community, it doesn't take away from the fact that they are providing a reasonably good product to consumers. Especially for the price they sell for (check latest price at Amazon)
Maybe it has to do with the target market, specifically, those for whom the product is deemed to be best. These groups of people include cyclists, professional runners, joggers, and most major athletes. What's also interesting is that these smart glasses are recommended to taxi drivers and even couriers. Why? What's so special about these guys and why are these glasses considered to be great additions to these peoples' lives?
The reason that the Actek Bone Conduction is the Holy Grail for these people is that it's the perfect way stay connected to the world without having the hassle of physically having to be connected to the rest of the world. Makes sense? To explain, due to the nature of work which these people do, it can be a bit cumbersome to make and receive calls on the job.
Thankfully, the Actek Bone Conduction Glasses offer a unique and ingenious solution to these problems. Users can keep their eyes and ears free to hear any and everything. They can also accept and receive calls hassle-free with the simple tap of a touchpad. Talk about convenience, right?
In terms of how they work, the glasses come well equipped to guarantee users an experience which is a cut above the rest. Through vibrations, the glasses transmit sound waves directly to the skull. In doing so, it allows the user to perceive outside sound even while listening to music. Thus making it safer than most headphones or earphones which completely block out external sound.
As it relates to these smart glasses' specs, they're boasting a frequency between 2.402 and 2.480 Ghz. AcTek glasses have 4.0 Bluetooth for connectivity and a pretty decent 140MAh 3.7v Li-ion Battery. It takes roughly 2 hours to completely charge. The glasses are pretty heavy in comparison to its competitors, weighing in at 55 grams.
The reviews I've seen on Amazon seem to suggest that this product is a pretty decent pair of bone conduction glasses, although one client wasn't too happy about his purchase. Apparently, he's partially deaf, and was hoping that it would have offered louder sound than what he ended up getting. The problem with this product is that because it's so unpopular, it's hard to find several reviews which can help to generate a comprehensive opinion about it.
In my opinion, I feel like this product is objectively decent, and that its unpopularity is due specifically to poor marketing and branding and not because it has any reported defects. That said, I'm a bit on the fence about recommending people to purchase it considering that there aren't that many reviews written about it. Check out the product on Amazon to get a better feel as to whether this is a pair of glasses that you'd like to try out.
Ossii Sound Glasses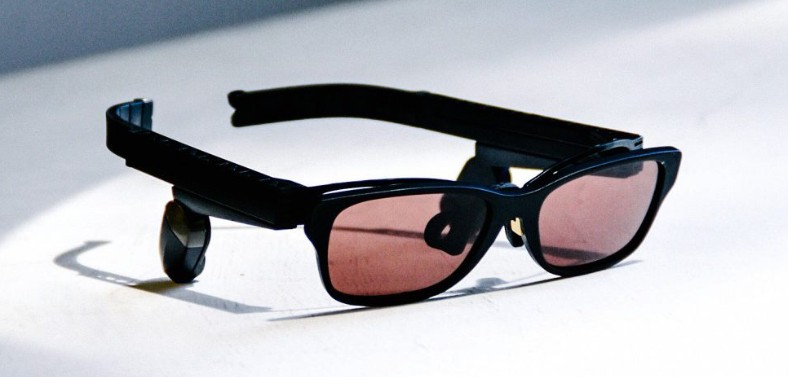 Up next we've got the Ossii Sound Glasses, developed and created by Ossii, a company which brags to have produced a flawless sound device. Quite a bold statement, especially given that there are so many already really great bone conduction glasses on the market.
What's more, it's not like they've been on the market for that long anyway. Ossii first came out in 2016. For the creators, they knew that they had to come up with an ingenious piece of technology which was relevant to people's lives today. How they came about designing smart glasses was really a sad stroke of luck.
When they initially began brainstorming about possible ideas for creating a unique yet relevant piece of technology, developers got wind of the death of a mother and her three children at the hands of a truck driver: he was on the phone. How many times have we heard horrible stories of innocent civilians losing their lives due to negligence on the part of drivers? How many ads and fines do we have to implement to force people not to use their phones while driving?
They were so moved by the tragic news that they knew right then and there that they had to develop a product which would help to reduce horrible deaths like this. With that, they developed a gadget which would have the dual function of making the user connected to the outside world while allowing that person to be aware of his or her surroundings.
Based on these babies' specs, we think it's fair to say that they deserve a stake among the best smart glasses in the world. Why? Here's how! In terms of its design and makeup, these glasses are elegant, classy, and sophisticated. For the designers, it was so important to craft a product which looked beautiful and practical to wear. What's more, it's made with titanium, which is one of the best materials you can find to make glasses out of.
Now, down to the actual nitty-gritty specs. These glasses have a cool feature which allow you to instantly change what you're seeing through the lens depending on your surroundings. This is enabled by a 3-point locking system and metal tool-free rim which is installed onto the device.
Apart from that, what's also pretty nice is the fact that both the lens and the speakers can be removed without any difficulty. Therefore, if you just want a regular pair of sunglasses, you can easily achieve that look. The material is also water and dust resistant, thereby reducing the appearance of wear and tear.
This pair of smart glasses is also designed to ensure that you have flexibility to adjust the bone conductor to help improve your sound experience. They also claim to reduce sound leakage by a full 90%. As for its battery power, it can last for up to 24 hours on standby mode and takes a little less than an hour to completely charge. The gadget has Bluetooth 4.2 for device connectivity.
Ok, now that we know the general facts: what do the users have to say about these glasses? Well, one customer wasn't too pleased about how the frame legs were made thicker. Most aren't over the moon about the weight either: 49g just doesn't do it for some.
To review, these are some of the advantages listed for these glasses:
The ability to swap lenses in a heartbeat
Customization properties
The fact that the temple tips can be fully adjusted to suit the user's needs
All in all, Ossii Sound Glasses are definitely worth trying out. Get yours at Indiegogo.
LET Glasses
Another pretty decent pair of smart glasses to grace our list is none other than the LET Glasses produced by, you guessed it: LET Glass. Talk about creativity, right? Basically, what LET Glass has done with their pair of smart glasses is to integrate what is traditionally a device used to improve sight with 21st century technology. In doing so, they can contribute to the improvement in sound quality for people throughout the world and join in on the crazy trend that's smart glasses!
These guys do pretty much everything that most smart glasses do nowadays; make and receive calls, listen to music: the works. What's really nice is that developers did not sacrifice the product's aesthetic appeal for all these add-ons. The glasses still maintain what I call the three S': a smooth, slender and sleek look.
They also feature Alexa along with a built-in mic which allow users to remotely control their smartphones without even having to lift a finger, if you don't want to, of course. LET Glasses also allow you the flexibility to lightly touch the smart glasses' legs to remotely control your selected device.
Because these glasses use bone conductor technology, vibrations are sent via the small bones in your ear from the glasses in order to produce sound. Surprisingly, these glasses feature a pretty long lifespan: and I say surprisingly because despite all the added functions, the battery doesn't drain quickly. On energy saving mode, these glasses can last up to 10 days: yes folks, ten days. Even more crazy is the fact that they take only up to 30 minutes to completely charge. With a weight of only 27 grams, they're also fairly light.
The only problem with these glasses is that they're extremely new to the market. There are hardly any reviews written on them, nor has there been much reported user experience to truly gauge whether this is a truly great product. Below, I outline the pros of these smart glasses for you to decide whether it's worth the money.
Pros
On-Head Activation
Variety In Choosing Type Of Frames
Magnetic Charging
Zero Waste VR- Ready Package
If the product sparked your interest, you can get a pair from LET website.
Vue Smart Glasses
Yet another truly exciting release to hit the market, Vue Smart Glasses might very well be the future of bone conduction glasses as we know it. I mean, they're the only company which actually calls their smart glasses 'smart': how bold is that? Clearly, they're making a statement that they aren't coming out to play games!
In comparison to LET Glasses, the Vue Smart Glasses have almost identical features: but, as we know, almost doesn't count! These bad-boys are equipped with a 6-axis accelerometer and gyroscope sensors. These installments allow the glasses to better track a user's activity; including tracking calories, how many steps you've made, and even whether you've been sitting for too long.
Honestly, given all their features and sensors, I believe that they have every right to call themselves 'smart'. For future models, I wouldn't even be surprised if they were to come out with a pair of smart glasses which can monitor your heart rate.
The more I talk about this product, the more excited I get. The device has a lifespan of up to seven days on standby mode. That's right, seven whole days! They've also got a wireless charging case meaning that you can go wire free! No need to worry about tangles anymore!
Forgot where you put your glasses? You can track its whereabouts with the nifty "Find My Glasses" feature. What's also cool is the fact that it has an ARM Cortex-M3 processor installed which gives it incredible software support for various applications. These smart glasses can do it all.
What's the biggest problem with them? The fact that they haven't been released, that's what! They were slated to hit the markets in March 2018, but that never came to pass, nor have they been released yet. I already briefly discussed the ongoing delay of the glasses also in one my previous posts.
Whatever the case, when and if they are released, they are going to kick up a storm on the bone conduction glasses market, that much I know! Keep an eye out for them on Amazon. In the meantime, here are the pros and cons of the Vue Smart Glasses
Pros
Weighs 28 grams making it extremely light
Wireless Charging Case
Resistant To Water
Oval Shape Support
Dedicated App Support
Increased Gesture Control
Open-Up APIs for developers
Cons
Hasn't Been Released Yet …
Conclusion
In short, bone conduction glasses are all the rave nowadays, and companies are trying their best to produce the best pair for a consumer's needs. That said, there are still a lot of differences in the type of experiences offered by the leaders in smart glasses on the market which a buyer must be aware of.
Objectively speaking, Zungle will probably offer the best experience in terms of authentic bone conduction technology. However, if bone conduction as a technology is not important for you, then Bose is the product I would go for.
Related Posts