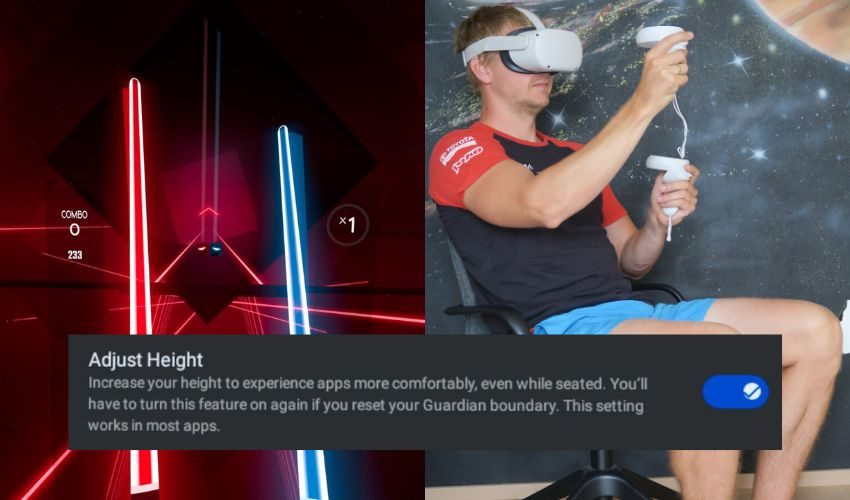 If you are looking for different ways to adjust your height on the Quest 2 (appear taller or shorter in VR), then you have arrived at the right place!
The most common reason why you might want to change your height in VR is when you are playing games while being seated or lying down but you want to appear as if you were actually standing (reach and interact with objects comfortably)
The easiest way to change your height on Quest 2 is to enable the "Adjust Height" functionality from the headset accessibility settings. This will raise your height in VR and you allow you to play most games normally while being seated or lying down
Let's explore this and also some other methods for adjusting your height in VR in more detail!
Did you hear? Facebook (Meta) is going all-in on virtual reality and the metaverse. Get a Quest 2 headset and be a part of the future of entertainment!

1) Enable the Adjust Height Functionality on Your Quest 2
The Quest 2 launched with no official method to modify your height in VR. This caused a lot of complaints and luckily Meta took notice of the users' feedback and implemented a way to change the height from the headset settings.
Follow these steps to enable the "Adjust Height" functionality from Quest 2 settings:
Press the Meta (or Oculus) button on your right Touch controller to bring up the universal menu.
Open Quick Settings by clicking on the clock area



Click on Settings in the top-right-hand corner of your screen



Open Accessibility settings



Select Mobility from the menu on the left and toggle Adjust Height functionality enabled



Enabling the "Adjust Height" functionality on your Quest 2 will raise your height in VR by approximately 4 feet (~1.2m for those accustomed to the metric system). This then is an excellent way to significantly improve your VR experience if you want to (or have to) play while being seated.
I have tested the functionality with numerous different games and it works perfectly, allowing you to interact with your surroundings and objects in VR pretty much as if you were standing.


2) Adjusting Height By Disabling Guardian & Tracking
For this method to work you will need "developer mode" enabled on your Meta Quest 2. Don't worry, it might seem daunting at first, but it's really very quick and easy.
Assuming that you have developer mode enabled, do the following steps to trick the headset into adjusting your game height based on your actual needs.
Stand or sit at the height you plan to be playing
Turn on the headset
Go to "Settings" →  "System" → "Developer" and turn off "Guardian"
Go to "Settings" → "System" → "Headset Tracking" and turn off tracking
Turn the tracking back on
Disabling the guardian and then toggling tracking off (which results in 3DoF tracking) causes the headset to readjust your head position (and height).  When you re-enable the tracking in the final step it won't readjust your height anymore (due to the guardian being turned off).
I personally tested this method by playing "Beat Saber" while being seated down and it successfully lowered the blocks to where they usually would be when standing up and I could comfortably enjoy the game.


3) Change Your Height By Tricking The Quest 2 to Lower the Floor Level
This method will make the Quest 2 think you are higher than you actually are by artificially lowering the floor level in the guardian/floor setup.
In order for this method to work, you will need someplace that is slightly lower than your actual playing area. For example, if you are on the second floor of your house, then you could use the stairs that go down. If you have a porch in your house, that will probably work as well.
The idea here is that when you are setting up the guardian and more specifically the floor level, go ahead and place one of the controllers in a lower place (compared to your play area). Hold on to the other controller,  move back to your playing area and complete the floor adjustment setup.
Since one of the controllers is placed lower than the actual play area, it will trick the Quest 2 into thinking the floor level is lower than it actually is, thus raising your height in the games. 
Do some testing with this method to find the optimal balance in terms of height and playability for the game you want to enjoy.


4) Making Yourself Higher in VR With The Controller Swing Method
This solution is based on the same objective as the one described in the last method. We will be trying to lower the floor level but with a slightly different approach.
Go to the guardian and floor height setup. Now when setting the floor level, take a crouching stance and swing your arms towards (but past) the floor. Be really careful not to hit your controllers against the floor as you actually just need to swing past the ground.
The goal here is for the headset to lose tracking of your controllers when you are near the end of the swing and just about to approach the floor. 
The Oculus Quest 2 uses predictive algorithms and models to estimate where your controllers might be next even when tracking is lost. When the headset loses tracking of your controllers at the right time (in the middle of the swing) it will project that the controllers ended lower than the actual floor level.
The whole process is also explained and described in the following Youtube video:
I tested this out myself and after some initial failed attempts, I was able to successfully trick the headset into lowering the floor level and thus raising my height within games.
Try this method out and see if it will also work for you.


5) Try Games That Allow Changing Height or Are Suitable For Playing While Seated
Some games are just far more suitable for short people or playing while seated than other games. Oftentimes it's the nature of the game itself (e.g racing games vs first-person shooters). Some games on the other hand recalibrate your height when loading or let you choose "Seated mode" from the settings.
I have previously written an article about games that are suitable for playing seated.  If you don't find anything suitable from my list, be sure to also check out the following Reddit threads where people share their preferences and experiences:
You are sure to find examples of games from different genres which are comfortable to play if you are shorter or you need to play while being seated. Test some of them out and see what works best for you,
And that's it! I hope this article was useful and helped you improve your upcoming VR experiences.


HARDWARE USED FOR TESTING AND WRITING THE ARTICLES:
* Meta Quest 2 (My "daily driver" headset, which I absolutely love & recommend)
* Lenovo Legion 5 Pro (AMD Ryzen 5 5600H, Nvidia Geforce RTX 3060, 16GB RAM)
* TP-Link Archer C6 (budget dedicated router for Air Link, see my full setup tutorial)

ESSENTIAL QUEST 2 COMFORT ACCESSORIES:
* VR Cover Foam Replacement (one of the easiest & cheapest ways to improve headset comfort)
* BoboVR M2 Head Strap (reduce pressure on your head and improve the overall fit of the headset)