Everywhere you go, you're likely to hear that room-scale VR experiences are the way to go. But having that kind of setup isn't always possible nor convenient. What if you don't have enough room? What if you're traveling? For some, it might even be the case that you are getting too old to be standing for a prolonged period and just want to sit and relax.
In this article, I'll be talking about how to make the most out of a sitting VR experience by playing the best of what the VR world has to offer!
That being said, here are my recommendations for the best seated VR games in 2021. The first three are my personal favorites that I think you should definitely check out while the rest come in random order.
Update (August 2021): Starting from Oculus v30, you can change your height in the Oculus Quest 2 by going to the Experimental Features section of Settings, and turning on "Boost your height" feature.  This significantly widens the range of games that you can play comfortably while being seated down.
1) LONE ECHO – My Top PCVR Title to Play While Sitting Down
Buy now: Oculus
Trailer: Youtube
If you're like me, then you're a fan of solid single-player story games. Lone Echo does a tremendous job of delivering an intense storyline in a VR setting!
Look no further than the game's fluid mechanics and immersive interactions. Lone Echo takes you on a journey through space. You see human and machine relations through a fresh lens of innovation. Propel yourself and interact with objects in zero gravity as you let Lone Echo take you on its journey.
The game does indeed support a room-scale style of play. The major difference you'll feel while sitting is that moving around in outer-space tends to be less real when you can feel your seat or sofa around you. But perhaps these are the compromises we need to make.


2) MOSS – Best Seated Game for Oculus Quest 2
Buy now: Oculus, Steam, PlayStation
Trailer: Youtube
Moss: the game where you'll find less of intensity, more of delicate charm, but a lack of neither. Take control of a mouse with the courage of a lion as she sets out on a quest to protect her village, and her uncle, who happens to live there. Solve puzzles, fight small enemies, fight large enemies, and let your journey begin!
A seated experience for Moss takes many of the great aspects the game has to offer, and delivers it with ease. You won't miss out much on the story or the puzzles, but you could find the fighting scenarios less intense while sitting. Nevertheless, everything happens in a gorgeous diorama, wherever you may be sitting.


3) ELITE DANGEROUS – Superb VR Game To Play While Sitting Down
Buy now: Oculus, Steam
Trailer: Youtube
Packed to the brim with action, Elite Dangerous gives you control over your journey as you explore a vast universe full of life. When I say "vast," I do mean it is really big. Most players put the game aside without having explored it in its entirety: they have no idea what they're missing out on! Choose from more than six different character classes, gear up, and prepare for the VR shootout of your life!
When you compare a seated experience in Elite Dangerous with a room-scale one, you'll see that the game does a great job of bridging the gap. The intensity and pace of the gameplay is enough to make you forget you're actually sitting in one place! Take care if you're prone to motion sickness.


4) I EXPECT YOU TO DIE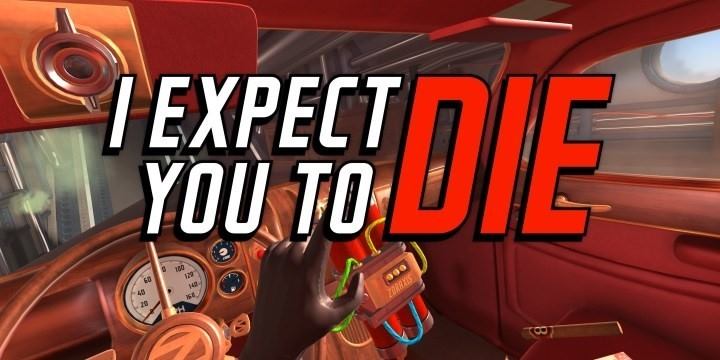 Buy now: Oculus, Steam, PlayStation
Trailer: Youtube
Take control of a secret agent as he uses his telekinetic powers (all the more fun with VR) to stop an evil pharmaceutical company, which happens to create global weaponry as well – because diversification! Get your wits together and have your trigger finger at the ready in this highly interactive game, with a sense of humor to be remembered.
If you're seated, using the mind powers granted to your agent feels practically the same as standing. The general environment of the game is set up to have your agent be still as he disarms traps and progresses – so why not be seated yourself?


5) FROM OTHER SUNS
Buy now: Oculus, Amazon
Trailer: Youtube
From Other Suns is a first-person shooter game with all the action you'd want from VR, and matching jokes for a little something extra. Aliens have followed you back from an experimental space mission, and now you have to clear your ship of their filth. Choose between playing online co-op, or having AI on your team, in a winner-takes-all race back to Earth.
A seated experience in From Other Suns gives you the best parts of the game! You won't be missing out on much from a room-scale setup because this FPS maintains a fast pace on its own.


6) FRUIT NINJA VR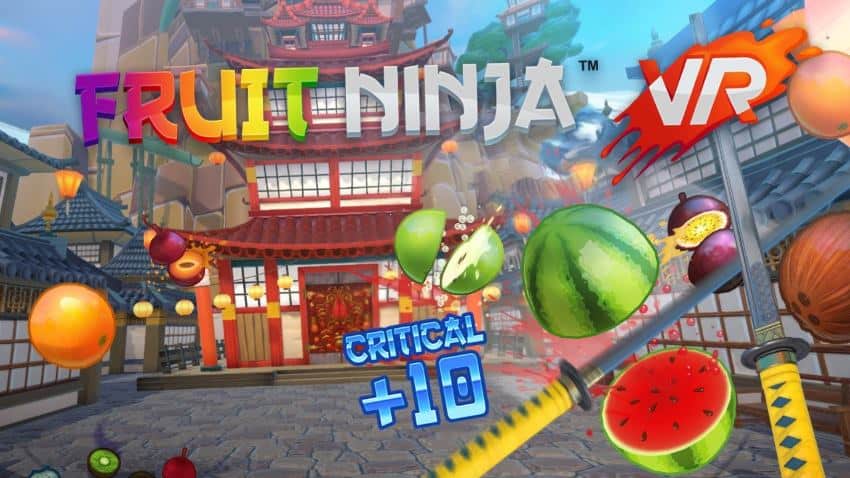 Buy now: Oculus, Steam
Trailer: Youtube
Don the various blades of a ninja, and slice and dice your way to the highest of scores! Challenge friends and even yourself in the different game modes. Let the fruity juices flow as you avoid cutting open bombs to reach your ninja goals!
Maybe I'm being lazy, but playing this game in a room-scale environment would just tire your legs out, especially if you're looking to beat high scores (and why wouldn't you be). All you really need is the space to move your arms around. But if you're into fitness, then room-scale all the way!


7) VOX MACHINAE
Buy now: Oculus, Steam, PlayStation
Trailer: Youtube
Although released a few years ago, Vox Machinae is still the go-to VR game for many gamers looking for a seated experience in 2021. The game has you strap yourself into the cockpit of a giant robot as you do battle with other giant robots. It's wild!
Since you're actually sitting in the game itself, the seated VR immersion is the closest you'll get to becoming one with VR. In fact, this may well be one of the few games which are better when seated as opposed to room-scale play areas.


8) EDGE OF NOWHERE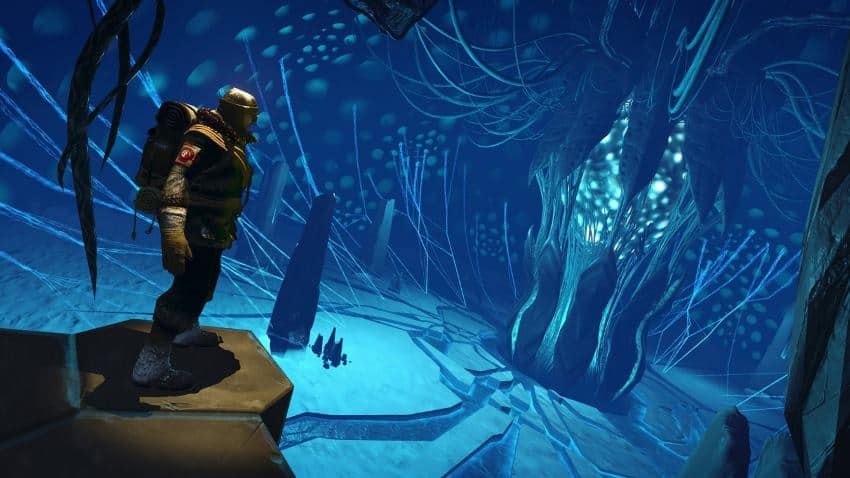 Buy now: Oculus
Trailer: Youtube
Back into the realm of great story games, Insomniac Games has created Edge of Nowhere to transport you into a world familiar, yet new. "Creepy-ness" and "adrenaline-pumping" are some of the terms you should get used to. You embark on a rescue mission to Antarctica to find your one true love. Romance is perhaps the least of your concerns though. To quote the developers, "nothing is what it seems and the unexpected lurks from all sides."
Playing this game while seated is one of the best things you can do. I'm not only saying that so you can play it cool through the jump-scares. Edge of Nowhere does a splendid job of getting you hooked into its twisted world, no matter how you play.


9) FIVE NIGHTS AT FREDDY'S: HELP WANTED
Buy now: Oculus, Steam, PlayStation
Trailer: Youtube
Five Nights at Freddy's is a survival-horror game. The plot: make it through five nights at a pizza place. The twist: there are insane robot-demons out to kill you. The VR version includes experiences from the original games, as well as additional modes, and new ways to play.
Running isn't as important in the game as hiding is. Your life depends on how well you can stay still and manage your resources. So I would say that the sitting experience triumphs over the room-scale one.


10) GOOGLE EARTH VR
Buy now: Oculus, Steam
Trailer: Youtube
Unleash the traveler in you from the comfort of your seat! Google Earth VR is a gateway to global exploration. With street-view capabilities recently added, your journey is better than ever. I would say Google Earth VR is an underrated masterpiece. Though not technically a game, it still brings out the high potential of VR!
Naturally, a sitting experience gives you greater comfort versus a standing one. You're here to look at everything the world has to offer on the surface. Sit back and travel virtually in ease!

11) VACATION SIMULATOR
Buy now: Oculus, Steam, PlayStation
Trailer: Youtube
And finally we have a game that gamers have described as "therapeutic" and "relaxing." Vacation Simulator puts you in a variety of situations where all you need to do is explore your virtual world. Embrace the calm, and all the treasures it has to offer. This game is best suited for when you need a break from the action and intensity of life.
Truly enough, playing this game while seated would be better as opposed to a room-scale experience. The design of the game itself focuses on instilling a sense of peace, and a desire for curiosity in exploring the world created. Get seated, get started!'
HARDWARE USED FOR TESTING AND WRITING THE ARTICLES:
* Meta Quest 2 (My "daily driver" headset, which I absolutely love & recommend)
* Lenovo Legion 5 Pro (AMD Ryzen 5 5600H, Nvidia Geforce RTX 3060, 16GB RAM)
* TP-Link Archer C6 (budget dedicated router for Air Link, see my full setup tutorial)

ESSENTIAL QUEST 2 COMFORT ACCESSORIES:
* VR Cover Foam Replacement (one of the easiest & cheapest ways to improve headset comfort)
* BoboVR M2 Head Strap (reduce pressure on your head and improve the overall fit of the headset)


Related Articles