For someone who is just getting familiar with the world of virtual reality, there are so many different questions that can rise about this trending technology. This article aims to help you find out about what kind of different VR headsets are available and how much they generally cost.
As of 2021, the cheapest way to experience VR is with mobile-tethered VR headsets (prices starting at ~10$ and ranging up to ~100$). From the standalone VR headset category, the Oculus Quest 2 (~300$) is by far the most popular (and probably best) product on the market. PC-tethered headsets start from ~300-400$ (Samsung Odyssey+, Oculus Rift S) and go up to 1000$+ for high-end products (Valve Index, HTC Vive Pro, Pimax 8K X).
Next, I am going to briefly explain the different VR headset types that are available and list some of the more popular products for each category.


Mobile-Tethered VR Headsets
Price: starting from 10$ up to 100$+
Mobile-tethered headsets, like the name suggests, requires a mobile phone to work. You plug your mobile phone into a mobile-tethered VR headset (which has a special slot for the phone) and then play the content from your phone.
The VR headset, using special lenses turns the regular 2D flat content into an immersive 180/360-degree experience. In addition to multimedia content, you can also play some very simple games with it.
To get an overview of the different mobile VR headsets that are available, you can check the mobile VR product listings from Amazon, for example. The prices generally start from around 10$ and go up to 100$+.
The truth is, however, that while the idea of mobile VR was promising at one point, it now essentially nearing its death. If you have a capable phone and want to try it out for fun, then go ahead (until it is supported, anyway). However, I personally recommend you to choose the Oculus Go standalone headset if you want an introduction to VR.


Standalone VR Headsets
Price: starting from 150$ and up to ~400$
The next category we are going to cover is the standalone VR headsets. These devices do not need a mobile, PC or a gaming console to run – they include all the required hardware and software within the headset itself.
The biggest advantage of standalone VR headsets is the convenience and ease of use. You just pull the headset on, hit the power button and are pretty much ready to go. The disadvantage is that there is less content available and it might be "tuned-down" due to the hardware capabilities (you just can not pack all the high-end tech inside the headset).
Currently, there really are only two standalone VR headsets that are worth your attention. Let does briefly look at both of them.


Oculus Go
Price: ~150$ at the time of writing (check latest price)
Oculus Go is the entry-level VR headset to get a first glimpse and understanding of what VR is about. The device is perfect for watching various 180/360-degree videos and 3D movies, for example. You can also play some of the more simple VR games with it.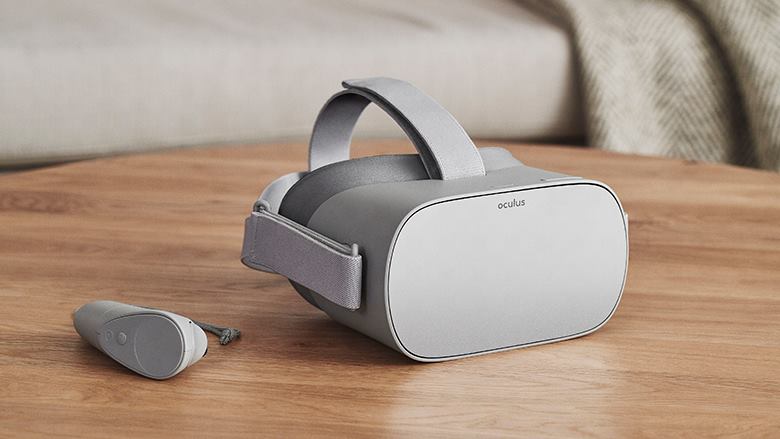 However, with the Oculus Go, you can not get a "true VR experience", because the headset is only able to track your head (and controller) rotation, but not the position in the room (watch this video to understand the limitation better).
More Information: Oculus Go overview | Official Product Page



Oculus Quest
Price: ~400$ at the time of writing (check latest price)
Oculus Quest is the headset that has helped make VR more accessible to a wider audience. There are two main reasons for this. Firstly the fact that it is a standalone device with room-scale tracking that is very convenient and easy to use. Secondly, the price is finally at a level where it is becoming acceptable for the regular non-enthusiast customer as well.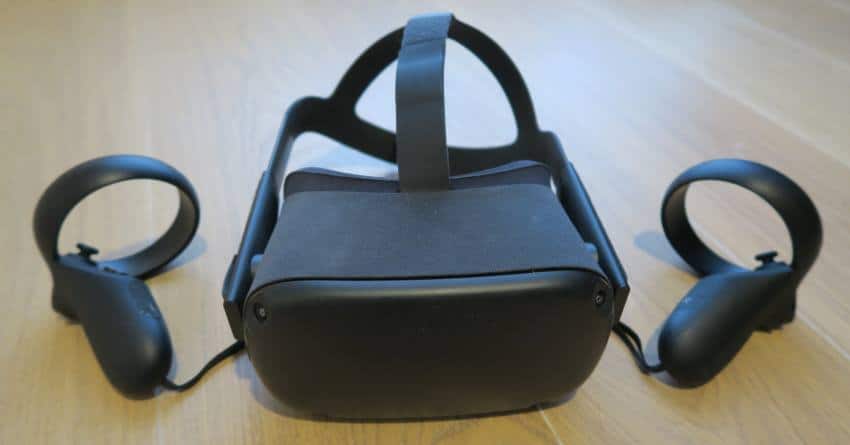 Most importantly, however, the Oculus Quest is just an excellent product that the customers like. This has been the reason for its success in 2019 and further. If you do not own a capable PC, then Oculus Quest is currently the go-to VR headset to unlock the full range of VR experiences at a reasonable price.
More information: Oculus Quest overview | Official Product Page



PC-Tethered VR Headsets
Price: starting from ~300$ and going up to ~1000$+
PC-tethered VR headsets require a connected PC to run. Here the VR headset mainly acts as a display and takes care of the interactions (controllers, tracking, etc), while the actual content is generated by your PC.
Understandably, a PC can pack much more computing power than can be fitted into a standalone VR headset, for example. This usually means that the games for PC VR are with better visuals and able to handle more complexity overall.
The main disadvantage is that you need to own a capable PC to do anything with these types of VR headsets. Secondly, there will be a wire (connected to PC) that can get in the way and ruin the immersion at times.
PC-tethered VR headsets are often the choice of enthusiast gamers who want to have access to a large number of VR game titles (standalone headsets have less content available) with the best visuals possible. Let does next look at some of the more popular PC-tethered VR headsets and their prices.


Samsung Odyssey+
Price: often on sale for ~300$ (check latest price)
The Samsung Odyssey+ is one of the cheapest PC-tethered VR headsets you can buy. The low price, however, does not in any way mean it is a bad product. In fact, it is quite the opposite. To my mind, the Odyssey+ has one of the best price-to-value ratios of all headsets in the market.
The headset offers great visuals with a clear image and vibrant colors. With its built-in inside-out camera tracking system, it is quick to set up and easy to use. If you have a compatible PC and want a decent VR experience (multimedia & gaming) without overspending, the Odyssey+ is an excellent choice.
More information: Samsung Odyssey+ overview | Official Product Page



Oculus Rift S
Price: ~400$ at the time of writing (check latest price)
Oculus Rift S is a direct competitor to the Odyssey+ in the entry-level PC-tethered VR headset market. While it is a bit more expensive, it is also slightly more refined and polished product overall.
The Rift S has a crisp image, an accurate inside-out tracking system, is very comfortable to wear and features two ergonomic easy-to-use controllers. The latter three features are also its main advantages over the Odyssey+ headset.
More information: Oculus Rift S overview | Official Product Page



Valve Index
Price: ~1000$ at the time of writing (check latest price)
Valve Index is a high-end VR headset aimed more towards the enthusiast gamers who might have tried other headsets and found them to be insufficient. It is for people who just want the best VR experience that money can buy.
With the Valve Index, you get an excellent overall visual quality and innovative slide-on controllers which you don't actually have to hold (and which also mimic your finger movements). In addition to that, the headset is super comfortable, has an excellent tracking system and features high-quality built-in audio. Overall, the Index is an excellent and polished VR headset package.
More information: Valve Index overview  | Official Product Page



Other PC-tethered VR headsets

Related Articles