Let's be honest – plane flights tend to be excruciatingly boring and uncomfortable. All you really want is for the flight to end as quickly as possible so you could arrive at your destination, right?
Could VR and more specifically the Oculus Quest 2 be the savior to entertain you and make the time pass quicker? Is it even allowed on planes?
The short answer to the question is that yes you can bring your Quest 2 on the plane and use the headset during the flight. The TSA regulations also allow you to put the Quest 2 in the checked baggage, even though carry-on luggage is the recommended option (to prevent unintentional activation or damage).
In the first part of the article, we are going to look at the Transportation Security Administration (TSA) rules and regulations in a bit more detail. Later on in the article, you will find specific tips for preparing and using the Quest 2 during your flight.
So without further ado, let's get started!


Getting Quest 2 Through Airport Security (TSA Regulations)
The Federal Aviation Administration (FAA), which is the preceding agency for the Transport Security Administration (TSA), says the following about packing portable electronic devices containing batteries:
Most consumer personal electronic devices containing batteries are allowed in carry-on and checked baggage, including but not limited to cell phones, smartphones, data loggers, PDAs, electronic games, tablets, laptop computers, cameras, camcorders, watches, calculators, etc.

This covers typical dry cell batteries and lithium metal and lithium ion batteries for consumer electronics (AA, AAA, C, D, button cell, camera batteries, laptop batteries, etc.)

Federal Aviation Administration (FAA)
The Quest 2 has a 14 watt-hour lithium-ion battery (see the official product information) and is classified as a portable electronic device in this context. Based on the official aviation security regulations, you can safely take the Quest 2 one the plane both in the carry-on as well as checked baggage.
For additional confirmation and peace of mind, see the following Twitter thread where a user asks the TSA specifically about bringing the Quest 2 headset on the plane.
So if you know you will be traveling by plane and want to take your headset along, you should have no problems with this whatsoever.
Note! If you want to be extra cautious, contact your Airline directly before the flight and ask them about it. Even though I have never heard of anyone having problems with taking their Quest 2 on the plane, Airline companies can have slightly different security policies.

Taking the Quest 2 on Board (Carry-On Baggage)
When you are planning to take your Quest 2 along with you in the carry-on baggage, I recommend you pack the headset in a way that you can quickly access it when needed.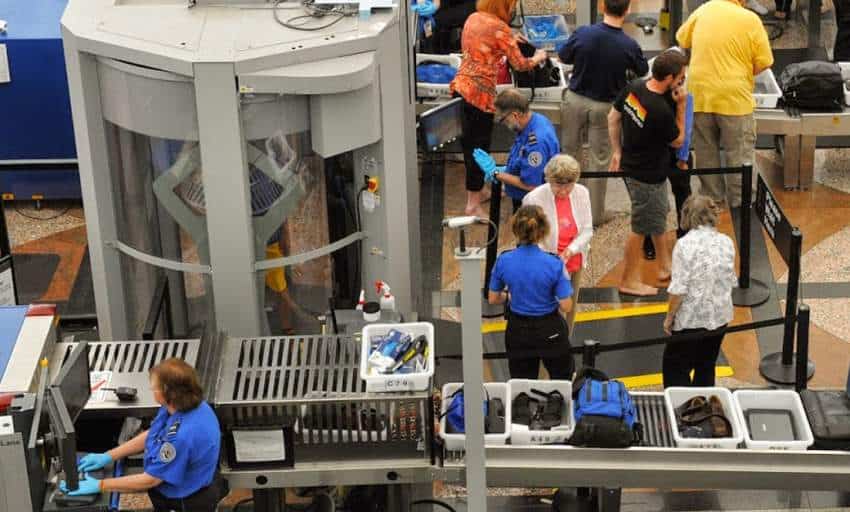 This is because all personal electric devices larger than a mobile phone must be temporarily removed from your bag and placed in a separate plastic tray for X-Ray screening. After you have gone past the security screening, you can place the Quest 2 back in your carry-on bag.


Leaving your Quest 2 in the Checked Baggage
If you are not planning to take the headset with you onboard and want to leave it in your checked baggage instead, you should know that even though it is allowed, the FAA generally advises against this.
Devices containing lithium metal or lithium ion batteries (laptops, smartphones, tablets, etc.) should be carried in carry-on baggage when possible. When portable electronic devices powered by lithium batteries are in checked baggage, they must be completely powered off and protected to prevent unintentional activation or damage. 

Federal Aviation Administration (FAA)

Truth be told, have you seen the way the airport personnel tends to handle the checked baggage? More times than not the bags are thrown on top of each and you can only dream of any gentle care.
I personally have had my share of bad experiences with items in it the bag, or the bag itself being broken after receiving it from the baggage claim. Do you really want to take the risk with your beloved headset?
If there is no other way and you have to leave your Quest 2 in the checked luggage, make sure that you:
Pack your headset safely (e.g using the official hard-cover carrying case). If you don't have the time or the money to spend on the case, a pretty safe alternative is to wrap the headset and controllers into several layers of bubble wrap.
Make sure to power off your headset properly before packing it in the bag. Avoid leaving your Quest 2 in sleep mode. You probably don't want to arrive at your destination with an empty battery and/or risk overheating during the flight itself.
Note! Make sure to pack your headset properly if you put it in your carry-on bag as well! You don't want to scratch the lenses or damage the headset in any other way, do you?
Lastly, you should know that if you are planning to take a power bank with you, it is mandatory to put it into the carry-on baggage.
Spare (uninstalled) lithium metal and lithium ion batteries are always prohibited in checked baggage and must be placed in carry-on.

Federal Aviation Administration (FAA)
In conclusion, the Quest 2 is not treated any differently than a regular laptop or tablet by the TSA and you should have no problems at the airport or on the plane.

Using Your Quest 2 On The Plane – Tips & Preparation
Now that we got the regulatory part explained, let does move to the more fun part. In this section of the article, I am going to give you recommendations for preparing for your flight and tips for actually using the Quest 2 during the flight.
Fully charge your headset. The Quest 2 will typically last about 2-3 hours with a single charge. You can extend this time by disabling Wi-Fi from the settings (to avoid unnecessary network scanning). But do make sure that you fully charge the headset before your flight!
Check controller batteries! Since the controller batteries don't run out quite as quickly, you might not even think about changing them before heading off – however, better safe than sorry!
Extend usage time with a power bank. If you are in for a longer trip, consider getting a power bank to enjoy entertainment for the full duration of the flight. There are also battery packs made specifically for the Quest 2 (designed to fit on the strap of the headset for comfortable use)
Bring your headphones. It may seem obvious, but please pack your preferred audio device. Just like you don't want to be listening to that screaming kid, nobody wants to be a part of your exciting VR adventure either. The official Oculus-ready Logitech G333 earphones are a great choice when you are thinking about buying! If you only plan to watch movies (no gaming), you can also use Bluetooth headphones without audio lag.
Pack your headset properly. Don't cramp your headset together with a lot of other stuff. Consider getting a travel case and/or lens protector for your Quest 2. A cheap alternative to protect your headset is to use bubble wrap!
Prepare some movies and/or games. Download media files directly on your headset and test them with a media player beforehand. Install some games that can be played offline and while being seated with limited room for body and hand movement. Disable your Wi-Fi and imitate the "plane scenario" to see if it would actually work out.
Expect glitches in tracking and detecting your position. If tracking is lost, wait a little for it to recover and don't quit apps right away. You will also have to recenter the view occasionally (e.g when the plane turns sharply). Consider turning off the guardian from the Developer settings in VR.
Regular Quest 2 strap is fine! If you have purchased a custom strap for your Quest 2, you should consider that the default strap takes the least space and is probably the most convenient to use on the plane (e.g resting your head on the plane seat).
Prefer a window seat. Since in VR you are isolated from your surroundings, having a window seat would be the most convenient option. This way you won't get interrupted when people want to get out of their seat and others won't have to pat you on the shoulder to get your attention.
Reduce fogging of the lenses (which tends to happen when you have to use a face mask) by directing the plane ventilator to blow air on your headset.
And that is it from me! I do hope this article was useful for your and helps you prepare for your upcoming flight. Wishing you a pleasant VR experience high above!
HARDWARE USED FOR TESTING AND WRITING THE ARTICLES:
* Meta Quest 2 (My "daily driver" headset, which I absolutely love & recommend)
* Lenovo Legion 5 Pro (AMD Ryzen 5 5600H, Nvidia Geforce RTX 3060, 16GB RAM)
* TP-Link Archer C6 (budget dedicated router for Air Link, see my full setup tutorial)

ESSENTIAL QUEST 2 COMFORT ACCESSORIES:
* VR Cover Foam Replacement (one of the easiest & cheapest ways to improve headset comfort)
* BoboVR M2 Head Strap (reduce pressure on your head and improve the overall fit of the headset)